Draw Your Dad, The Courier's colourful celebration of dads, will soon be back for its fourth year.
Timed to coincide with Father's Day on June 16, our competition involves P3 and P4 pupils from primary schools across Tayside and Fife.
Our Draw Your Dad and Draw Your Mum projects have been overwhelming success stories, inspiring 1,000s of young and budding artists to pick up pen, pencil, crayon or paint brush.
Our sister competition, Draw Your Mum, took place earlier this year in the run up to Mother's Day. It saw 94 primary schools take part and the Courier printed an incredible 4,500 drawings.
Pupils are encouraged to use their imagination when drawing their pictures. They can show their dads at work, at home, in the garden, doing DIY, playing sport, taking the dog for a walk, or almost any other situation they can think of.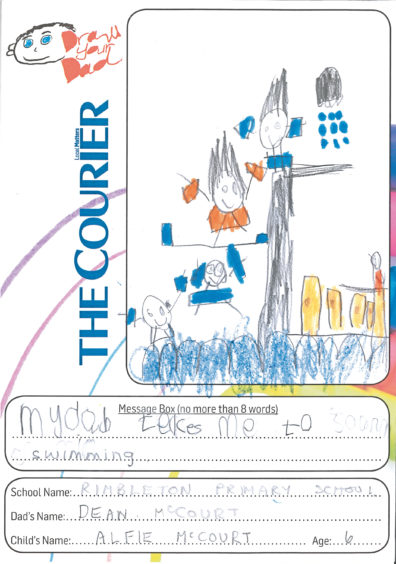 We'd like to see as many pupils as possible send a portrait of their father, accompanied by a short message explaining what their picture shows or what their dad means to them.
Messages in previous years have ranged from lovely to funny, touching and sad. Some of our favourites include: "They are part of your family" and "They help your mum to have a nice house," to "They made you, so without them you wouldn't be alive," "They love you and look after you" and "Sometimes they take you out to cool places."
The project is completely free so it costs nothing for schools and pupils to take part.
We appreciate that not all children have a dad in their lives, so pupils can feel free to draw another male figure who is important to them.
Entries are now closed for Draw your Dad 2019, but click here for news on the 2021 project.