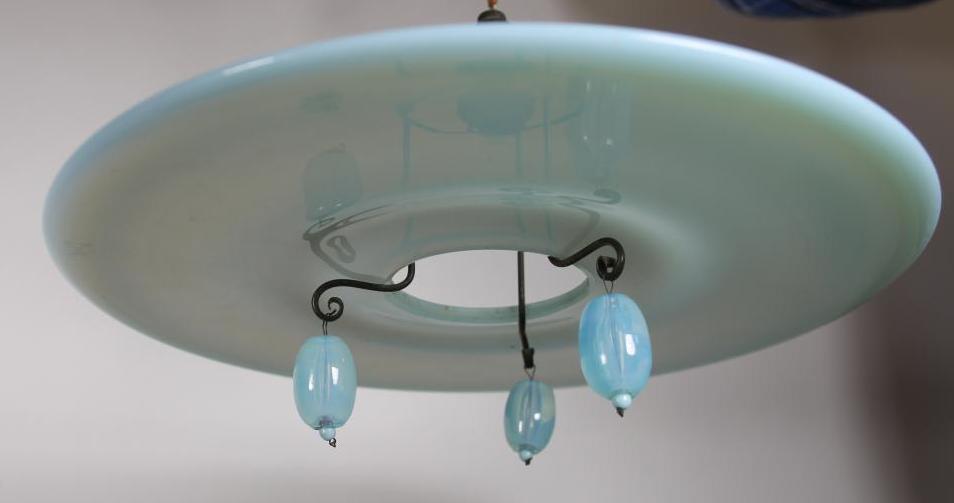 I NEVER thought I would admit in print (or anywhere else) that you might discover me lurking in the ladies' lingerie department of Marks & Spencer in Dundee.
Please allow me to explain before you dial Tayside's Finest!
Firstly to West Yorkshire auctioneers Hartley's and one of Sir Edwin Lutyens' most unusual and inventive light fittings, which took a 25-times estimate bid to secure.
This art deco blue opalescent glass light fitting had a flat disc shade supported on a scrolled two-tier wire fitting pendant with six blown oval baubles (the three lower lamps shown in my photograph).
Its overall diameter was a whisker over a foot.
The British architect Sir Edwin Lutyens, of course, is best known for his arts and crafts 1930s' country houses, public buildings and war memorials. He is famous, too, for putting the 'new' into New Delhi. And he has been referred to as "the greatest British architect of the twentieth (or of any other) century."
His light fittings are rare at auction, though, and I do not recall seeing another.
This pendant came from Gledstone Hall, Skipton, North Yorkshire. Lotted with a modest estimate of £150-£200, it romped away to an online buyer for £5000.
As for my meanderings in Marks & Sparks, it was Sir Edwin Lutyens' son Robert who designed the distinctive and familiar white 1936 façade in Murraygate.
Uniform designs were adopted by several multiple stores in Britain during the interwar period. This promoted corporate identity, encouraged brand loyalty and saved on costs, as a single design could be adapted for different branches.
Robert Lutyens began his connection to Marks & Spencer by designing the interiors of houses for several of the company's directors and their relatives.
This led him to be appointed to the firm's board in 1934. Despite having no formal architectural training he went on to work as a consultant architect with J. M. Monro & Son of Glasgow to develop a modular scheme which formed the basis of the design for over 40 Marks & Spencer stores around Britain, including those in Ayr, Glasgow, Kilmarnock, Kirkcaldy, Falkirk and Dundee.
The Dundee store's interior – perhaps once with similar light fittings – can be best appreciated, trust me, from the first-floor women's department!