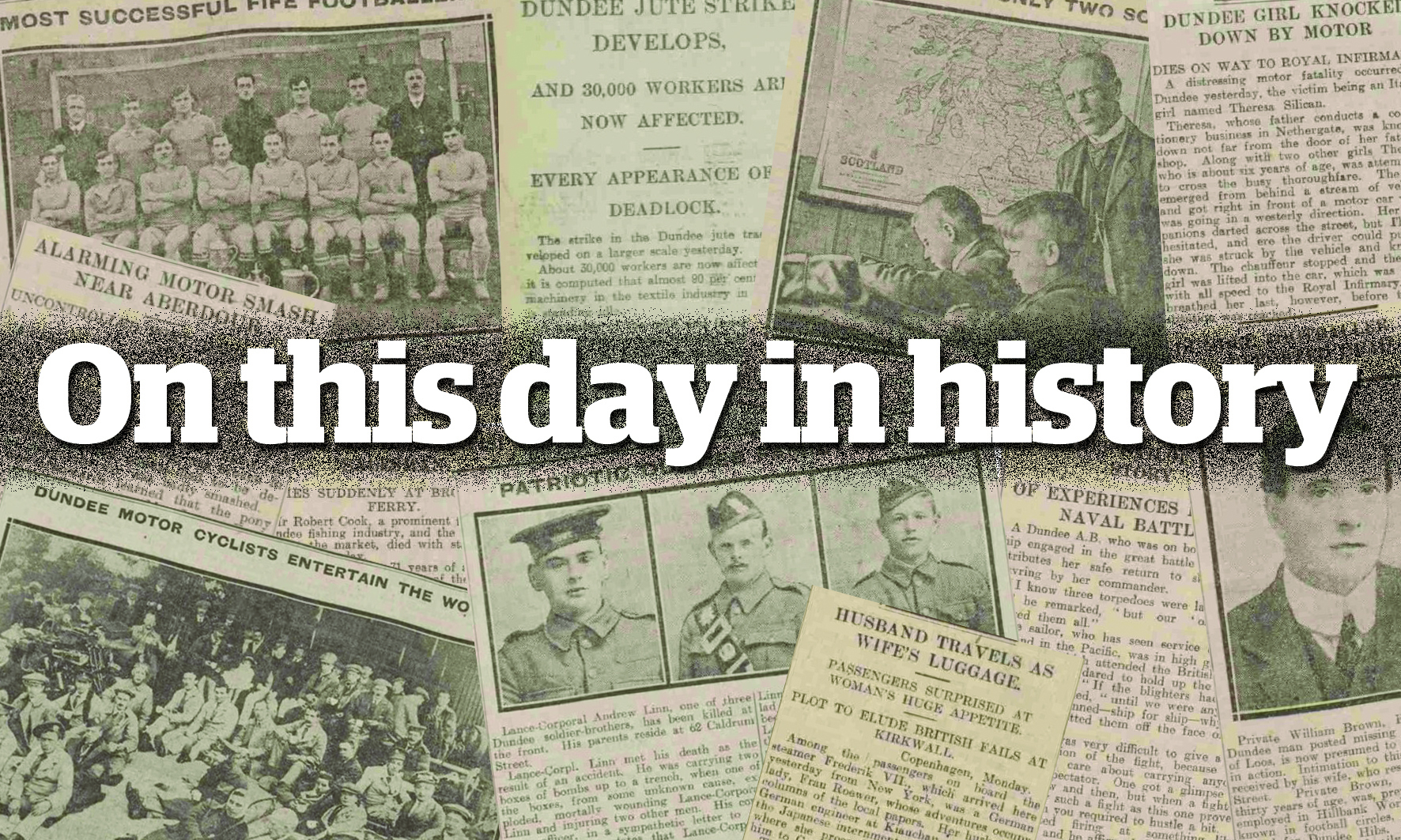 They say that today's news is tomorrow's chip paper.
While that may have been true in the past, the internet – and modern hygiene legislation – are slowly consigning the idiom to history.
The DC Thomson archives hold a wealth of long-forgotten articles and starting on Friday we'll be bringing you snippets from our pages, just as they were printed a century ago.
Running in direct parallel with the papers of 1916, which even then were published Monday to Saturday, the archives articles will appear six days a week – though due to the passage of time they will be published Sunday to Friday.
For me this started as a personal project on Twitter back in January. Having always been a bit of a history buff, I had visited the British Newspaper Archive website in search of some background to a story when my eye was caught by a quirky tale on the same page.
January 27 1916: Man claims to have "hazy recollection" of of bigamous marriage pic.twitter.com/f9Kdlj8o7p

— Kirsty McIntosh (@C_KMcIntosh) January 27, 2016
I decided to tweet it, and got a lot of positive feedback. So I decided to tweet another, and another, and another. The project soon snowballed, attracting hundreds of views each day.
Due to its success, my once small personal project is now set to become part of The Courier's website and will focus mainly on local news from Dundee, Angus, Fife, and Perth and Kinross.
In the last six months I have discovered that not much has changed in a century of journalism – the journalistic ancestors of the current Courier reporters still wrote about court cases, car crashes, fires and local tragedies, alongside events such as fêtes and milestone birthdays.
June 28 1916: Fife's mini Mozart hailed by troops pic.twitter.com/NeWIq0qhyK

— Kirsty McIntosh (@C_KMcIntosh) June 28, 2016
The only obvious difference is the extensive coverage given to the First World War – almost daily there is mention of injury and death suffered by local men, as well as coverage of the national situation.
Seeing the young men who gave the ultimate sacrifice has always been one of the most haunting aspects of the project as the vast majority are far younger than my 30 years.
June 16 1916: Former Dundee Hibs player reported as dead @dundeeunitedfc pic.twitter.com/N3lEtw4TCI

— Kirsty McIntosh (@C_KMcIntosh) June 16, 2016
In repeating their stories, it shows that the war was not won by a large faceless entity called "the army" or "the navy" or even the "Royal Flying Corps" (as the RAF was then) but by individuals with names, personalities and families left to mourn them.
June 8 1916: 18-year-old soldier killed in action just three months after signing up pic.twitter.com/JLFR5gzPAt

— Kirsty McIntosh (@C_KMcIntosh) June 8, 2016
However within the pages are also the lighter stories – a VC winner marrying his sweetheart, a tiny tot entertaining troops with her virtuoso skills on a piano and kind-hearted locals looking for ways to assist the wounded on the home front.
Also featured are issues affecting the then-booming jute trade, and bizarre tales from court – such as a publican who claimed he had served only ginger beer, and not whisky, past closing time.
January 3 1916: Fire at Fife house pic.twitter.com/PZyTV3JwCO

— Kirsty McIntosh (@C_KMcIntosh) January 3, 2016
My own personal favourite is a story from March 21 1916, when a German man, who had escaped a Japanese prison camp and was travelling back home, was caught hiding in his wife's suitcase while trying to avoid a British inspection in Kirkwall. Fellow passengers on her ship had become suspicious after noting her massive appetite.
So join us as we travel back 100 years and revive the tragic, poignant and downright bonkers news that history has left behind.