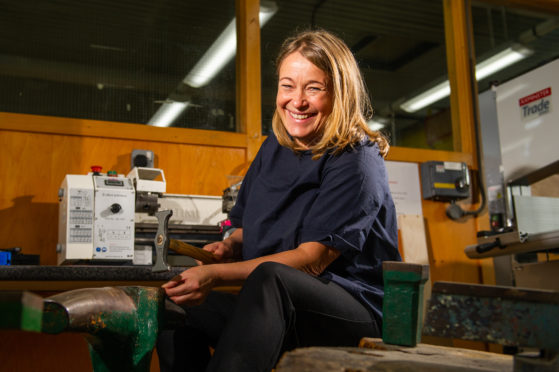 A jewellery designer from Dundee became the first woman to join a historic city trade group since it was founded 450 years ago. Gayle Ritchie meets Teena Ramsay…
When it comes to jewellery designers, Teena Ramsay is up there with the very best in Scotland.
As the jewellery and metal design programme director at Duncan of Jordanstone College of Art and Design, Teena has gained huge respect among colleagues, peers and professionals.
Her work is absolutely stunning and consists largely of contemporary-style rings, chokers, neckpieces and bracelets fashioned in gold, steel and silver with unusual stone settings and beads.
"Making work that I would wear myself is very important," reflects Teena.
"I've always been influenced by structures within buildings and the materials that are used.
"I believe materials come before an idea and that true partnership is when you have a connection with materials that work together in harmony, inventing new material partnerships."
Teena hit the headlines – and made history – last month when she became the first woman to join the Hammermen of Dundee since the incorporation was founded 450 years ago.
She swore the historic oath of allegiance to the Hammerman Incorporation of Dundee, part of the Nine Incorporated Trades, by striking the ceremonial anvil and signing her name in the "locket book", a document which dates back to 1587.
What on earth is a hammerman, you may well ask? The basic definition is this: a person who works with a hammer.
The hammermen are long-term supporters of Teena's course at Duncan of Jordanstone and sponsor annual prizes that enable students to develop their practice.
It was this relationship and Teena making the Incorporation's "Boxmaster Chain of Office" that led to her being invited to join.
Teena is extremely honoured to be the first female hammerman and understands why it's taken so long for such a watershed moment to happen.
"Due to the historical craft trades, we can understand that women did not play a part within the craft of 1587 – that we know of – but these days, many women go into silversmithing, goldsmithing, watchmaking, blacksmithing as well as becoming plumbers and pewterers," she says.
"This hasn't been an intentional discrimination, and I see my becoming a hammerman it as a positive move that welcomes the future longevity of the trade.
"I'm delighted to be the first woman admitted to the Incorporation and hope to do my bit to help it prosper in years to come, as well as inspiring more women to become involved."
The Hammerman Incorporation of Dundee is one of the city's historic Nine Trades.
The organisation was formed in the 16th century to create a strong bargaining group to oversee the individual trades, help them control their funds, and to provide funds for charitable causes.
They also purchased property and participated in the running of many bodies within the City of Dundee, providing board members and funds to many key institutions and organisations.
Hammermen of all kinds have been noted as working in Dundee as far back as the early 15th century.
In a town as prosperous as Dundee, where precious metal ornaments were worn on belts and used for buckles, there were many goldsmiths and silversmiths. Armour and guns were also produced by members.
Today, the Trades are largely involved in charitable work, mostly connected with education, and acting as pressure groups.
The Hammerman Incorporation currently has more than 60 members, including panel beaters, blacksmith plumbers, mechanics and engineers of various description.
"I was delighted to ask Teena to join our Incorporation and delighted she agreed to do so," says Raymond Edwards, clerk to the Hammerman Incorporation of Dundee.
"Our members must work with hammers in their everyday business and, because these jobs tend to be male-dominated, that has perhaps prevented women from joining, even though our constitution changed to allow them several years ago.
"What Teena does obviously fits with the trade and provides a link to the goldsmiths and silversmiths who were an integral part of the Incorporation throughout its history.
"We have made a concerted effort to breathe new life into the organisation in recent years and through our relationship with Duncan of Jordanstone we hope some of Teena's students will go on to become members and form the new generation of Hammermen."
Teena has always enjoyed working with her hands and recalls her needlework at primary school.
"The process of using a tool and material has always been something I've enjoyed and it's stayed with me," she says.
"Learning through making is such an important part of early education and should be an integral part to all curriculums."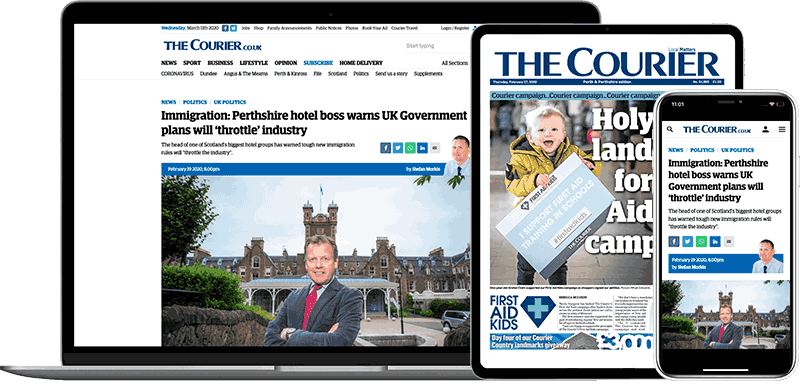 Help support quality local journalism … become a digital subscriber to The Courier
For as little as £5.99 a month you can access all of our content, including Premium articles.
Subscribe