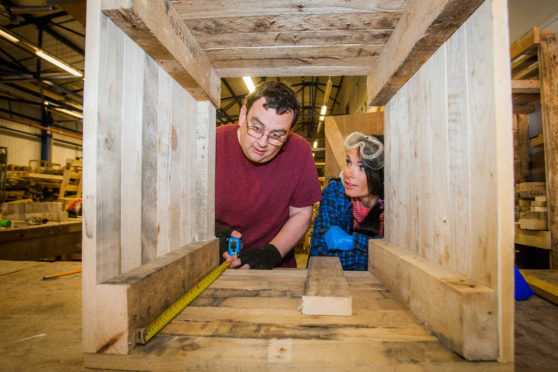 If you go down to Dundee and Angus Wood Recycling Centre today, you're in for a big surprise, as Gayle finds out
Early morning in an industrial estate in Dundee and the sounds of hammering and sawing are filtering onto the streets.
I'm searching for Dundee and Angus Wood Recycling Centre and the noise tells me I've come to the right place.
Hidden away in the old Levi factory on Dunsinane Avenue, the centre recycles old pallets and other materials into useful and decorative items such as garden sheds, planters, benches and even "castles" for rabbits!
Inside, it's a feast for the senses, the smell of wood, sawdust and sap, the cacophony of machinery, and endless piles of wood dominating the huge space.
Launched last year by Richard Green, a gardening instructor at NHS Tayside, the centre is open six days a week.
Work is done by volunteers and people with learning disabilities, although it's hoped funding for a couple of employed posts will allow it to increase the scope of the operation.
"I spawned the monster!" laughs Richard, who is king of the castle, surrounded by pallets galore and random items of furniture, including beds, wardrobes, dolls' houses, dressers and more.
"Pallet wood is free and there's an infinite amount brought in to us, as well as collected by us.
"The pallets come from all over the world – the USA, New Zealand, Colombia and beyond – all heat-treated to cross borders."
The centre is a hive of activity, and it's inspirational to see volunteers in training having a whale of a time, putting all their energy into creating new objects.
One trainee, Andrew, shows me how to pull nails out of strips of wood using a claw hammer while Peter is more than happy to help me measure up a planter he's making out of old pallets.
Under Richard's watchful eye, I get stuck in, cutting an old fence post into small chunks using a circular saw.
Some trainees love tearing old things to bits and I stand back, slightly anxiously, as Andrew rips slats away from an old bed.
Peter proudly tells me he can make a log store in an evening, and watching him at work, his passion and enthusiasm are infectious.
It seems there's no limit to what these folk can create and Richard tells me the aim is to "build things that last".
Looking around, I spy a fancy shed which turns out to house a compost toilet, a planter in the shape of an aeroplane, benches, bridges, shelving, a guitar-shaped clock, gates, storage boxes and log stores.
Other commissions include tealight holders and dog kennels.
Donations flood in from unlimited sources. A Scottish hotel chain, for example, donated old cupboards which are currently stacked and waiting to be transformed into something new.
Even old mattresses are put to good use. They're stripped down and components, including metal springs, are separated and recycled.
For a man in charge of such an operation, it's strange Richard considers woodworking to be out of his comfort zone.
"I've never done woodwork except at school when I made a useless pencil case!" he laughs.
"I spend time on YouTube and Pinterest being inspired and learning from photos and videos."
Any profits made – although there are none yet – go back into the business and are used to buy new tools.
"It's sustainable, not profitable, and we volunteer our time unpaid because it's something people with disabilities can engage with," says Richard. "Training helps develop their work skills, encourages them to interact and opens doors into employment."
As I'm leaving, regular customer Mark Nugent comes in to collect a gate he's ordered.
"It's to keep my little lad away from the road," he explains. "I'm impressed how quickly they made it."
Orders are taken for absolutely anything and the centre has requests coming out of its ears!
As such, it's struggling to meet demands and is desperate for volunteers, so get in touch if you can help out.
info
Dundee and Angus Wood Recycling Centre was launched in 2017 after getting a £5,000 start-up grant from Dundee Social Enterprise Network.
The centre is a community interest company (CIC) in which any profits are reinvested back into the business to help more people. It hopes to purchase a vehicle so they can pick up raw materials and deliver finished items to customers.
As well as ordering bespoke items, if you're after some kindling for the fire, you can fill your boots with offcuts and blocks of wood for a small donation.
For more information – and to enquire about volunteering – see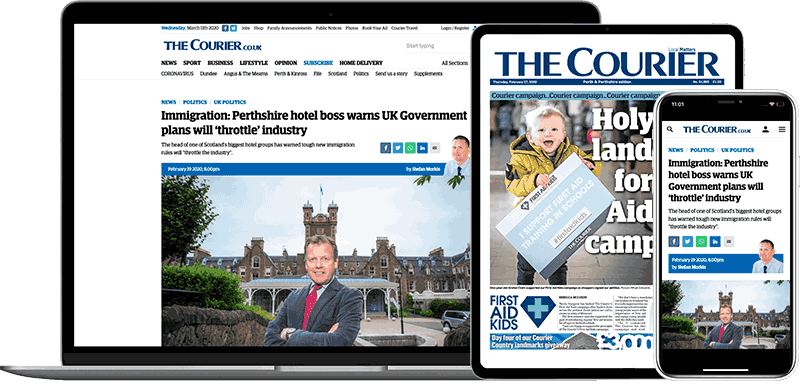 Help support quality local journalism … become a digital subscriber to The Courier
For as little as £5.99 a month you can access all of our content, including Premium articles.
Subscribe