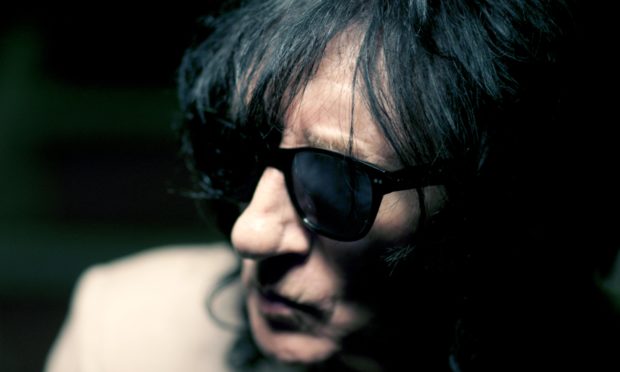 If John Cooper Clarke didn't exist it's highly unlikely that anyone would have thought to invent him.
Born in Salford 70 years ago, he became interested in poetry at school but it was while working as a lab technician that he got his first break, moving from folk clubs to reading his own compositions in a club owned by the famously recalcitrant Bernard Manning.
However, it was the burgeoning punk movement of 1976 that pogoed Cooper Clarke into its centre and helped to define his voice.
It was a voice that fitted those combative and brutal times; his scattergun delivery was informed by his love of the Ramones, whose short songs were played at increasing breakneck speed and who used this sense of apocalyptic urgency to attempt to make each show shorter than the last.
Cooper Clarke's early work still resonates hugely and his first anthology "Ten Years In An Open-Necked Shirt" has been reprinted many times.
Over the years he has gained a wide and vociferous following that now includes a new and younger audience drawn in by his work with admirers Plan B and the Arctic Monkeys; they joined a list of devotees including Steve Coogan, Peter Hook, Phill Jupitus and Kate Moss, who said of him: "John Cooper Clarke uses words like Chuck Berry uses guitar riffs – melody and anger, humour and disdain in equal measure. He's the real deal, really funny and really caustic, the velvet voice of discontent."
A second volume of poetry – "The Luckiest Man Alive" – was published in 2016, the title reflecting the fact that Cooper Clarke has survived some tough times including an addiction to heroin that effectively halted his muse for years.
I caught up with the Bard of Salford – now Dr Clarke, after receiving an honorary doctorate from Salford University in 2013 – on his landline (he resolutely still has no mobile or computer) at his home in Essex where he lives with his French wife Evie and their daughter Stella.
As befits the luckiest man alive, our conversation was studded with great bouts of laughter among other moments of poignancy, incisive revelation and huge wisdom. He is the only man who has ever used the word "Terpsichorean" to me, all the more noteworthy as he was talking about dancing to Northern Soul at the time.
MC: On your recent Desert Island Discs you seemed like a man who is genuinely happy.
JCC: I would say I am, hence the title of my latest book The Luckiest Man Alive. It ain't ironic.
MC: Why do you feel lucky?
JCC: Well, why does anybody feel lucky? They're in a good space – they've found happiness; people who have found happiness are very lucky. Saying that, though, happiness really is a fleeting thing that can't be sustained… but contentment, yeah; I've got a good life, a wife, beautiful kid, nice house, a car.
At this point he laughs, perhaps realising the irony of defining happiness in such mainstream terms. It's an endearing quality of Cooper Clarke's, that sense of honesty combined with harsh pragmatism and an innate ability to cut through pomposity. It makes speaking to him a treat, but one which often relies on picking up the nuances from the rich, still intensely northern timbre of his speech. He pronounces words like no one else I have met.
MC: You've also got really interesting people saying how great you are: you've got that lovely eulogy from Kate Moss on your website, for example.
I then proceed to read it to him.
JCC: I like that. Smashing! It sort of puts me in the same league as the late Mel Torme – remember him? That was his nickname – The Velvet Fog. Yeah, it's nice (having people say great things). The alternative has limited appeal.
MC: And you're writing your autobiography? What's a typical day right now?
JCC: I'll start work at midday with an editor from Picador Books. I'm over the wire now, but for the best possible reason. I'm still furnishing my memoirs – people usually write their memoirs at the end of their careers but my career has never been more hectic so more memories are being made that will fill these pages. It's always a good sign when you're knocking stuff out instead of padding it up isn't it?
My memory is great. I wish I could forget. But I'm gonna finish it before I lose my brains. That's a spectre round my neck. I've got to finish it while I still have a memory.
MC: What drew you to punk?
JCC: I was an early convert. I saw it as being a return to the core values of rock 'n' roll after all these bands like Yes, Genesis and Emerson Huntley and Palmer. I hated all that. But I was a soul boy before. We invented the Northern Soul phenomenon; we started that whole craze off in Manchester at a club called The Twisted Wheel, me and about 27 other people. This was 10 years before Wigan.
MC: Can you do Northern Soul dancing?
JCC: I can't do that Wigan Casino stuff. It's very exhibitionist, but I love to watch them. But my rule number one when dancing is "don't move your feet".
MC: Did you dance at your 70th birthday celebrations?
JCC: Yes, I think I did. It's the last birthday I'll ever have. You know, I'm not having any more. It's bad enough being 70. I said this when I was 64 – I'm not gonna tell anybody that I'm 64 because I couldn't stand a year of people singing the only Beatles song I don't like. I didn't like it when I was 18 and I don't see why I should like it now I'm 64. I think I'm just gonna stay 63. I don't wear a watch and I never look at a calendar. In the autumn of my years, to be reminded of the passage of time is a terrible thing.
MC: You spoke about pondering the nature of eternity when you are alone on your desert island. What conclusion would you reach?
JCC: (laughing uproariously) Well, there's no time limit on that thought process. I'm not expecting to come to any conclusions about that any time soon. The contemplation of eternity? We'll never know. I've never been an atheist. Well, I have, but a long time ago. Who can be sure? I'm not one of these people who will carry atheism to my deathbed, put it that way. (At this point JCC: affects the voice of him questioning an atheist "What are you trying to prove? Play it safe, you daft sod").
MC: You mean you want to make sure you get in there, to Heaven?
JCC: Exactly! The late, great Elvis Presley wore a crucifix, a Davidian star and an Islamic crescent moon on a gold chain round his neck and, when asked why, his reply was the same as mine would be: "I ain't missing out on heaven on a technicality." I can't improve on that.
MC: How would you define "bohemian"? Are you bohemian?
JCC: I think I'm the last normal guy alive. Everybody else is bohemian or wacky or zany or crackpot. (Laughs). I think of myself as the last defence of sanity in the world.
MC: What can we expect from your show in Dundee?
JCC: Expect more of the same and then some. A few gags, some new poems, but mainly the set list will be the stuff in my recent book.
MC: Will you be doing one of my faves "Get Back on Drugs You Fat F***"?
JCC: Well yeah, now you're calling it out then yes I am. It's one of my favourites as well.
MC: Have you ever heard of William McGonagall?
JCC: The worst poet that ever lived apparently? People used to throw dust at him in the street. He was so bad, was he? But I think he invented a new style – he was just ahead of the game. He was the rapper – you know part of the style of rap is to wear out every possible rhyme and I think he invented that.
MC: So can we reclaim him?
JCC: Yeah! Be proud of him, he was just ahead of the curve. That poem about the Tay Bridge disaster – heartbreaking.
MC: So do you think you might "sample" a bit of his poetry when you play Dundee?
JCC: (Laughs). No, I'm gonna leave that to one of you fellas.
MC: Is your delivery as fast now?
JCC: Well, the whole house style of punk was that you did everything at triple speed. Yeah, I was fast. But maybe I'm a little more leisurely these days…
And with a conspiratorial laugh, Cooper Clarke bids me farewell with an ultra Mancunian goodbye ending with "nice one, kid" – delightful for me as I'm actually a mere decade younger than the legend himself.
What a guy!
John Cooper Clarke plays the Gardyne Theatre in Dundee on October 19 and Carnegie Hall in Dunfermline on October 20.