Michael Alexander speaks to renowned American artist, activist and academic Joseph DeLappe who reveals why Dundee already feels "so much like home" since he took on a top job at Abertay University.
As a native of San Francisco, Joseph DeLappe is no stranger to the smell of sea air and the familiar sight and sound of seagulls.
Perhaps it shouldn't be a surprise then that just two months after taking up the post of Professor of Games and Tactical Media at Abertay University, the 53-year-old American says Dundee already feels more like home than his previous 23 years living in the high deserts of Northern Nevada.
Joseph has a hugely impressive portfolio as an artist, activist and academic.
He has worked with electronic and new media since 1983, and his works in online gaming performance, sculpture and electromechanical installation have been shown throughout the world.
From 17-foot polygon sculptures of Gandhi, to a weeping Statue of Liberty cardboard creation and a project highlighting the number of American military casualties in Iraq, Joseph has never shied away from controversial subjects.
However, just two months after "resetting" his life with a move to Dundee, he is looking on his move across the pond as a chance to cement existing relationships here and abroad and to further develop critically innovative content.
"I've found Dundee to be a welcoming and friendly place," he said.
"I was very attracted by the incredible concentration of artists and scholars who are engaged in media based practices. It's a really cool place going through exciting times.
"I'm looking forward to cementing existing relationships while also meeting and connecting with new friends and colleagues here and abroad.
"I'm also thrilled to be here at Abertay. I see a university that has taken a leadership role in games education and research.
"I hope to add my energies to this equation, to collaborate and strategize with colleagues and students alike to continue to build upon Abertay's reputation as a place where amazing things happen."
Joseph came to prominence in 1999 when he began creating 'The Mouse Mandala', put together with used, broken or discarded computer mice, woven into a growing spiral.
He bought the mice hundreds at a time through electronics surplus stores in the Silicon Valley.
The work was inspired by contemporary work cultures while paying a wry tribute to the weavers and craftspeople whose lives were upended by the UK industrial revolution.
Then, in 2006, he began the controversial project 'dead‐in‐Iraq', to consecutively type all the names of America's military casualties from the war in Iraq into the America's Army first person shooter online recruiting game.
From 2007 to 2009, Joseph worked on three of his 'Cardboard Gandhi' creations.
Standing 17-feet high, the polygon sculptures were designed to be the same height as Michelangelo's classic marble sculpture of the Goliath slaying 'David'.
The model was created in tribute to Gandhi's 248-mile Salt March across India in 1930, protesting against UK taxes.
Joseph built the statue after recreating the march over 26 days with the help of a treadmill and the online community Second Life.
In 2013, he rode a specially-equipped bicycle to draw a 460-mile long chalk line around the Nellis Air Force Range to surround an area that would be large enough to create a solar farm that could power the whole of America.
In 2015, he co-collaborated on 'Liberty Weeps', a nine-feet cardboard sculpture commissioned for #ManifestJustice, a pop-up exhibition in Los Angeles.
The project was a response to the state of 'truth, justice and liberty' in the United States.
And with Donald Trump now in office as US president, there could be more mileage yet.
"I've always been very political as a person, but for me it was the atrocities of 9/11 and the response of the US and subsequent invasion of Iraq that has inspired my work to be something of a cultural critique since the early 2000s," he said.
"I suppose I want to change the world. To create a dialogue."
His critically-acclaimed works have been featured in the likes of the New York Times and he has appeared on CNN.
Having now taken up position as Professor of Games and Tactical Media at Abertay, Joseph said he will continue his own creative research in computer games and new media based practices and will lead efforts at Abertay to highlight and coordinate research efforts.
He will also work to raise the profile of Abertay through public events, such as visiting artist lecturers, screenings, festivals and exhibitions.
As part of his creative practice, Joseph recently returned from California where he created a further 'Liberty Weeps' cardboard structure as part of an exhibition – 'Justice for All?' – at the Euphrat Museum in Cupertino.
Joseph said: "For now I am really working on getting familiar with my new colleagues and learning as much as I can about the work that is done here at Abertay, continuing to make connections locally and throughout Scotland, the UK and beyond.
"I'm also interested in continuing to work in computer gaming of course, particularly after the impact of 'Killbox' made with local game designers Mal Abbas, Tom Demajo and Albert Elwin."
Killbox is an online game and interactive installation that critically explores the nature of drone warfare, its complexities and consequences. It was nominated for a Scottish BAFTA as best computer game.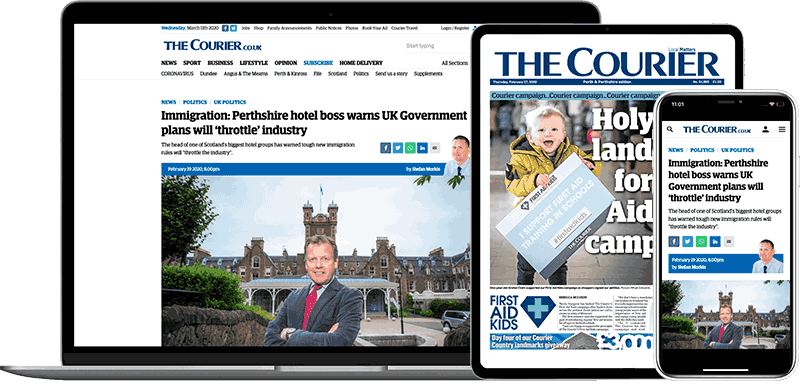 Help support quality local journalism … become a digital subscriber to The Courier
For as little as £5.99 a month you can access all of our content, including Premium articles.
Subscribe