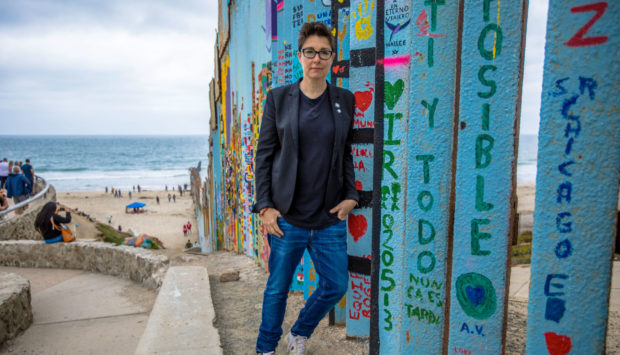 This week, Paul praises a superior piece of celeb-fronted reportage...
NEXT WEEK'S TV
SUE PERKINS: ALONG THE US-MEXICO BORDER
Monday and Tuesday, BBC One, 9pm
If we must have celeb-fronted travelogues, then I'd rather they were hosted by the likes of Perkins. Likeable, witty, compassionate, eloquent, she always engages sincerely with the issues at hand. In this two-part report she visits the world's most contentious border. Interviewees include Mexicans who can only touch flesh with their displaced loved ones through tiny holes in The Wall. Perkins also meets wealthy white Americans living the retirement dream; undocumented migrants who couldn't care less about their hypocrisy. This is both a celebration of Mexican culture and, by direct extension, a condemnation of the Trump regime's racist narrative. "The more we shut doors," says Perkins, visibly angry, "the more we shut doors on our own humanity."
DOG TALES: THE MAKING OF MAN'S BEST FRIEND
Tuesday, BBC Four, 9pm
Dogs: what's their agenda? How did these once wild creatures evolve into loyal and loving domesticated pets? This illuminating programme provides some answers. In an effort to solve the puzzle of domestication, leading canine scientists conduct ground-breaking experiments involving genetic data and behavioural selection. Most experts agree that dogs first became domesticated around 15,000 years ago, the direct descendants of wolves who chose to become friendly with humans as a survival mechanism. We also gain some remarkable insight into the power of that special emotional bond between people and their pets by visiting a U.S. penitentiary, where specially-trained dogs are used as part of a programme to transform the behaviour of hardened criminals. It seems to work.
CAN WE CURE KIDS' CANCER?
Wednesday, Channel 4, 10pm
A pioneer in its field, the Royal Marsden Hospital has been treating children with cancer for over 60 years. It runs the largest programme of experimental drug trials for young cancer patients in the UK. In this candid programme, we follow hospital staff and three families as they go through the long, arduous treatment process. Three-year-old Charlotte has a very rare form of cancer. She is one of the first children in the UK to receive a new life-saving drug. Teenager Lilly is being treated with a combination of chemotherapy and immunotherapy. Toddler Artemis requires a stem-cell transplant. This isn't an easy watch. Prepare for uplifting moments punctured by cruel shards of reality.
THE BLACK FULL MONTY
Thursday, Channel 4, 10pm
The Chocolate Men are Britain's only all-male black strip group. These generously-proportioned dancers put on a tactile show; it's literally in your face. They present a fantasy version of black male sexuality, which has led to accusations of profiting from the perpetration of racial stereotypes. They flatly deny this, arguing that it's honest graft. This non-judgemental documentary follows them on a successful nationwide tour. One of the dancers, Nigerian-born Django, named himself after the Tarantino film in which a slave becomes an emancipated hero. "We're the bottom of the food chain," he says. "This is me taking my power back." Unfortunately, his good intentions are undermined when he gets carried away during a performance. Disaster looms.
FILM of THE WEEK
TERMINATOR 2: JUDGEMENT DAY
Tuesday, ITV4, 9pm
This relentless sci-fi action epic is rightly regarded as one of the best sequels ever made. Arnold Schwarzenegger returns as an imposing cyborg from the future, only this time he's not the villain. His mission: travel back to the early 1990s and protect the teenager who will one day avert Armageddon. The revolutionary special-effects aren't the whole show; this is a blockbuster with heft.
LAST WEEK'S TV
WHEN BOB MARLEY CAME TO BRITAIN
Saturday 29th August, BBC Two
Bob Marley regarded Britain as his second home. It was the springboard for his international career. This tender documentary featured contributions from some of the black Brits whose lives were touched by his positive, almost messianic presence. He provided hope. The undoubted highlight was a cockle-warming account of when he and Johnny Nash performed an afternoon acoustic gig for some astonished Peckham schoolkids. They all played football in the playground afterwards.
DIRTY SECRETS OF BRITAIN'S TAKEAWAYS
Monday 31st August, Channel 4
In this emetic series, "hard-man of hygiene" Gareth Jones (in reality a softly-spoken Welshman) and restaurateur April Jackson join environmental health officers in their fight against unhygienic takeaway outlets. Call me a naively empathetic clod if you will, but I actually felt quite sorry for the businesses whose reputations were ruined. Sure, their hygiene standards were appalling, but who's to say they wouldn't have improved following this public inspection?
CALL THE COPS
Tuesday 1st September, Channel 4
This sobering series is of more social value than most frontline police documentaries. Episode one featured a young man caught in a hopeless spiral of self-destruction, and 29 terrified, starving Vietnamese men and women being trafficked in the back of a van. What they'd been through is unimaginable. Meanwhile, Farage is out there on the beaches with his binoculars, munching pasties and squealing to teacher.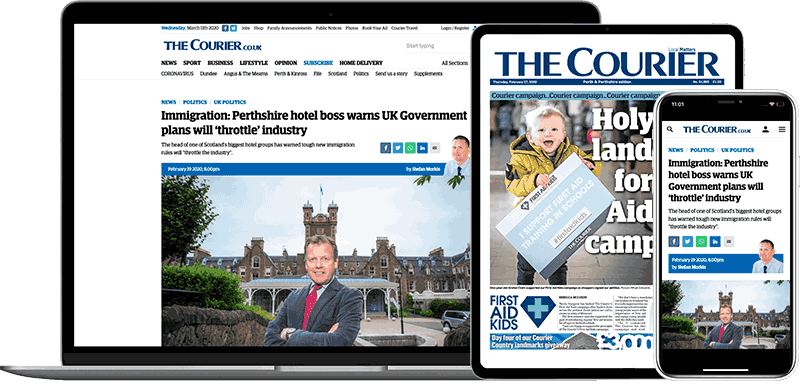 Help support quality local journalism … become a digital subscriber to The Courier
For as little as £5.99 a month you can access all of our content, including Premium articles.
Subscribe