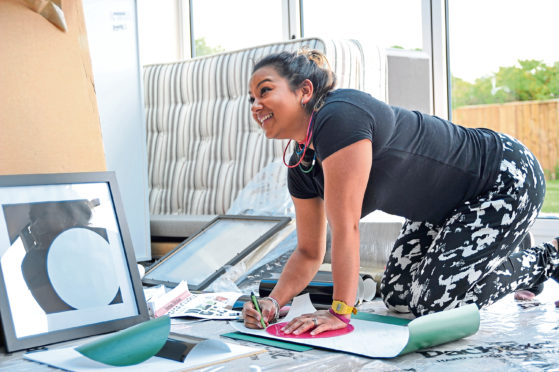 Countryfile comes to Perthshire and a new BBC series sees 10 up-and-coming interior designers looking for their next big break…
Last week's telly was wonderfully local, featuring a Dundee Uni graduate vying for a top contract on new BBC show Interior Design Masters and an episode of Countryfile dedicated to Perthshire.
While I really enjoyed the latter (yes, I'm a dedicated Countryfile fan, even though a pal disparagingly described it as "Blue Peter for adults"), I wasn't blown away by the former.
So to Countryfile and having recently visited Cultybraggan, the best preserved prisoner of war camp in the UK, it was fascinating to see presenter Matt Baker's take on the place.
Matt hooked up with Dr Iain Banks of Glasgow University, and the two men wandered around the warren of crumbling Nissen huts discussing Cultybraggan's past and future.
In Comrie, Matt chatted to two elderly ladies who mingled with "low-risk" prisoners allowed out and about.
"Were you scared of them?" asked Matt. "Oh, no, they were somebody's laddies!" beamed one twinkly-eyed lady.
Jessie, meanwhile, recalled the generosity of some prisoners: "They always brought things to sell at jumble sales".
The highlight of the show – which also featured a beaver safari with Daniele Muir of Perthshire Wildlife on the Tay, – was the segment on farmer-turned-comedian Jim Smith.
We saw him at work on Stralochy Farm near Dunkeld and then he took presenter Charlotte Smith into Dunkeld's Taybank for an impromptu stand-up gig…with her as the support act.
Moving on, although I wasn't gripped by the concept, I felt I should watch the first episode of BBC Two's new series Interior Design Masters, as Fife solicitor and Dundee Uni graduate Terian Tilston was among the 10 participants.
Presented by Fearne Cotton with design guru Michelle Ogundehin as the judge "looking for magic" (plus a different guest judge each show), the designers are set a new commercial interior design challenge each week.
The first was to transform two showhomes in Northumberland. Yawn.
I was disgusted with Jerome's sickly pink kids' bedroom but impressed by our girl Terian's teenage bedroom which she described as "a mash up of Caribbean and modern".
There were tears when she cocked up a design but at least she showed she had a sense of humour when she stated: "Barbara Windsor said to stop herself crying she squeezed her bum cheeks together. That's what I'm doing."
I found the show really rather unexciting until judges dished out their brutally honest judgments. Nikki's black bedroom got the thumbs down while Terian was told she had done the job "really well". Phew. Ultimately, it was Jim who got the boot. "Your scheme had a great sense of theatricality but it was supposed to be a lounge and it didn't feel loungey." said Michelle.
Riveting stuff, this new show is not (in my humble opinion), but perhaps the next episode will be more exciting…