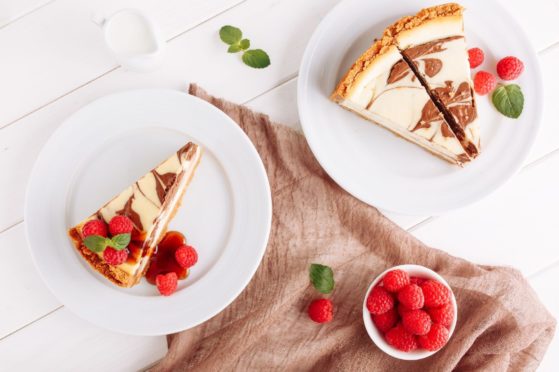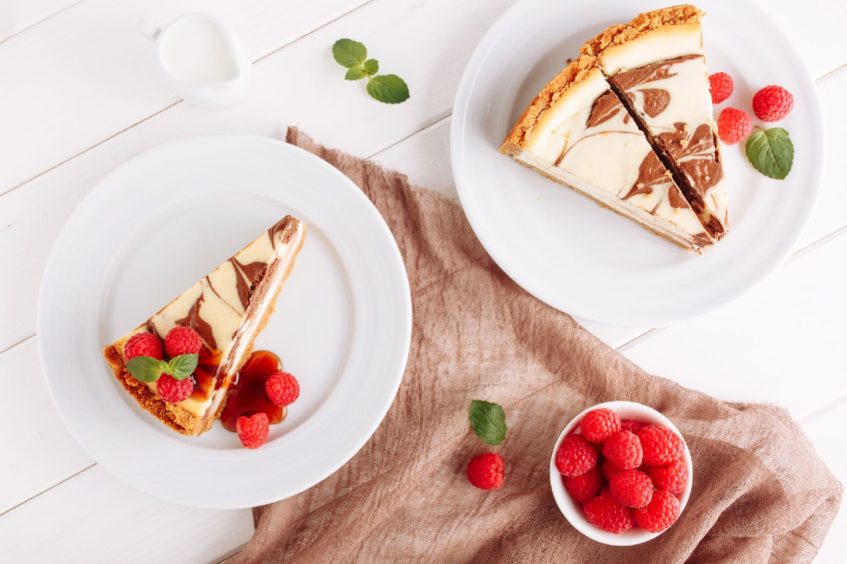 Raspberry season is in full swing and there are so many different ways you can use them. Here are three of our favourites…
It is said that raspberries contain more vitamin C than oranges. They're also found right on our doorsteps with an abundance of them grown in Fife, Perthshire, Tayside and Angus.
Perhaps most commonly used in desserts, raspberries are sweet and delicious and can be enjoyed in a variety of ways.
Here are three recipes by James Morton for Graham's the Family Dairy.
---
Raspberry sponge puddings
(Serves 4)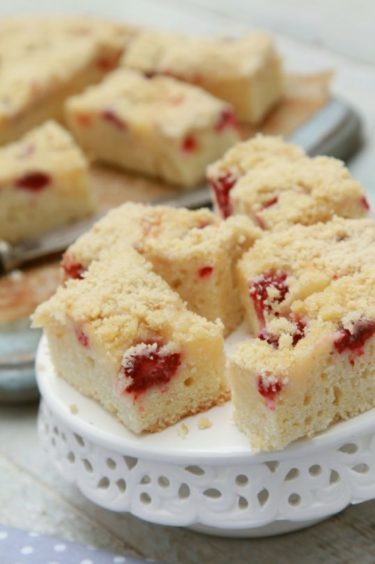 Ingredients
4 eggs (room temperature), weighed
The weight of your eggs in self-raising flour
The weight of your eggs in baking margarine, at room temperature
The weight of your eggs in caster sugar
A splash of milk, to slacken
A punnet of fresh raspberries
Raspberry jam (optional)
Single cream, for serving
Method
First, preheat your oven to 180C/160C fan/Gas 4. Use your baking margarine to grease some wee ovenproof dishes – ramekins for single servings or anything you can find for bigger ones. This recipe scales perfectly.
Weigh your eggs, shells and all. Write down the weight.
Weigh out your flour, sugar and margarine in turn into a large bowl – you want each to be the same weight as your total weight of eggs. Finally, crack in your eggs and add a splash of milk.
Whisk everything together for about 20-30 seconds. You want everything to be combined and for the colour to be slightly lighter than it was when you started. Overmix, however, and you'll have a doughy cake.
Scatter your raspberries onto your greased dishes. If you like, you can spoon in some jam for some extra stickiness. Pour over your cake mix, dividing it between them.
Bake for 15-25 minutes, depending on the size of your dishes. Check after 15 minutes, regardless. You know they're done when they spring back when pressed (don't worry, it won't feel too hot). There's no need to check with skewers or anything like that, as long as it springs.
Serve hot, turned out with, at least, cream.
---
Ripple cheesecake
(Serves 6)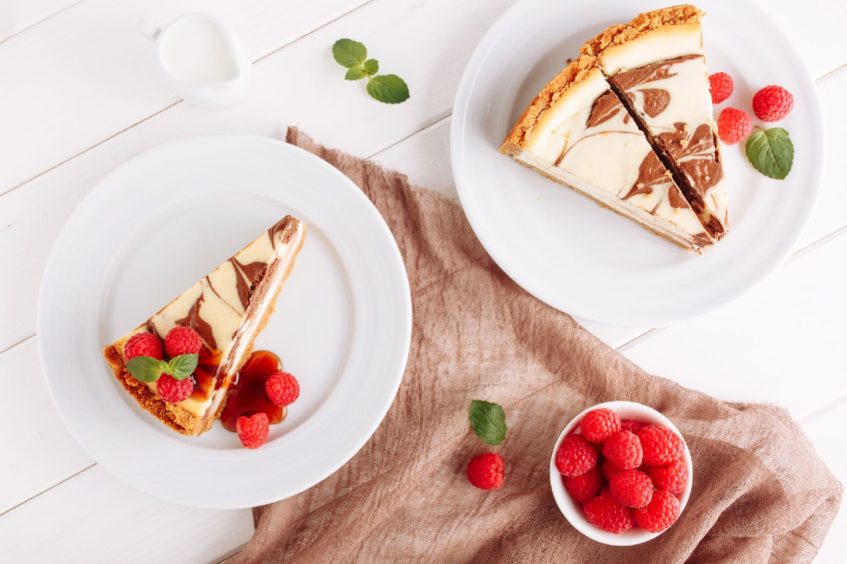 Ingredients
For the buttery biscuit base:
250g digestive biscuits
100g unsalted butter
For the raspberry curd:
200g fresh raspberries (strained)
80g butter, melted
80g caster sugar
2 eggs
For the cheesecake:
750g cream cheese (full fat)
125g caster sugar
1 tsp lemon juice
100g double cream
3 large eggs
Method
First, preheat your oven to 160C/140C fan/Gas 2. Line the bottom of an 8 or 9-inch springform tin with baking paper, making sure you grease the sides with loads of butter.
First, make the base. Blend your biscuits in a food processor (or put them in a freezer bag and bash them) until ground up. Press this into your cake tin's base so that it is even and flat. Melt your butter in a pan, and drizzle this uniformly over the top.
Make your curd. Push your raspberries through a sieve to remove the seeds (you can discard these). Place the raspberry puree in a pan with your melted butter and bring to a simmer over a medium heat.
In another bowl, whisk your sugar and eggs together. Add your raspberry mix to your sweet eggs and whisk together quickly. Return this back to the pan and stir over a medium heat until thick. Set aside to cool.
To make the cheesecake, mix your cream cheese, caster sugar, lemon, cream and eggs together in a large bowl until combined. It's that simple. Finally, build.
Place about half your cheesecake mix onto your biscuit base, then drizzle with just over half of your raspberry curd. Finally, roughly dollop the rest of your cheesecake mix on top and drizzle the rest of the raspberry curd between the dollops.
Use a knife to swirl through the layers to gently ripple your cheesecake.
Bake in the oven for up to an hour, or until risen into a magnificent dome. If it gets too dark, turn the oven down a little and add an extra 10 minutes to the baking time. Leave to cool (in the tin) before slicing.
---
White chocolate and raspberry tarts
(Serves 4-6)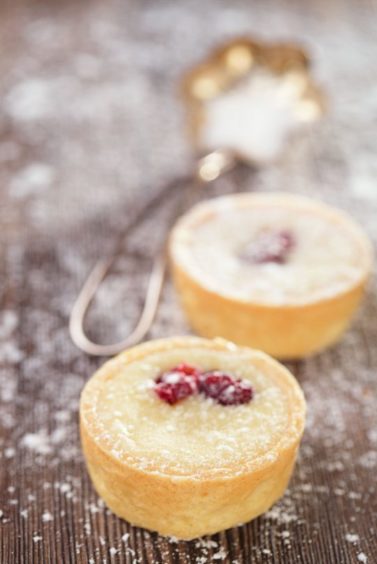 Ingredients
For the pastry:
200g plain flour
100g unsalted butter, cold
50g (weigh it) cold water
For the ganache:
300g white chocolate
250g double cream
Good raspberry jam
Fresh raspberries, to finish
Method
Put the flour in a bowl; chop the butter into squares and add to the bowl.
Rub this together with your fingers or a food processor until it resembles breadcrumbs.
Add your cold water and use a butter knife to mix everything together, gently. Use your hands to bring the pastry into a rough dough (don't knead or overmix) then wrap this in cling film and place it in the fridge for at least 10 minutes. This will relax the gluten and give you a crumblier pastry. You can leave it here for up to two days, or freeze it.
At this point, preheat your oven to 180C/160C fan/Gas 4. Look out and grease six individual metal tart tins with loads of butter. If they're quite big, you might only get four out of this recipe. Alternatively, you could make one big tart.
Remove your pastry from the fridge and place on a floured work surface. Add more flour on top, and then roll it out until it's the thickness of a £1 coin. I like to use a coin to measure this. Keep the pastry moving all the time and add more flour as necessary to stop it sticking.
Cut out circles a bit bigger than your tins and tuck the pastry inside, leaving any excess dangling over the edge. Prick each case all over with a fork.
Place them in the oven and bake for 25-30 minutes, or until they're turning golden. They're not going to get cooked again so make sure they're crisp. I'd check them after 10 minutes and push down any bubbles that form, or you could weigh them down with baking beans.
Once done, remove the pastry and leave to cool, before trimming off the overhang with a sharp knife. Spread the bottom of each tart case with a thin layer of jam.
Make the ganache by heating your double cream in a saucepan over a medium heat until it begins to simmer. As it's heating, break your chocolate into squares and place in a bowl. Pour your simmering cream over your chocolate and mix together gently with a wooden spoon.
To finish, pour your white chocolate ganache into your jammy tart cases and smooth out if necessary.
Place them in the fridge to set for 20 minutes or so, and then decorate with a few fresh raspberries. Cover any sins with a dusting of icing sugar.
---
Read more in this series…
Three ways with strawberries: Cookies, a nutty snack and feta tarts
From muffins to cake and curry, three great ways to use quark