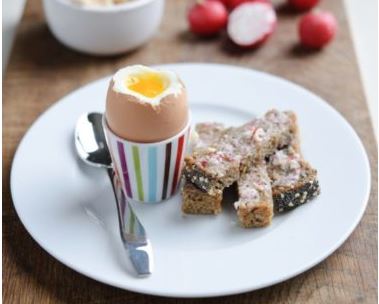 Here's another great way to start your weekend – just add some soft-boiled eggs and you'll be coming back for more in no time.
Radishes are one of the best compliments any dish can receive.
Adding a peppery flavour to breakfasts, lunch and dinner, they not only bring a touch of red or pink to what may usually be otherwise plain-looking meals, they're also full of nutrients – 100g of them will provide you with 24% of your daily requirement of Vitamin C.
The recipe below, courtesy of loveradish.co.uk, has found a way to give us some nutrients while we have our favourite meal of the week – brunch.
With just four ingredients, you'll have this whipped up in no time at all – and it may even become one of your new favourite ways to start the day.
For more ideas for brunch, be sure to visit our previous recipes in this series.
---
Radish butter on rye toast with soft-boiled eggs
(Serves 2)

Ingredients
6 French breakfast radishes
50g butter, softened
4 slices rye bread
4 medium eggs (at room temperature)
Method
Grate the radishes on a fine grater and place in a bowl lined with kitchen roll (this will absorb any liquid that comes out of the radishes). Beat the butter with a fork until it is very soft then add the radishes and combine well with a good twist of black pepper and a generous pinch of sea salt.
Bring a pan of water to a simmer, add the eggs and simmer for 3 mins then put the lid on and turn off the heat, leave to stand for 2 mins.
In the meantime, toast the bread and while still warm spread generously with the radish butter.
Cut the slices into soldiers and serve with the soft-boiled egg.
---
More in this series…
Brunch box: Creamy scrambled egg with salmon and diabetes-friendly tortilla muffins