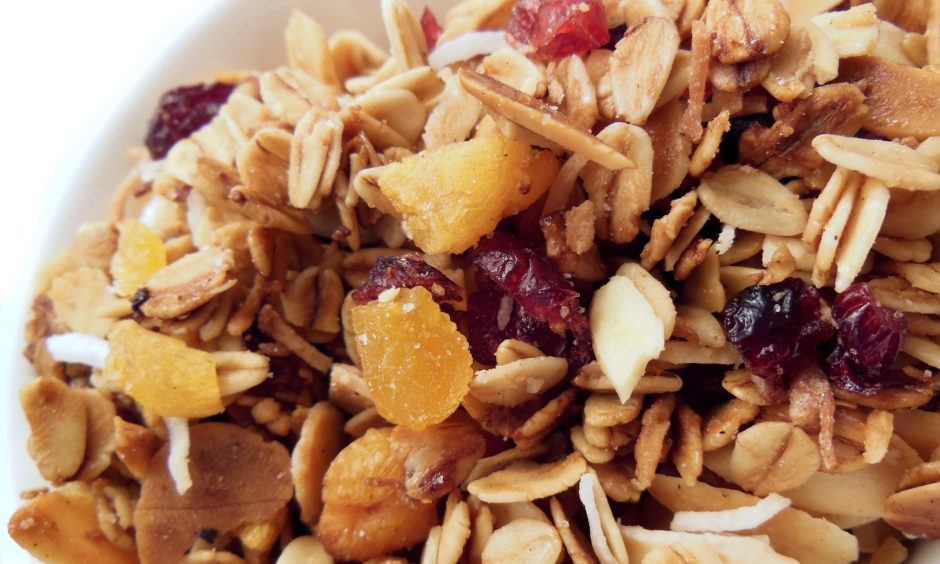 Are you fed up with taking the same soggy sandwich or boring salad to work for your mid-morning snack or lunch? We have some answers to bring your work (or at home) mealtimes to life.
Brunch boxes are getting more popular as people want to eat better and have something at work they will actually enjoy eating, rather than just eating out of habit.
With very little preparation and a few ingredients, many of which you will already have around the house, you can make yourself something really tasty to have in your fridge or at work if you are back in your normal routine.
Here are a couple of ideas to get your started – a delicious granola which is a nutritious cereal guaranteed to fill you up and a creamy chickpea-curry loaded sweet potato.
Granola
(Serves 10-12)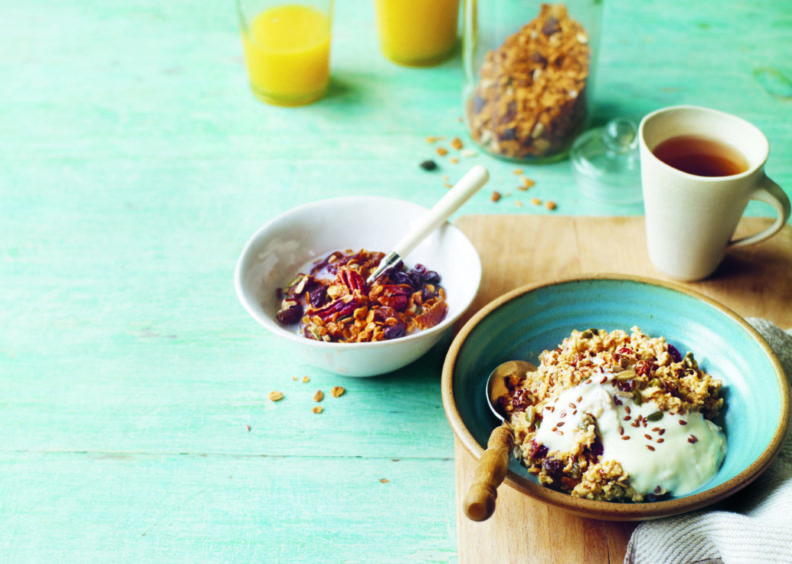 Ingredients
125ml pure maple syrup
125ml agave syrup
200ml flavourless oil, e.g. sunflower
2 tsps ground cinnamon
800g jumbo oats
200g mixed nuts and seeds e.g. pecans, hazelnuts, cashews and pumpkin seeds
150g raisins
150g unsulphured dried apricots, chopped
Method
Preheat the oven to 180C/350F/Gas 4.
Mix together the maple and agave syrups, oil and cinnamon. In a large mixing bowl, combine the oats and oil mixture until all the oats are evenly coated.
Spread the oats out on 2 baking sheets and bake in the preheated oven for about 20-30 minutes until they turn a lovely golden brown.
Give them a stir once or twice during cooking to make sure they are all evenly cooked. If it looks like they might be burning, turn the oven temperature down slightly and stir them again.
While the oats are in the oven, you can also roast the mixed nuts and seeds for 10-15 minutes or until they go a shade darker and their flavours are released.
Let the oats and nuts cool down, then mix together with the raisins and apricots.
If you feel like you want more cinnamon feel free to add more at this stage.
Recipe from The Plant Kitchen. Photography by Ryland, Peters and Small.
---
Creamy chickpea curry-loaded sweet potato
(Serves 2)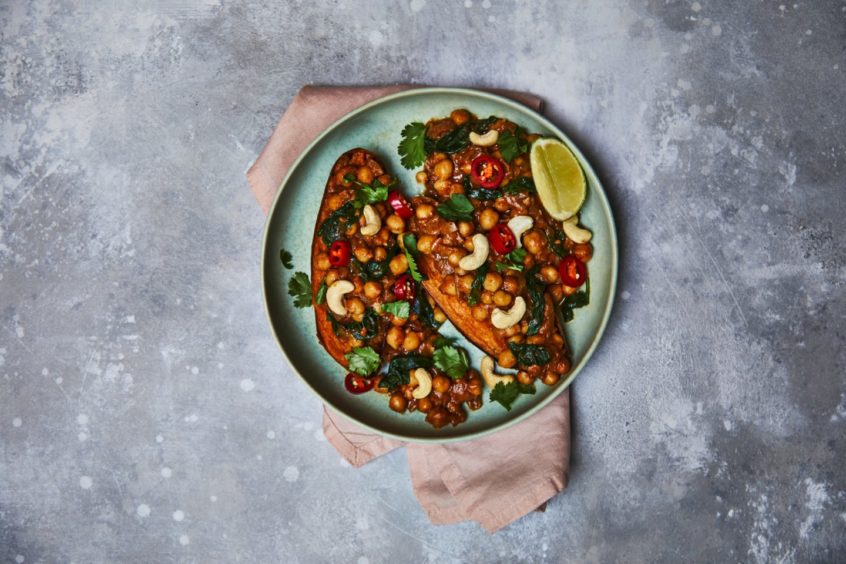 Ingredients
1 brown onion
1 red chilli
1 lime
1 garlic clove
15g fresh root ginger
25g cashew nuts
5g coriander
120g baby leaf spinach
1 tbsp korma curry powder
½ Knorr vegetable stock cube
2 medium sweet potatoes
16g tomato paste
25g solid coconut cream
1 can of chickpeas (400g)
Method
Preheat the oven to 220C/ 200C fan/ 425F/ Gas 7. Pierce the sweet potatoes with a fork, then cook in the microwave for 5-7 min or until slightly softened.
Transfer the sweet potatoes to a baking tray with a drizzle of vegetable oil and a generous pinch of salt then put the tray in the oven and cook for 12-15 min or until the skin is crispy.
Meanwhile, boil half a kettle. Peel and finely chop the brown onion, ginger and garlic.
Heat a large, wide-based pan (preferably non-stick) with 1 tbsp vegetable oil over a medium heat. Once hot, add the chopped onion with a pinch of salt and cook for 4-6 min or until softened. Then add the chopped ginger, chopped garlic and korma curry powder, and cook for 1-2 more minutes.
While the onion is softening, dissolve ½ Knorr vegetable stock cube and the coconut cream in 200ml boiled water. Add the tomato paste and stir it all together – this is your coconut stock.
Drain and rinse the chickpeas, then add the coconut stock and drained chickpeas to your pan and cook for 4-5 min or until the sauce has thickened.
Meanwhile, wash the spinach, then add it to a colander and pour boiled water all over it so that it starts to wilt. Rinse the wilted spinach under the cold tap until it's cool, then squeeze as much water out of it as you can.
Once the curry has thickened, add the wilted spinach and the juice of ½ lime – this is your chickpea curry.
Once the potatoes are cooked, add the cashew nuts to the tray and return it to the oven for a further 2-3 min or until the cashews are golden and toasted.
Top tip! Watch them like a hawk, so they don't burn.
Slice the red chillies into rounds. Chop the coriander roughly, including the stalks and cut the remaining lime into wedges.
Cut the sweet potatoes in half, lengthways, and fill with the chickpea curry. Garnish with the chilli rounds, chopped coriander, toasted cashew nuts and a lime wedge – bosh!
Recipe by Joe Wicks for gousto.co.uk