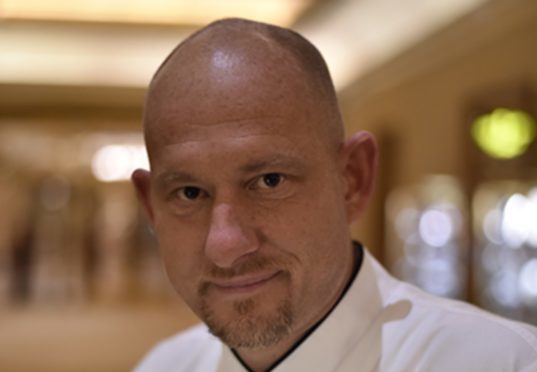 Alexander Haebe, head pastry chef at Fairmont St Andrews, tells Caroline Lindsay why wasabi nuts are a dangerous thing to have in his kitchen
Q Desert island food?
A Chocolate, I love chocolate and I can do anything with chocolate.
Q Favourite TV chef?
A US chef Anthony Bourdain because he is so visionary and funny.
Q Favourite cook book?
A Sweet Diversions by French pastry chef Yann Duytsche.
Q Favourite ingredient?
A Chocolate – see first question!
Q Most hated ingredient?
A Dourian, a kind of fruit – it doesn't smell very nice.
Q Perfect dinner guest?
A Friends and family.
Q Favourite kitchen gadget?
A Thermomix, it is a God-given machine. The only think it doesn't do is make coffee!
Q Favourite music to cook to?
A Classical, Mozart preferably as it is very relaxing.
Q Perfect menu?
A Fois gras, lobster, truffle risotto, steak, cheese, chocolate soufflé.
Q Favourite country for food?
A Asian, Indian and Middle Eastern, for their freshness and spices.
Q Favourite chef, alive or dead?
A Eckart Witzigmann – he was the first 3-Michelin star chef I worked with and was an inspiration.
Q Favourite culinary season?
A Spring when everything starts to grow.
Q Salt or pepper?
A Salt – you can always use a pinch of salt in everything.
Q Favourite herb?
A Lemon thyme – it pairs with everything, especially chocolate and fruits.
Q Favourite spice?
A Cinnamon – again, you can mix and match this with savoury and sweet recipes.
Q Favourite way to cook the humble potato?
A Mashed, the German way with nutmeg, butter and cream.
Q Favourite go-to recipe if you're in a hurry?
A My mother's recipes – they work every time and are rewarding to make.
Q Favourite naughty nibble?
A Wasabi spiced nuts – they are so strong and spicy, once I've started eating them I can't stop!
Q Favourite health food?
A Asparagus – just delicious.
Q Ideal picnic dish?
A Everything in glass jars – salads in jars, layered sandwiches in jars, cranachan in jars. So simple and easy!
Q Ideal BBQ food?
A Home-marinated lamb chops. I have my own recipe!
Q Are you critical of the food when you're dining out?
A Surprisingly yes, but of the ambiance not of the food. The food could be amazing, but if the ambiance is wrong, it can ruin the meal.
Q Do you tip in restaurants?
A Yes.
Q Top tip for failsafe cooking?
A Buy a BBQ.
Q Worst cooking sin in your opinion?
A If food that is supposed to be cold is hot. And if food that is supposed to be hot is cold. Temperature can ruin cooking very quickly.
Lemon and elderflower sponge cake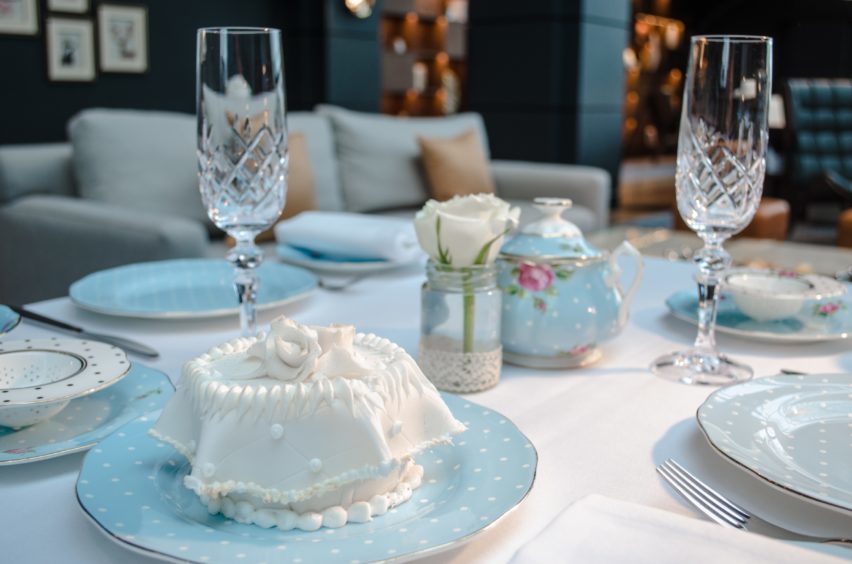 Ingredients
For the sponge: 300g flour
60g cornstarch
5g baking powder
250g butter
250g sugar
300g whole egg
150g marzipan
1 vanilla pod
Lemon zest,
30g lemon juice
60g chopped lemon peel
For the elderflower syrup: 200g simple sugar syrup 1:1
200g elderflower liquor
For the vanilla mousse cream: 75g milk
225g cream
37g sugar
7.5g pudding powder
100g egg yolks
½ vanilla pod
2 gelatine leaves
20g elderflower liquor
Lemon zest
190g whipped cream
Directions
For the sponge: sift the flour, whisk butter, spices and sugar well. Mix the eggs, spices and marzipan and mix it with the butter dough.
Stir the flour into the dough and pour into a baking dish. Bake at 175C for 45 min, chill on a wire rack.
For the elderflower syrup: heat the simple syrup and add the liquor, cover and leave to rest, cover in the refrigerator.
For the vanilla mousse cream: Cook all ingredients in given order and prepare a pastry cream. Soak the gelatin leaf in cold water and add to the warm cream. Add the flavour (liqour) and leave to chill till it cools to 34C.
Fold in the whipped cream gradually.
To assemble: slice the lemon sponge in half and soak gently with the elderflower syrup. Assemble the sponge with layers of cream and leave to set in the refrigerator for at least three hours.
Recipe courtesy of Alexander Haebe, head pastry chef at the Fairmont St Andrews. Alexander is creating a spectacular afternoon tea to mark the royal wedding. This includes making a replica of the delicious elderflower sponge that Harry and Meghan are rumoured to be having today.