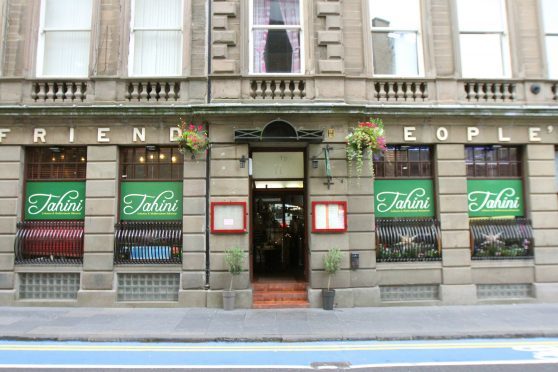 We all have so much choice when it comes to food. Shall we eat in or out? Where shall we eat? What shall we choose? How would we like that cooked? Would we like any side orders with that? This week, we did choose to eat at Tahini, but aside from that, the decisions were taken out of our hands and it made a really refreshing change.
Tahini is a family-run Lebanese and Mediterranean restaurant that has been open in Dundee for a couple of years. In the evenings they offer either a three-course or five-course tapas menu and at lunchtimes an a la carte service. We were told this on arrival and we gladly agreed, before taking our seat in the cosy dining room.
The first thing that struck me when entering the restaurant was the amazing array of aromas billowing towards us. I could sense spices and sweetness and a charcoal grill. The smell was so incredibly enticing and made my stomach rumble immediately.
The room is fairly compact and lots of effort has been made to transform what once could have been a drab, plain room into something much more exotic. The atmosphere is much like sitting in a cosy, familiar sitting room. We were welcomed very warmly and felt completely at home.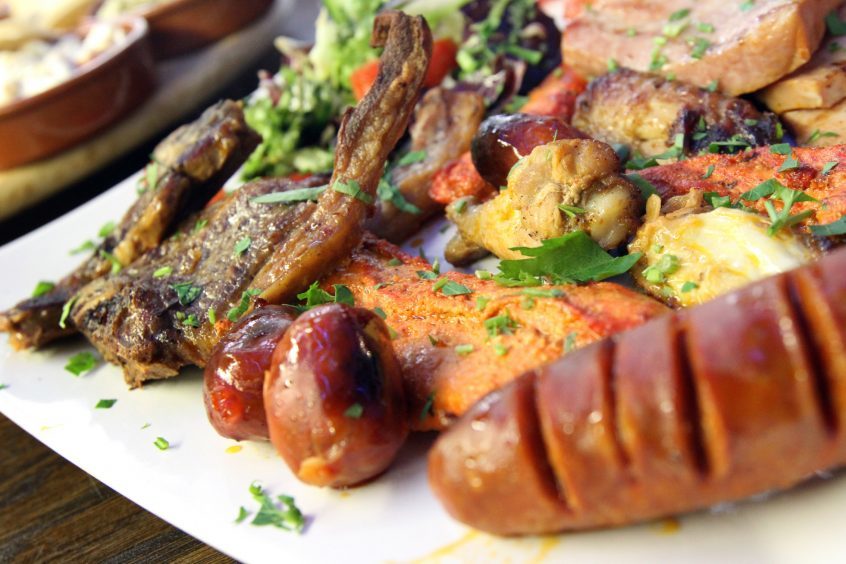 We were asked if we had any dietary requirements and informed that as part of our three-course tapas meal the first course would be a cold meze, the second course a hot meze and the third a mixed grill. That was the entirety of the description and we weren't given any menus so our culinary fate was in the hands of Tahini – and I was very happy about that.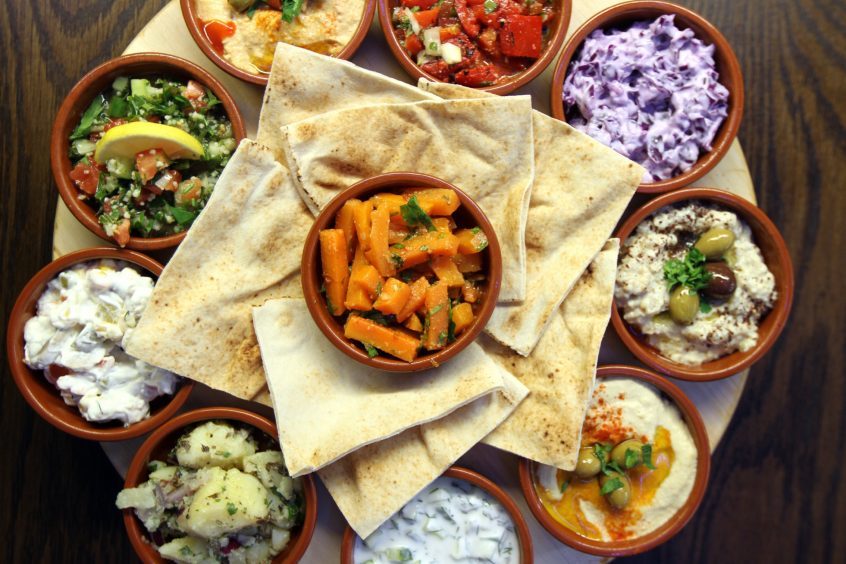 Our first platter arrived in the form of flatbreads with seven small terracotta dishes surrounding it, each containing a homemade delicacy. The potato salad was fresh and minty, the humous rustic and delightfully savoury; the chilli humous certainly had a wave of heat though it, but one could simply dive into the tzatziki to cool down. The tabbouleh was light and herby, the roasted peppers charred and sweet. My absolute favourite, though, was the baba ganoush which was cool and creamy yet seriously smoky; the aubergines had been blended enough to create a paste but still with a bit of texture to them. It was simple and delicious.
My main worry as we were truffling our way through these dishes was that we were only on the first platter of three. We seriously needed to show restraint and pace ourselves if we were going to walk out of there and not roll. My instinct was right as our next course consisted of no less than nine little terracotta dishes.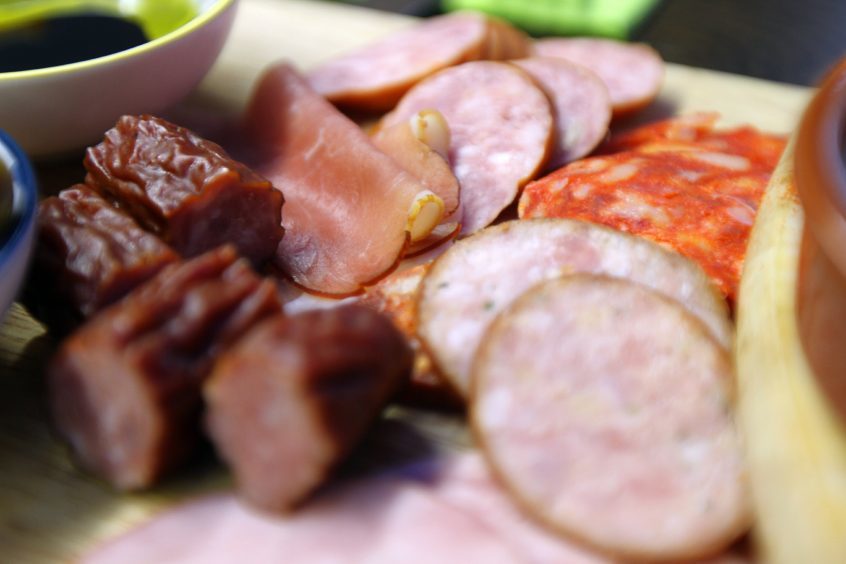 Some contained just one ingredient such as halloumi, but each ingredient had been cared for and lovingly prepared. It is hard to pick my favourites as I enjoyed them all. Mr Kerry and I decided that the chicken rice tasted like Christmas as it had mixed spice and it was so very comforting. The white bean stew was rich and thick and the simple green beans cooked in garlic were a triumph.
Now, Mr Kerry has a penchant for supermarket falafel.  I've never understood it as I think it all tastes like claggy cardboard but I think he believes he's choosing the healthy option rather than grabbing a Scotch egg.  Anyway, his mind was blown by the falafel on offer at Tahini as it actually had flavour and wasn't stuck to the roof of his mouth for the next 45 minutes. An accolade indeed.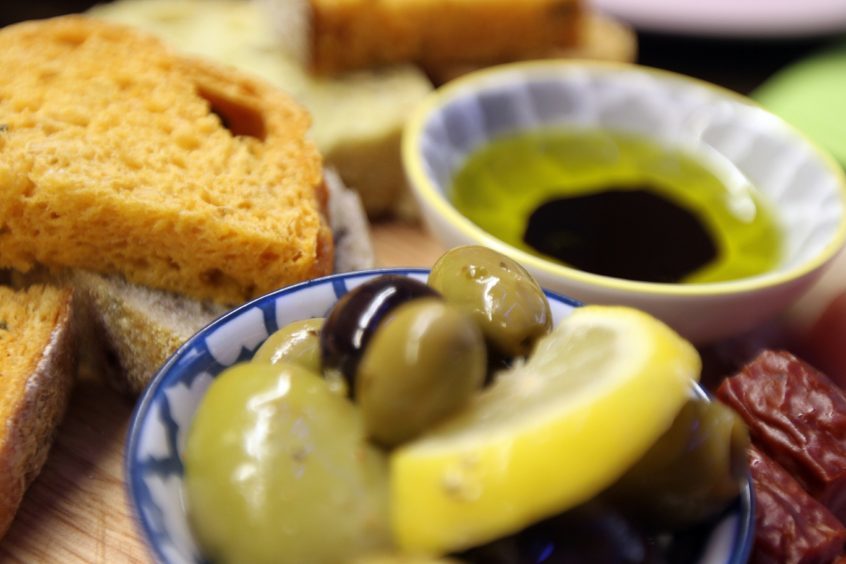 Once again, although we were loathe to do it, we had to leave food in the dishes as I knew we would never make it though the next course otherwise.
The mixed grill soon arrived and was nicely presented on a sharing plate. The selection was made up of marinaded and spiced meats, some with grilled vegetables and some plain. The spiced chicken breast was my number one with its vibrant colour and deep flavour.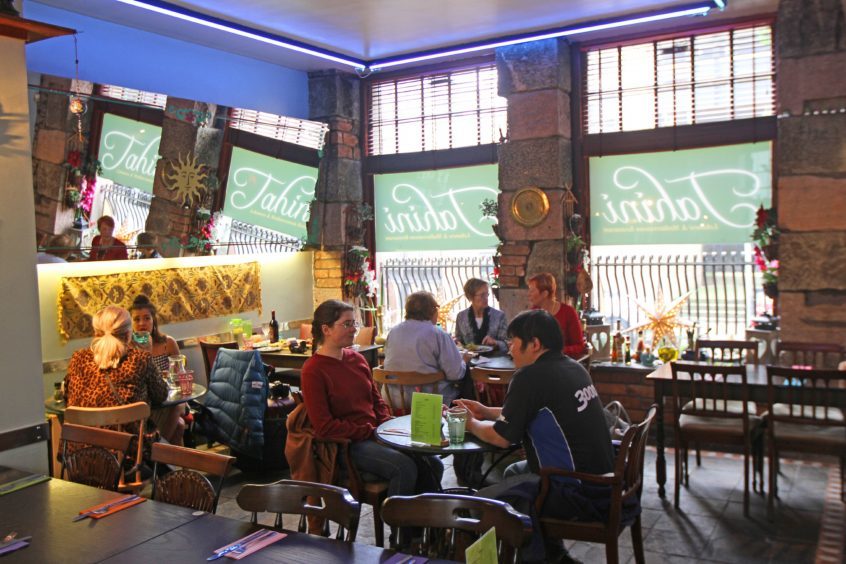 I have to say that this was my least favourite course, not because there was anything wrong it, the lamb chops were tender, the kebabs nicely charred and the koftas tasty, but because I felt we had been so spoiled with our plethora of textures and flavours beforehand that I could have kept going with these. The true carnivores in Dundee though will really enjoy this part of the meal.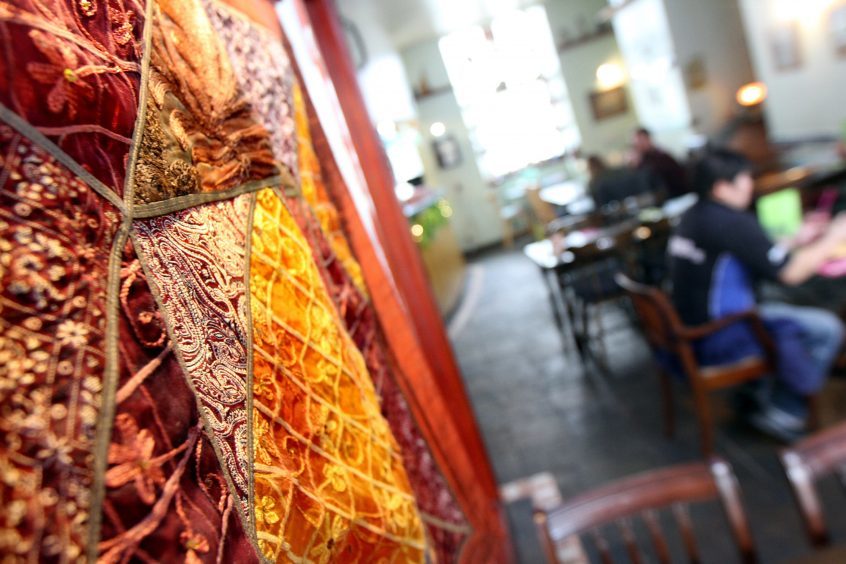 Lebanese food has a refreshing lack of stodge and although carbs did make up part of the meal and I was incredibly full, it was a very different kind of full than eating a plate of pasta or over-indulging in dauphinoise.
During our evening, we had been presented with a lot of food, all of it made in-house and all of it lovely. Each dish had been explained to us by the warm, friendly and thoroughly charming staff and I loved the fact that there were just so many different little tasting dishes.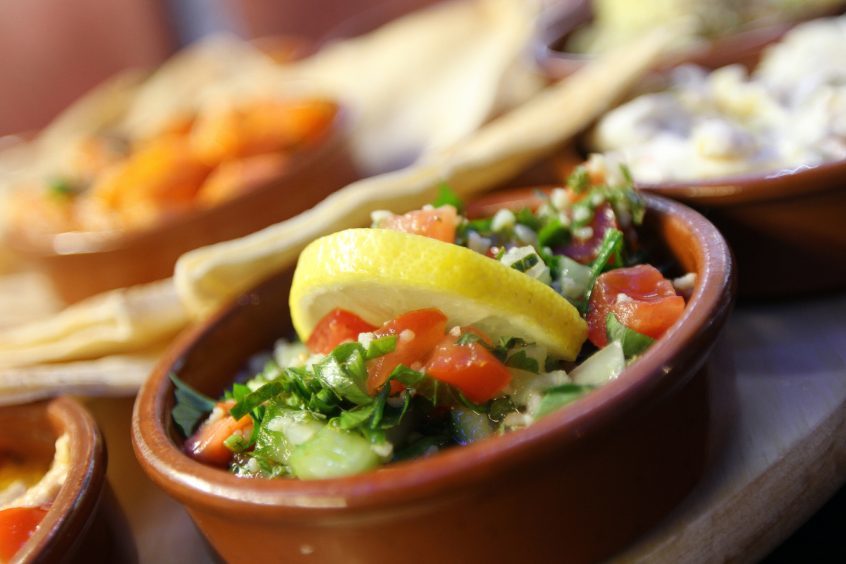 The best thing about a set tapas menu is that the restaurant can present customers with their house specialities which therefore don't risk sitting unordered on a menu.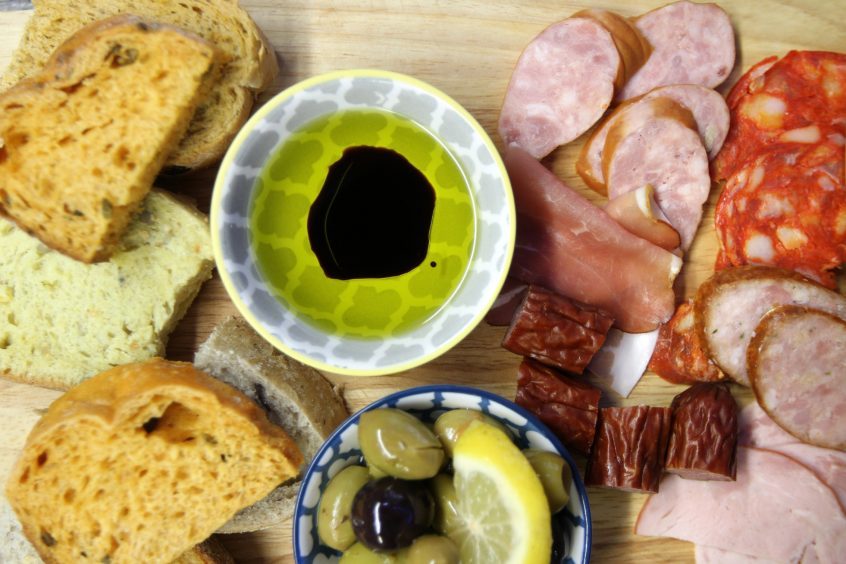 Tahini is a lovely place to spend a cosy evening sharing food with a loved one or celebrating with a larger group of friends and I will be back for sure.
Info
Price: 3 Course tapas menu for £19.95; 5 course tapas £24.95
Value: 9/10
Menu:  8/10
Atmosphere: 8/10
Service: 8/10
Food: 8/10
Total: 41/50
Info: Tahini Lebanese & Mediterranean Restaurant
Address: 11 Bank Street, Dundee, DD1 1RL
Tel: 01382 203907
Web: www.facebook.com/tahini.dundee