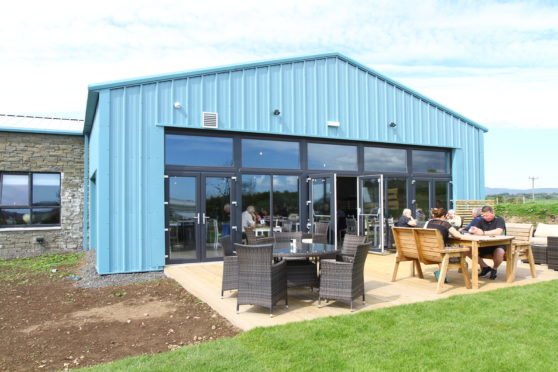 What a beautiful time of year to be outside, especially on a farm while the fluffy lambs are skipping and everything looks so green and alive.  I've been hearing rumours about a farm shop being developed at North Grange Farm, close to David Lloyd and Dobbies in Monifieth, and at last it has opened its doors.
Known amongst my friends as "you know, the place with the horses", North Grange Farm has been a livery stable and paddock for years and this new business adds another  pony to their trap.  The setting is lovely, with green fields all around, but is very conveniently located just off the Arbroath Road.  Close enough to pop in for a coffee but far enough away from town to appreciate the space.
The theme running through the enormous barn-type structure is farming.  The exterior is a beautiful agricultural-style building with stunning stonework in places.  Some of the higher bar stools are tractor seats, there are hanging saddles and even potato boxes make an attractive dividing wall.  The decor is fun, creative and modern, with Longparke keen to stay true to its roots.
I was really surprised when I walked in at the size of the place and the amount of tables which, on this occasion, only a week after opening, were almost all occupied.  The atmosphere had a real buzz due to the sheer volume of people, all nattering and seemingly having a lovely time.  There were groups of parents with buggies and high chairs as well as "ladies what lunch" enjoying a glass of red with their salads amongst a vast array of other diners.
I should note that we were greeted with a sign advising of a 45 minute wait for food.  This seemed like an awfully long time to wait but hey, I was catching up with a friend and really wanted to stay and try the food, so we were seated in the lounge area of the cafe in low armchairs close to the impressive wood-burner (thankfully not lit).
The menu is focussed on quality fillings for sandwiches, bagels, baked potatoes and paninis.  There are also salads, a mushroom stroganoff and special quiches of the day.  The coffees looked great and the counter of cakes at the entrance  looked rather appealing too.
As we knew we were expecting a wait, we settled in with our drinks, which arrived swiftly.  There was some confusion with our order as I had chosen the quiche of the day which, it transpired, had been sold out, so the menu was returned to me to choose an alternative.  This was all done with polite apologies and efficiency and really wasn't a problem.
We were pleasantly surprised when our food arrived after just 30 minutes and even more delighted at the the look of it.  We had both ordered paninis but these were unlike any I have seen before.  I am used to seeing beige, flattened bread which has been through a toaster and pressed until thin.  Whilst I do enjoy this version, Longparke's creations are a lot more substantial.  A warm, crusty, granary baguette arrived packed full, in my case, of herby roasted vegetables and cheddar.  It would have been nice if the cheese was more melted, but I really enjoyed its sharp tang which was not just a bland, mild, goo but had some flavour.
The vegetables, rather than being the usual Mediterranean fare, were actually root vegetables with onions that had been roasted until tender and sticky, and flecked with herbs giving them a wonderful earthy flavour.  It is not often I would rave about a what was essentially a filled baguette but it was rustic and hot and a little bit different.  It was served with a salad garnish and crisps which made it a very substantial and thoroughly enjoyable lunch.
My friend ordered the chicken filling and was equally as pleased with her choice.  The chicken was thickly sliced and clung to the melted mozzarella, roasted cherry tomatoes and pesto to form a very tasty dish.
We hadn't quite been prepared for the size of the baguettes and had also ordered the chicken liver paté to share, which in hindsight was just sheer gluttony on our part.  It was a good paté with a generic sticky jam accompaniment served with oatcakes – again, a very generous serving.
By the time we had worked our way though our lunch, a few of the home-baked cakes had sold out and I managed to hold back my tears as I watched the last slice of lemon drizzle appear at another table.  The chocolate mud cake looked glorious but would have tipped us way, way over the edge, so a modest slice of Mars crispy traybake satisfied our sweet teeth with ease.
It would seem Longparke had perhaps underestimated the amount of support and the  sheer volume of people who would be walking through the doors in their first couple of weeks of opening, and what a wonderful predicament to be in.  They were upfront and honest about waiting times and any teething issues were dealt with quickly and with a smile.  The food is great and the atmosphere relaxed and welcoming.  I have already organised to meet friends for coffee there next week and plan to arrive early to snaffle that lemon drizzle cake.
Info
Price: Breakfast £1.95- £7.50, lunch £4.50 – £7.50, tasty treats £1.10 – £3.50
Value: 9/10
Menu:  7/10
Atmosphere: 9/10
Service: 8/10
Food: 8/10
Total: 41/50
Info: Longparke Farm Shop & Cafe
Address: North Grange Farm, Monifieth, Angus
Tel: 01382 760332
Web: www.facebook.com/longparkefarmshop