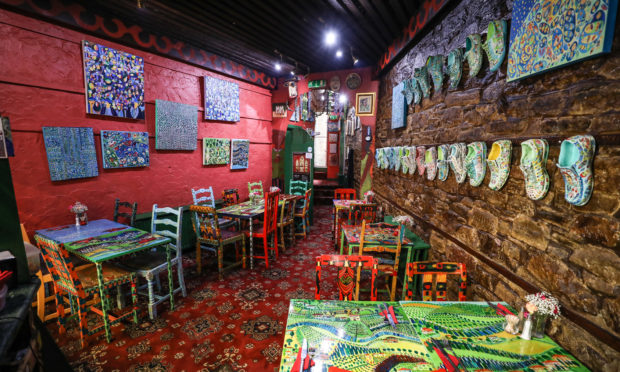 This is the story of what happens when boy meets grill.
I was genuinely excited to eat at the Agacan because everyone I know in Dundee has been there and I never have. Thus over the years it had gained semi-mythical culinary status for me, all the more so as I often walk past the frontage and think how downright odd it looks – and I've seen some odd shop fronts in my time.
Had it existed in Alphabet City in downtown New York in the 1980s I would have expected quintessential 80s artists Jean Michel Basquiat and Keith Haring to have graffitied the walls and Madonna to be waiting tables. As it is, it's been an incongruous fixture on Dundee's Perth Road since 1982 when it must have seemed even wackier and idiosyncratic than it does now.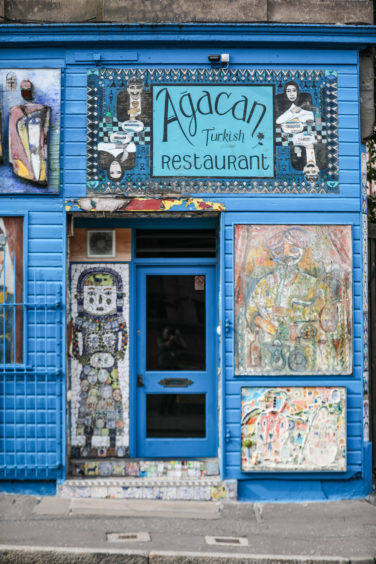 The first shock was booking: basically, it's hard to get in. We could only get a table at 5.45pm on a Tuesday, and they needed it back at 7.20pm. That's harder to get into than the Groucho Club in London, or an aftershow party after a Smiths reunion. It all makes sense when you finally do get in though because the space is tiny. I'd say it holds about 20 people maximum and I wouldn't like to be in it on a hot day when it's completely rammed.
Claustrophobes need not apply but since we were eating dinner so early it felt like we were actually the last stragglers from a late lunch – and so we had a bit of space and our own air to enjoy the fun.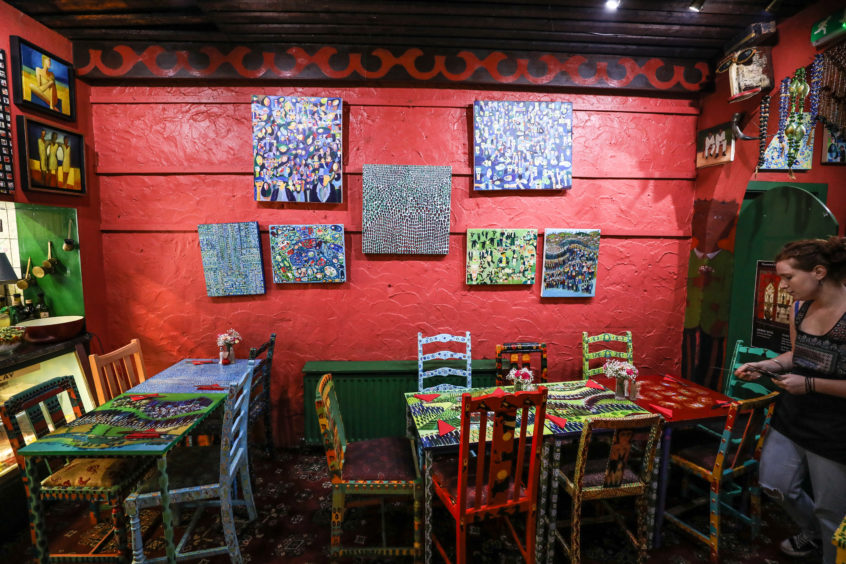 The interior is a trip and one that involves more than a bus ride down Perth Road. It's basically one man's imagination gone wild; everything is painted, even on the underside of surfaces like the serving counter. It's a sort of wonderful garden in hell filled with so much visual stimulation that it's complete sensory overload – and that's before the food arrives.
There seem to be no windows so you're immediately plunged into what feels like a subterranean world of dayglo, although much of the imagery is actually quite benign. No surface is left bare – tables, chairs, the toilet – all become the anthisesis of blandness and uniformity. Is there a square foot left unadorned? I couldn't really see one although the toilet seat is still plain wood.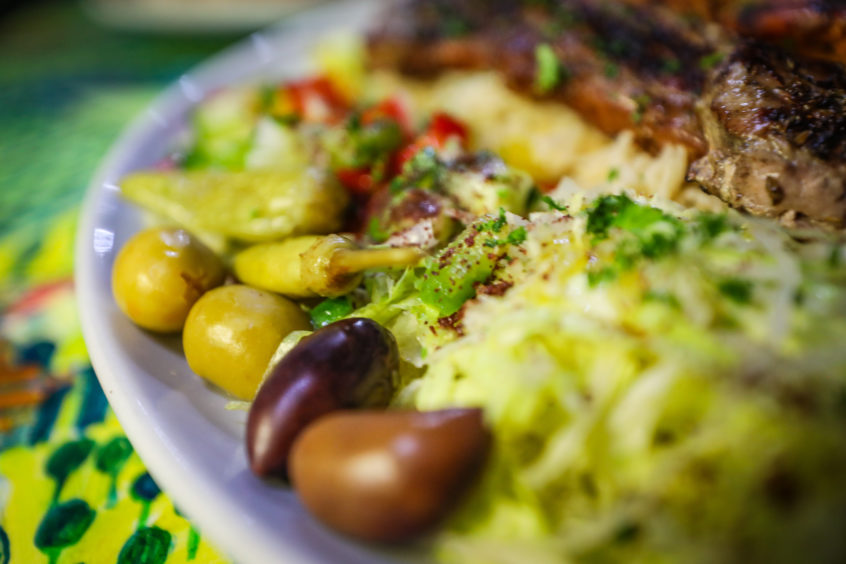 For some reason unbeknownst even to our charmingly down to earth waitress, a line of painted trainers is stuck to the wall above a table where a couple were having a perfectly romantic dinner, like they eat beneath an installation of adorned sports shoes every night.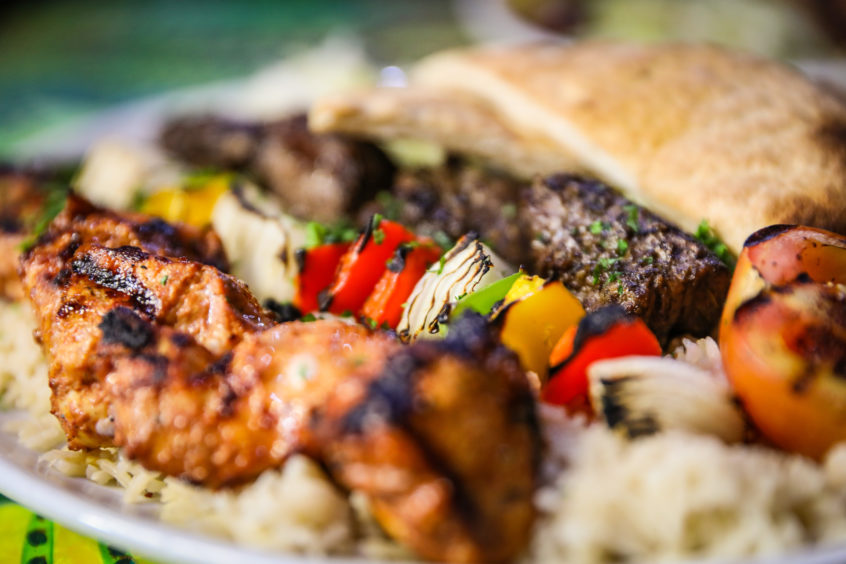 The menu is short and to the point – no messing around with typographic nonsense, although there are some funny typos the likes of which transform  butter into 'melter butter'. You know, melted butter but more so. Come on! You want it! Hilariously the desserts – or sweets – are prefaced by the explanation that they come with cream/optional. Make me have cream! Underneath is listed a solitary pudding – baklava. Wine is red or white – £3 a glass.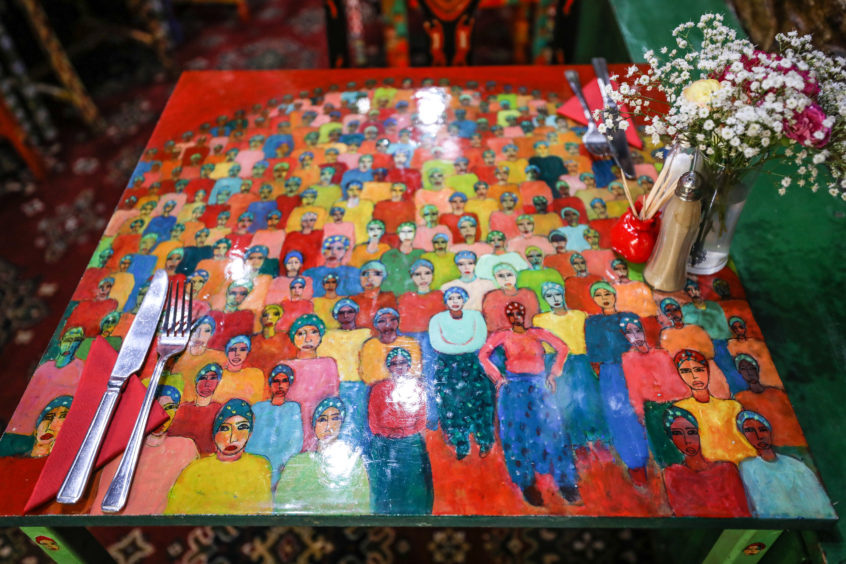 Drinks seem to be kept in a small domestic fridge. Behind the counter a young tattooed chef valiantly mans the grill, preparing food for in-house diners and a constant procession of customers ordering takeaway. You get the feeling that everyone here knows what to do and they know they do it well and why would anyone ever want that to change? It's a much-loved Dundee institution.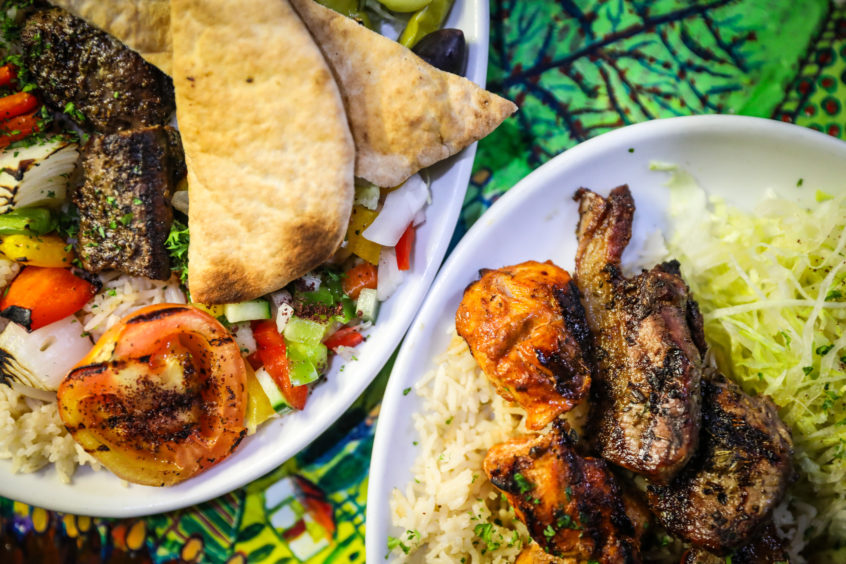 What you really come here for is the meat, so much so that I brought Tom, my most carnivorous of friends, a completely unreconstructed meat eater who has never knowingly been in touch with his vegetarian side. Although most of the starters here are in fact vegetarian I do think this is a place for meat-eaters, such is the main course reliance on the searing heat of the grill. In fact I really wished Love is the Drug by Roxy Music had been playing so I could have sung "Boy meets grill, the heat goes on" and raised a cheap laugh but that was probably the two glasses of the Turkish wine melting my Scottish reserve.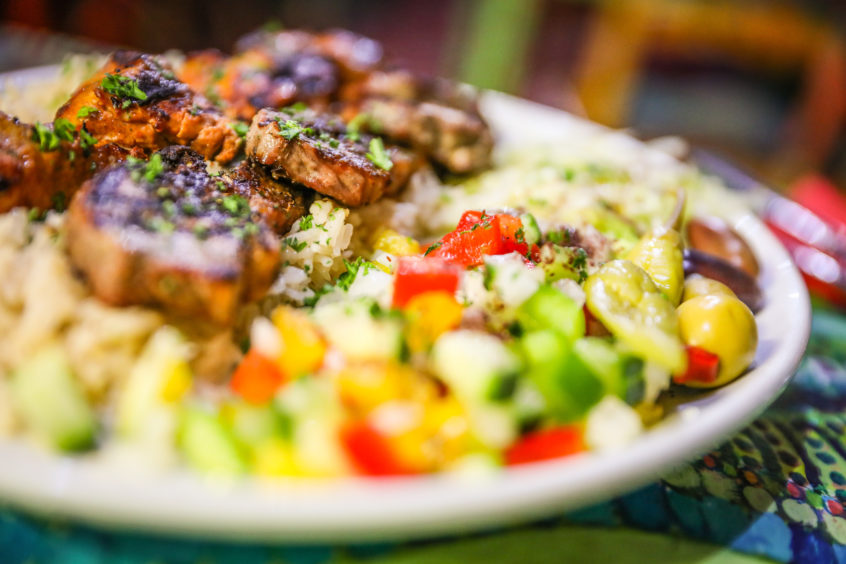 We ate very good hummus (£4.50) which did conceal, as stated on the menu, a kiss of garlic although the kiss was pretty tentative – more a teenage fumble really. For mains I was led by the waitress, who recommended a mix of pirzola (marinated lamb cutlets) and pilic (marinated grilled chicken) for £18.30. The char on both meats was exemplary, the flavours astoundingly good.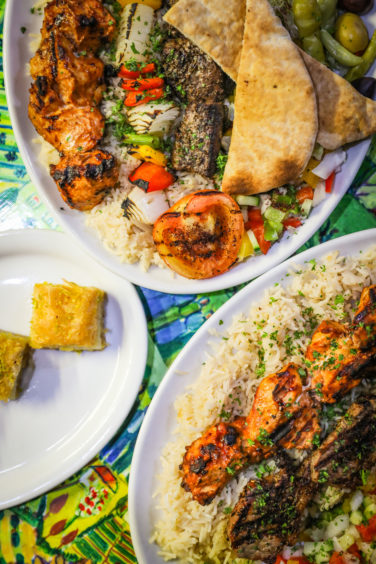 They appeared on a mound of rice, a very good, spiky Turkish salad and pitta bread. At first the plate seemed to grow with every mouthful until suddenly – there was none left. It was a huge amount of food but so, so delicious. Tom had a similar protein split of half kulbasti (lamb flavoured with thyme, olive oil and salt, chargrilled with tomatoes, green peppers and onions) and half pilic ( grilled chicken) which cost £19.60. There was silence as he ate – the silence of the lambs indeed. The bill for two of us came to £50.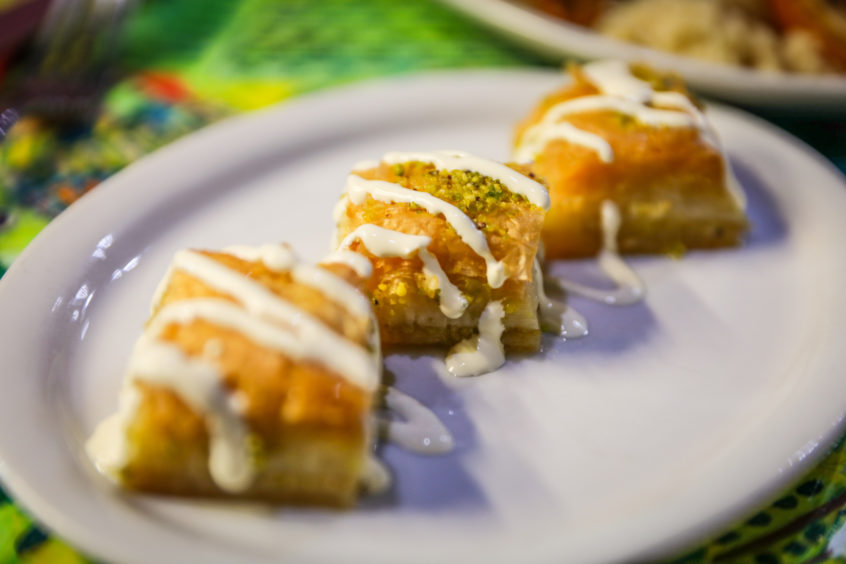 I can completely understand the affection Dundonians feel for this place. It's a one-off and a very singular vision brilliantly realised. To go here is indeed to enter into another world, a world of fantasy and colour which instantly brings a smile to your face.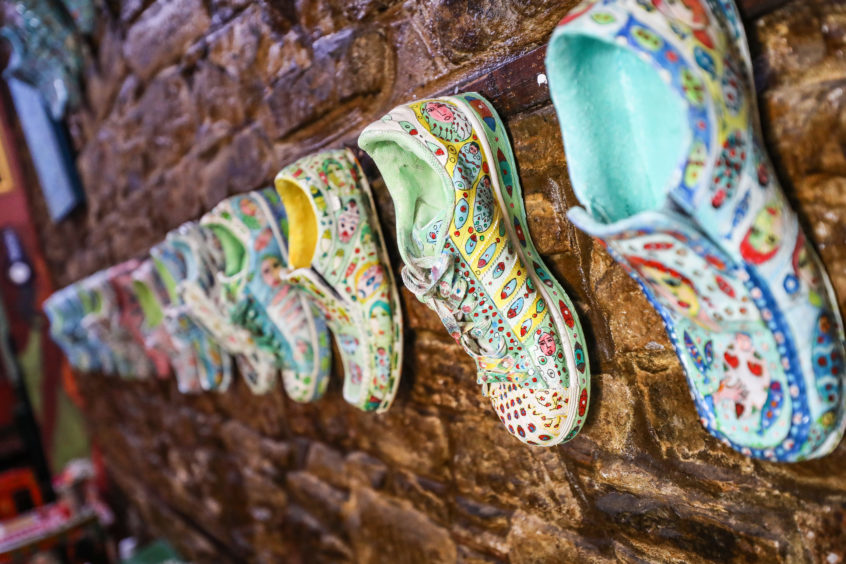 It's a great example of how conformity, uniformity and corporate chains have contributed to the blandness of the modern world – and how, by supporting unique small businesses like this, we can all do our bit to encourage maverick talent. And of course great food!
The Agacan Turkish Restaurant
113 Perth Road
Dundee DD1 4JB
t: 01382 644227
w: agacan.co.uk
Prices: Starters from £4; mains from £13.50; dessert £3.
Value: 7/10
Menu: 7/10
Atmosphere: 10/10
Service: 9/10
Food: 8/10
TOTAL: 41/50