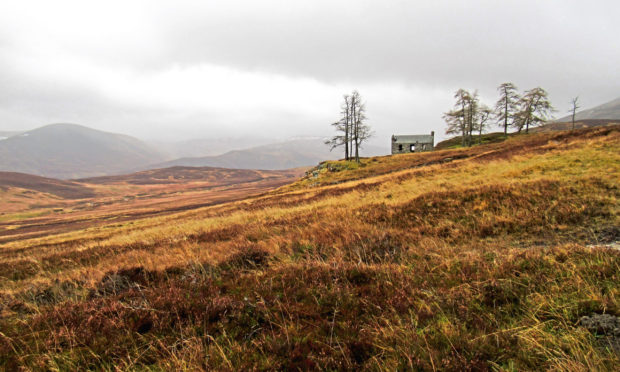 Flanked by windblown Scots pine and larch trees, Creag-choinnich Lodge is a quiet and lonely place, a secluded cottage perched on the slopes of a mountain overlooking a sparsely populated valley.
In its day, it offered welcome shelter to the Duke of Atholl and his well-heeled guests, drawn to the western coires of Beinn a'Ghlo, one of the most magnificent mountain ranges in Highland Perthshire, by the hunting and shooting.
Now abandoned to the elements and derelict, vacant, soulless windows, gaunt and slightly haunting, peer out across moorland where herds of red deer roam and grouse frantically flutter.
I discovered the lodge and its blissful isolation on a wet and cloudy day – conditions when it is arguably at its most atmospheric.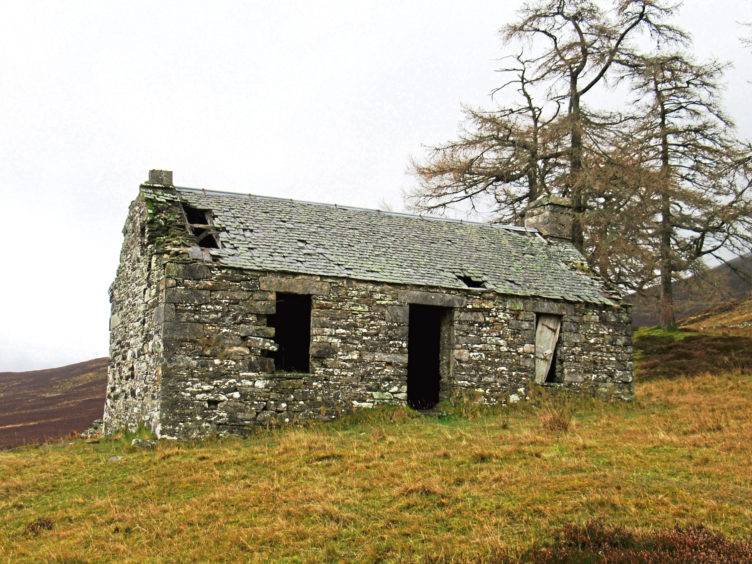 The weather scuppering my plans to climb Carn Liath, the upper slopes of this Munro lost in swirling mist, and, unwilling to beat a complete retreat, I decided to stay low and venture into Glen Fender.
By Loch Moraig, which sits at the top of a steep and winding single-track road rising from Old Bridge of Tilt, to the north of Blair Atholl, there is a rough and ready parking area from where the popular approach to Carn Liath, a sturdy estate track, strikes east.
It climbs steadily through rough pasture where cattle and sheep graze to a wooden hut where the mountain path breaks left and, with the cloud showing no signs of lifting, I resisted any lingering remnants of temptation to scale the trail to the top and instead wandered west.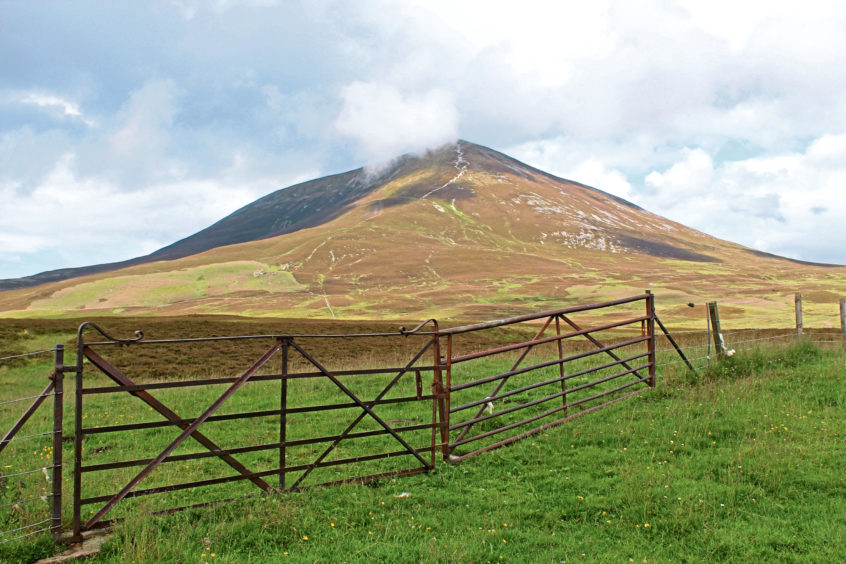 A distinct enough path runs parallel with a stock fence, crossing generally good ground, although there are a few marshy spots to negotiate and peaty troughs to leap across before the way reaches a large stone sheep fank above the farm at Monzie.
Rounding the enclosure and crossing a wee stream, I picked up the old stalkers' pony track to Creag-choinnich Lodge, the way ascending the western slopes of Carn Liath, emerging above Glen Fender.
This sheltered, shallow valley has a long history of settlement and, alongside the remains of prehistoric hut circles and field systems, there are the ruins of 18th and 19th century farmsteads, townships and a chapel.
The grassy track splits and, taking the low road, I continued up the valley, no sign of the remote former shooting lodge just yet. However, cresting a rise in the heathery slope, I soon spotted its stark, rather ghostly silhouette and the scattered copse of trees that keep it company up ahead of me.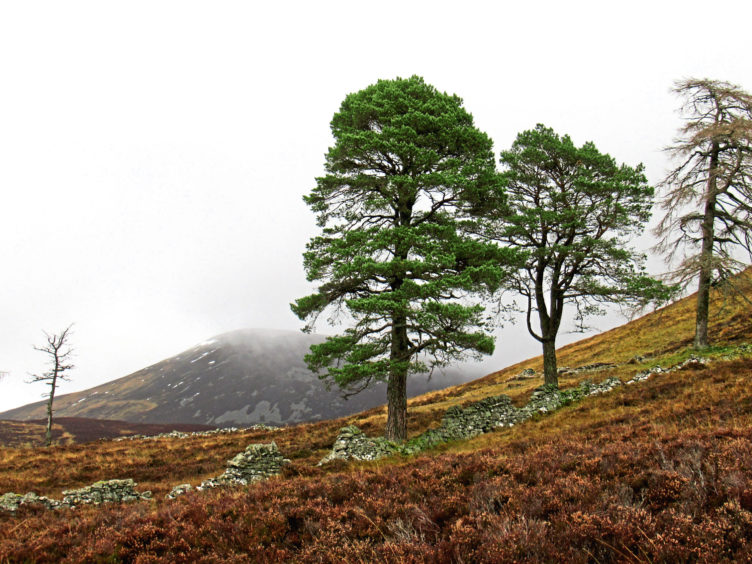 Perched above a craggy outcrop, the cottage is surrounded by the remnants of an old stone wall, the trail cutting through this to the front door.
The building is in a sorry state, windows and door long gone and the slate roof pocked with holes while great cracks in the stonework mean entry is at your own risk. Carvings in the lintels over the fireplaces indicate the lodge dates from the mid-19th century.
Even on such a gloomy day I could appreciate its fine outlook, south over Glen Fender and Glen Garry towards Schiehallion and north to Glen Tilt and the mountains of Atholl beyond.
It was a view I enjoyed in quiet contemplation, sitting with sandwiches and coffee, peering through the cloud, below the trees in the lea of the old lodge.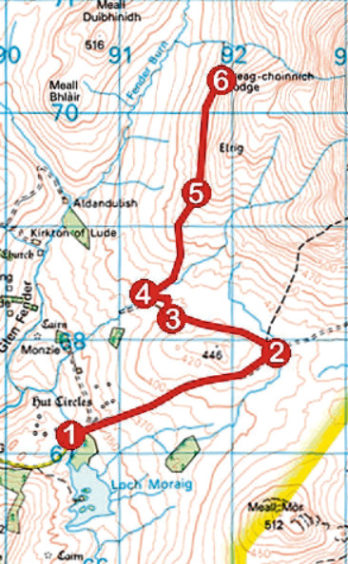 ROUTE
1. From parking area by cattlegrid at end of public road, walk 100m east past woodland on the northern shoreline of Loch Moraig then go right, through gate, and follow track 1.8km east to wooden hut.
2. Branch left off track and through gate. Curve left past hut, ignore path branching right to Carn Liath and track branching left through gate and walk west along slender path running parallel with fence on left to sheep enclosure.
3. Bear right and then left around perimeter of enclosure to junction by gate.
4. Don't go through gate but bear right. Dip to cross stream then immediately turn right, ascending moorland track rising over the western slopes of Carn Liath.
5. Where track forks go left, taking the lower of the two routes to derelict Creag-choinnich Lodge.
6. Retrace steps to Loch Moraig.
INFO
Distance: 10.4km/6½ miles
Ascent: 240m/800ft
Time: 3 hours
Grading: Moderate there-and-back route following tracks and paths, rough in parts, over exposed moorland with some well-graded ascent. Keep dogs under close control to protect livestock and ground nesting birds
Start/finish: Loch Moraig, 4km north-east of Blair Atholl by minor road (Grid ref: NN 905671)
Map: Ordnance Survey 1:50,000 Landranger sheet 43; Ordnance Survey 1:25,000 Explorer sheet OL51
Tourist Information: Pitlochry iCentre, 22 Atholl Road, Pitlochry PH16 5BX (Tel 01796 472215) or unstaffed Blair Atholl Visitor Information Centre
Public transport: Elizabeth Yule bus service 87 (Mon-Sat) and Stagecoach bus service 83 (Sun) from Pitlochry, Scottish Citylink bus service M91 or by train to Blair Atholl Station
---
Please adhere to government guidelines in all outdoor activities.