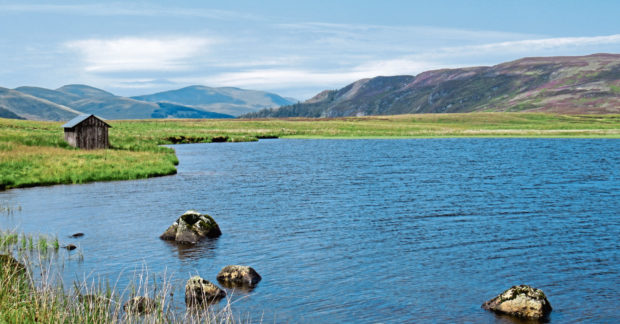 Loch Beanie occupies a shallow bowl just below the col separating Craigenloch Hill and Mealna Letter, two peaks that straddle the boundary line between the counties of Perthshire and Angus.
Nestling on the Perthshire side, tracks and paths approach from Glen Shee, to the west, and Glen Isla, to the east, offering straightforward access to a tranquil stretch of remote water with an interesting if not immediately obvious history.
It was originally known as Loch Shechernich and, back in the 17th century, the local clan chief lived on an artificial island in the centre of the pool.
Little remains of his ancient crannog-style dwelling and, in more recent times, the hidden upland loch has adopted the name Beanie (the moniker now bestowed upon it by the Ordnance Survey), from the glen that lies to the east, the route in from Glen Isla.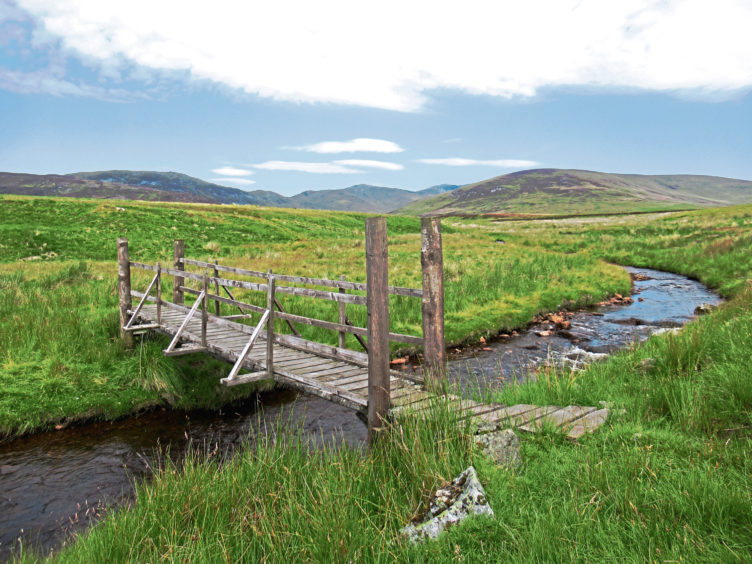 I opted to approach from the other side, following a section of the Cateran Trail through Glen Shee before striking out across a lovely swathe of heather moorland bounded on three sides by hills.
In the shadow of Ben Gulabin, I joined the trail by the old parish church in Spittal of Glenshee, next to the 18th century former military road bridge that arches elegantly over Shee Water.
Bypassed by the A93 of today, I headed first for this, carefully crossing the modern-day highway, heading towards the whitewashed cottages of Old Spittal Farm before tramping over a wooden bridge spanning Allt a'Ghlinne Bhig.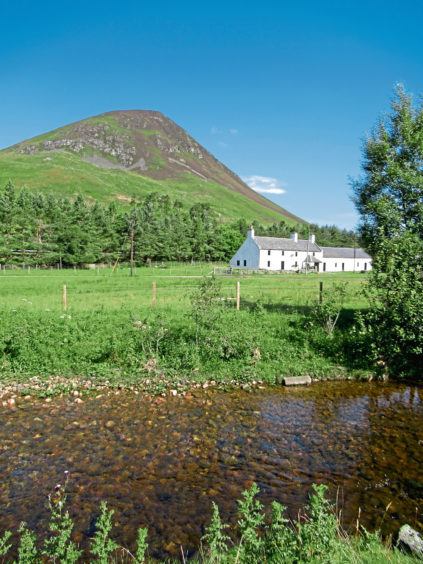 The Cateran Trail strikes south from here, crossing grassy pasture bounded by craggy heather and bracken clad slopes up to the left and the meandering Shee Water, down to the right.
Along the way, the route passes various scattered cottages and farms, detouring over the hillside above the steading at Tomb and dipping past the ruined stone sheds and enclosures of Kerrow before skirting round the hillside to the working farm at Westerton of Runavey.
The track leads on to ruined Mains of Runavey and from the only structure still standing – a small stone shed – drops to span a wee stream. Negotiating reedy ground beyond, the next short section is rough and muddy underfoot, but it soon meets a solid track running at right angles – my route on to the moor.
This presents a steady ascent initially, weaving over grazing land, rising above small plantations of pine and below older larch where it breaks through a wall, leading to a high gate.
The gradient eases and, forking right at the next junction, I enjoyed a very pleasant wander across the airy upland heath, Craigenloch Hill and Mealna Letter both visible, Loch Beanie yet to reveal itself.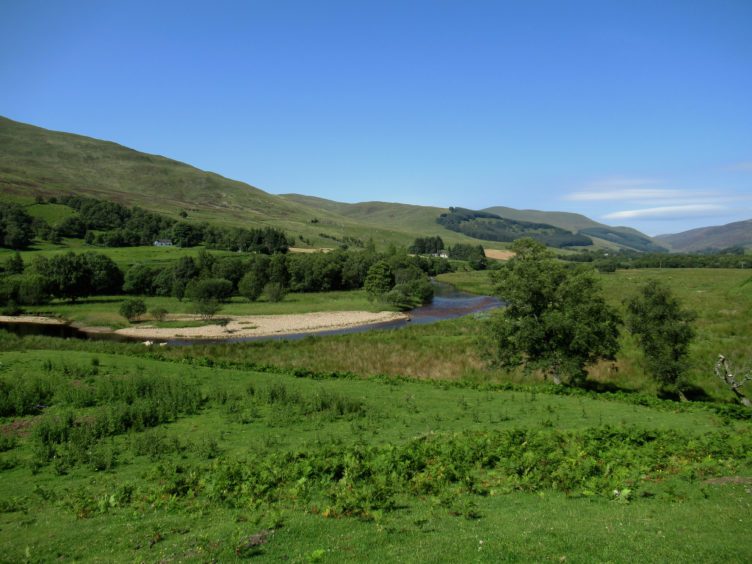 In time it appears, the track dipping to cross its outflow – the Allt Mor – before turning east, the final approach grassy, reedy and always rather wet underfoot.
Towards the reedy western end of the loch there is a small wooden boatshed and, close by, a memorial cairn to a Blairgowrie woman who clearly had a special affection for this peaceful, picturesque spot.
A slim trail runs along the southern shoreline to a gritty beach where I could not resist kicking off my boots and dipping my toes in the water. Loch Beanie is relatively shallow, the bottom shelving gradually away, so it is perfect for a summer paddle or swim.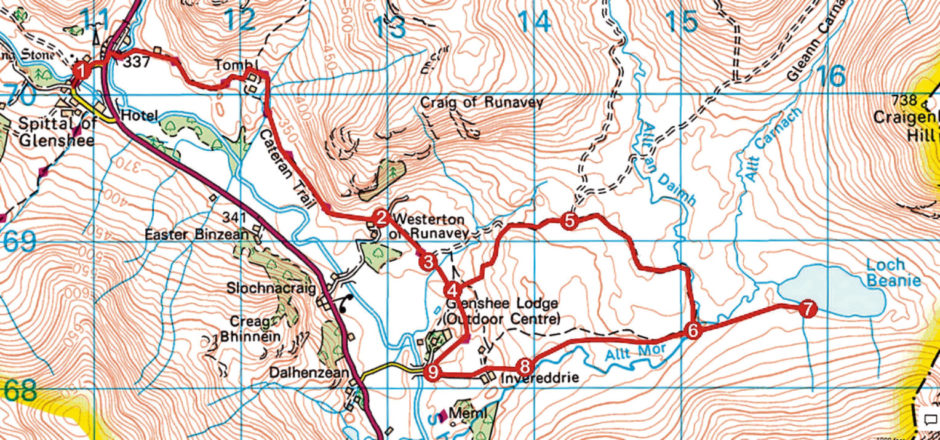 ROUTE
1. Follow road past Gulabin Lodge to A93. Cross, go left (signed Glenisla) then right, through metal gate. Cross bridge and follow Cateran Trail east to Westerton of Runavey.
2. Continue along Cateran Trail to stone hut.
3. Descend to cross stream and continue ahead on rough path to waymarker post adjacent to track.
4. Turn left and ascend track, rising past woodland, to high gate. Go through and continue to junction.
5. Fork right and follow track east then south to bridge spanning Allt Mor.
6. Cross bridge and follow grassy track east to Loch Beanie.
7. Return to bridge, cross and bear left, following path up on to embankment then west, parallel to Allt Mor.
8. Go through wooden gate and bear right, ascending slope to wooden stile. Cross and descend field-edge path to Invereddrie, crossing stile to meet track. Follow track 300m west.
9. Turn right and follow Cateran Trail back to Spittal of Glenshee.
INFORMATION
Distance: 14km/8¾ miles
Ascent: 300m/990ft
Time: 4 hours
Grading: Moderate route following good tracks and paths, including part of Cateran Trail. Some sections can be wet and muddy underfoot. Keep dogs under close control due to livestock and ground nesting birds
Start/finish: Glenshee Parish Church, Spittal of Glenshee (Grid ref: NO 109701). Off-road parking between church and old bridge
Map: Ordnance Survey 1:50,000 Landranger sheet 43; Ordnance Survey 1:25,000 Explorer sheet OL52
Tourist Information: Perth iCentre, 45 High Street, Perth PH1 5TJ (Tel 01738 450600)
Public transport: Stagecoach bus service 71 offers a limited service from Blairgowrie to Spittal of Glenshee (no Sunday service)