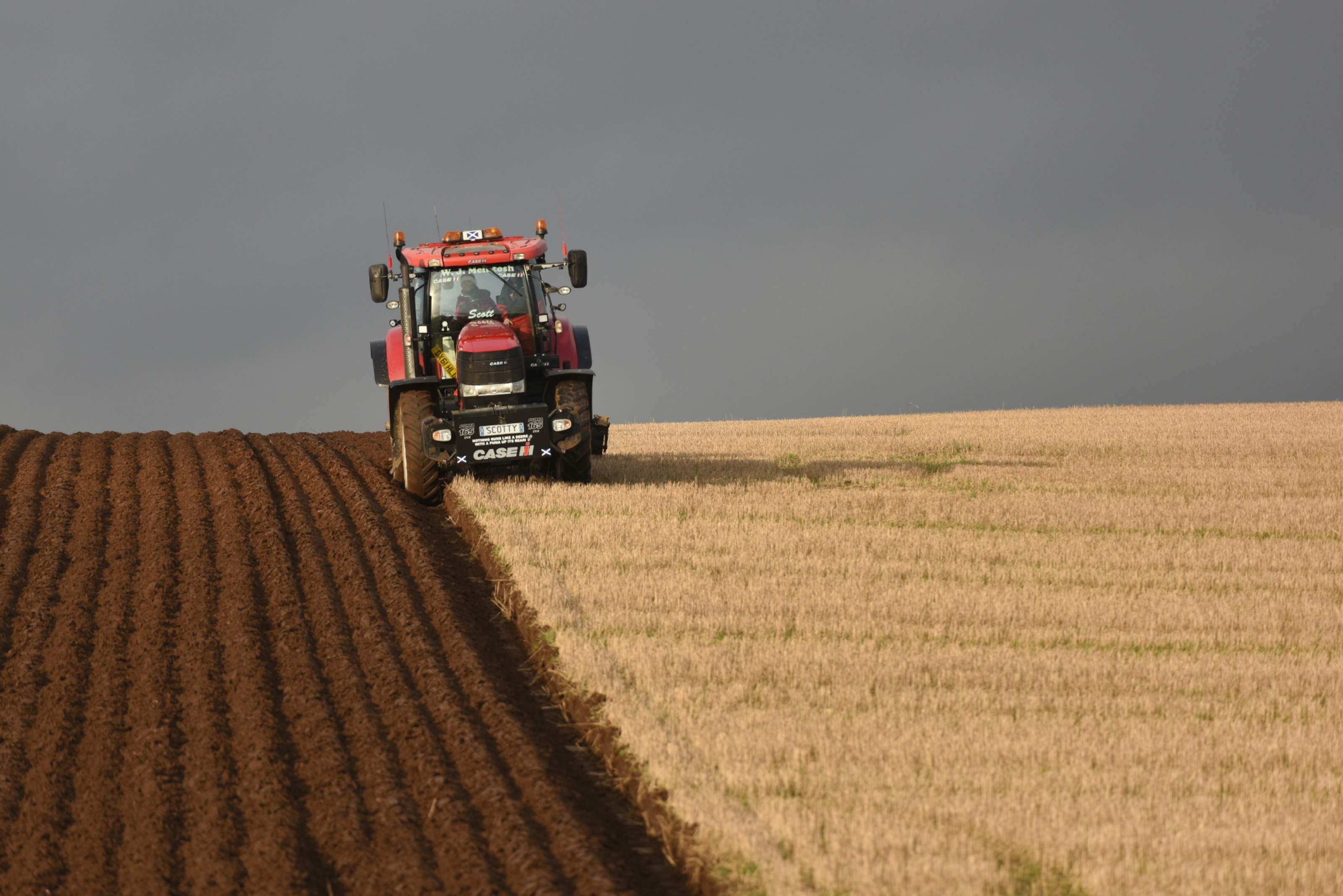 Reckon ploughing is a monotonous duty performed solely by farmers? Gayle Ritchie shows face at a ploughing match (and has a shot and loves it)
The field is a blaze of colour and activity, with almost 100 tractors of all shapes, sizes and vintage, pulling ploughs.
I'm at a ploughing match near Coupar Angus where the agricultural skills of 88 drivers are being tested to the max.
All kinds of vehicles are competing, from a shiny new John Deere tractor with a price tag to make your eyes water, to a 1946 Case DC-4 model.
There's also the weird and wonderful: one ploughman has a "crawler" with caterpillar tracks, while another has pimped up a ride-on lawn mower.
There are eight different classes: trailing, classic reversible, 10" vintage, 12" hydraulic, hydraulic reversible, 12" classic, horticultural and multi-furrow.
Not having much of a clue about tractors, I can only gaze in wonder at the beauties trundling, chugging and (in some cases), speeding along.
Today's match is an annual charity event, with funds donated to Scotland's Charity Air Ambulance.
Men have come from far and wide to compete – from Ayrshire to Aberdeenshire – and I'm sad to say, I'm the only woman gearing up for a go.
Organiser Keith Lyall, who runs a business exporting machinery from Burrelton, says ploughing is both a hobby and a passion.
He won the Scottish Championships in 2008 and his 10-year-old son Fraser is competing on a 1946 vintage tractor today.
What's the aim of the game, I wonder?
Each competitor is allocated a patch of land and must plough it in a series of furrows.
"You're judged on straightness, uniformity, firmness, even furrows, burying the trash – meaning no weeds – and quality of the seed bed," judge Bill Simpson tells me.
Bearing this in mind, I hop into Scott McIntosh's beast of a tractor, a modern-day Case Puma 195.
Surrounded by dozens of controls, switches, buttons and pedals, it's somewhat daunting – nothing like driving a car.
"It's a bit like getting into the Starship Enterprise," says Scott, and I have to agree. "And it's not just a case of cruising round a field."
Under his expert instruction (and with Scott twiddling various knobs), I manage to plough a couple of furrows reasonably straight, without crashing.
"That's bullet straight," Scott, 26, beams, although I suspect he might be lying.
I also have a shot of Andy Greenhill's 1987 Ford 5610.
This is a noisier and altogether different experience but I feel more at one with this classic vehicle.
"There are no fancy electric hydraulics and you only get two gear sticks," says Andy, who competed in the 2010 World Ploughing Championship in New Zealand.
He shelled out a fortune to pack his tractor and ploughing gear into a shipping container and while he didn't win, he cherished the experience.
I don't dare try ploughing with Alan Gudmusson's 1952 international BTD6 crawler as it looks terrifyingly complex, but I watch as he trundles along, turning the earth.
Alan, 28, from Dunkeld, restored the crawler and tells me how the bizarre machines were popular on steep clay ground in the 50s.
Horses are often seen at ploughing matches but alas, none have entered today.
In the not-too-distant future, fields could be ploughed, sown and harvested by fleets of automated machines, so it's refreshing to see folk embracing traditional farming skills.
"It would be good if more young people and women could get into ploughing and there are training days all over Scotland," says Keith.
"For most of us, it's a hobby and a passion. There's skill in setting up the plough and all machinery is set up strategically to get the best results.
"Many of the tractors are restored and you can have a lot of fun."
So next time you drive past a ploughing match, take the time to get out and watch. It's a feast for all the senses.
info
The 2016 annual ploughing match, which was organised by Jenny and Keith Lyall and Jenny's parents, John and Carol Sievwright (at Coupar Grange Farm) raised £1,600 for Scotland's Charity Air Ambulance.
The next ploughing training day is on January 28 at Bilbo Farm, Crimond, near Fraserburgh.
For more information, see www.facebook.com/events/724304371062035/