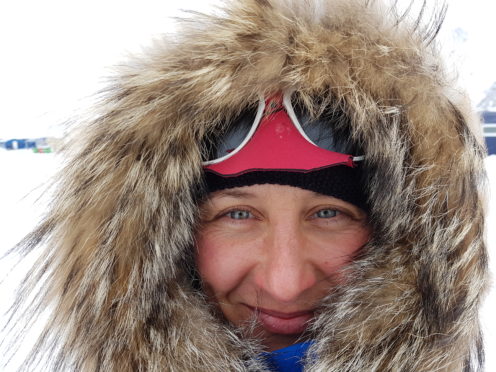 As part of the first all-female team to ski across Antarctica unsupported, Major Sandy Hennis is a worthy Cateran Yomp ambassador. Gayle Ritchie finds out about her icy expedition and her mission to get more women to sign up for the gruelling Perthshire event…
Ice-burn, snotsicles and polar thigh – just some of the perils of skiing unsupported across Antarctica.
Major Sandy Hennis experienced all of this and more during a record-breaking expedition across Antarctica.
The 36-year-old was part of a six-women group called Ice Maidens – the first all-female team to ski coast-to-coast across the icy continent using muscle power alone.
The women, all soldiers, spent 62 days trekking across the frozen and often treacherous environment, travelling for 10 hours and up to 27 miles a day.
Temperatures plummeted to a teeth-chattering –56C, which, as Sandy points out, is "three times colder than a freezer".
"Everything freezes at that temperature – your breath, your eyebrows, your eyelashes," she tells me, when we meet for coffee in Dundee.
"We even had 'snotsicles', where our runny noses had frozen – lovely!
"We had to work hard to keep our extremities warm; any minor issues had to be dealt with instantly.
"I suffered from ice-burn under my chin where my buff had frozen and there was also 'polar thigh' – chillblains which formed thanks to the cold."
Redditch-based Sandy, who before becoming a reservist officer with 37 Signal Regiment, was in the regular army, was plucked from 250 applicants to take part in the expedition after enduring rigorous tests in the UK and Norway.
The only condition was that applicants were serving in the army, regular or reserve.
The group was expected to take between 75 and 90 days to finish the 1,058-mile route but the women completed it in much less time between November 2017 and February last year.
Each pulled a sledge with 80kg of equipment on it, including food and drink, fuel to melt snow, tents, cooking and safety equipment, harnesses, sleeping bags and warm kit.
The hardest aspect of the challenge for most team members, was, in fact, mental, and Sandy hit rock bottom when she became ill with flu she picked up at base camp.
"I had to get other team members to take equipment for me as I was going so slowly," she recalls.
"I worried I was putting them at risk and slowing them down. That was a real low point. I thought about dropping out and wondered whether it was worth it.
"That's when I needed a coping strategy. I made my positive self talk louder than the negative voice telling me I was crap. I broke it down into miles instead of thinking about the finish point."
Unsurprisingly, Sandy also had what she calls "struggle days" – including when her sledge flipped over in 60mph  winds – and she was forced to face her fears when the group encountered deadly crevasses in the ice.
"When I managed to deal with that, through terrifying training involving falling (safely and while roped) into a crevasse, I realised I could do so much more than I'd thought," she reflects.
"We all have fears but we can all get over them. Another bit of my Ice Maiden training involved cutting a hole in a frozen lake, skiing into the freezing cold water and staying there until I was on the verge of hypothermia. That was tough!
"I learned that failing is just a way to learn. To admit I was struggling was tough but I realised it's not a sign of weakness. To ask for help is the right thing to do."
Christmas Day, while a high point where the team swapped their usual turkey dinners for reindeer stew, was also tough for Sandy. It was almost exactly five years to the day since her boyfriend, Captain Richard Holloway, 29, of the Royal Engineers, had been killed in action in Afghanistan.
"He so believed in what he was doing and he made a big impact, so it was sad to reflect on his not being around any more," muses Sandy.
"However, I couldn't have been with a nicer bunch of girls for Christmas. They've become my best friends.
"We've suffered every indignity imaginable together, from digging – and using – pits to poo in, and peeing into funnels!"
Sandy's diet on the trip was fairly unique, consisting of macadamia nuts, marzipan, coconut macaroons, chocolate, pork scratchings and shortbread.
"I had to eat 5,000 calories a day to stay strong!" she laughs. "Before we went, we had tests with biscuits to see were freezer- friendly – that was massively important!
"I had to put on 10kg before the expedition and came back having lost 12kg. That was great but at the same time, I didn't have an excuse to stuff my face! My legs and hips were hurting but recovered quite quickly."
During the trip, Sandy's respect for historic polar explorers deepened, and she felt humbled to stand at the same spot where Shackleton, on his Discovery Expedition of 1901-04 (on Dundee-moored RRS Discovery) had stood.
"We realised how easy we had it in our fancy down jackets," she reflects. "We felt honoured to be following in the footsteps of legendary explorers. They sailed for months to get there. We simply took a flight."
The expedition was planned as an attempt to encourage women in the Army to take part in adventurous training, but Sandy, who is this year's Cateran Yomp ambassador, hopes it will have a wider impact.
"Before the Antarctica expedition, I noticed a real lack of confidence among girls and women and many were holding back when it came to physical stuff," she says.
"In my mind, I wanted to show them they could get involved in more adventurous sports.
"When I got back, I pledged to inspire other women to get out and do things they wouldn't normally dream of."
Sandy, who splits her time between leading overseas expeditions, outdoor instruction, team building and leadership development, is on a mission to get more women to sign up for the Yomp, on June 8.
Last year, only 25% (245) of the event's 1030 "yompers" were women. That number, says Sandy, could be a lot higher.
"So far, we have 89 women signed up for this year's Yomp out of a total of 282 people, so that's not bad, but it would be really good to grow that as numbers pick up closer to the date," she says.
"The Yomp is a challenge, physically and mentally – it's a big ambition for anyone, whether male or female.
"But taking part, and pushing yourself to meet a goal is a fantastic way of proving you really can do what you want when you put your mind to it.
"With Ice Maidens, we set what we thought was an impossible challenge and achieved it, so anything is possible."
The 2019 Cateran Yomp takes place in the rugged terrain of the Perthshire wilderness on June 8 and 9 with teams of three to six hiking 54 miles, 36 miles or 22 miles in 24 hours.
The event raises money for ABF The Soldiers' Charity, a cause close to Sandy's heart.
"The Yomp is famous for pushing participants to their physical and mental limits and I know from personal experience the benefits that come with really stretching yourself," she says.
"Being involved in an event which has raised more than £3 million over the last eight years for ABF The Soldiers' Charity is a real honour.
"The charity helps hundreds of thousands of people across the army family, through individual grants and funding to other charities delivering support on their behalf."
With just over four months until the Yomp, Sandy, who did some of her training for Antarctica in the Cairngorms, says preparation is key.
"Start training now and you'll be super fit, healthy and most importantly, ready," she says.
"With planning, training and breaking the expedition into manageable chunks, the impossible became possible.
"The same principles apply to taking part in the Yomp.
"Walking is free so get outside and crack on with it. Start off with achievable goals and up your distance, a mile at a time."
Sandy also advises yompers have a strong team with members who will pull each other through any low points.
"Everyone on the expedition knew how to motivate me; we all knew how to keep each other going. That's important when the going gets tough so make sure you have each other's backs.
"The Yomp has proven to improve participants' self-reliance, confidence and fitness. But it's also about experiencing the head space and freedom that comes with being in the mountains.
"It's important to never be put off by others or to give up on your dreams – and taking part in the Yomp is an excellent way of proving just what you can do when you set your mind to it.
"On the Ice Maidens Expedition, we had to put egos aside and be completely open with each other to allow us to succeed.
"During the Yomp, there will be tough times but if you work together, you should be able to help each other to the finish line."
info
The Cateran Yomp 2019 takes place on June 8 and 9. The adventure sees teams of three to six people starting in Blairgowrie and hiking a circular route through Kirkmichael, the Spittal of Glenshee and Kirkton of Glenisla.
Don't have a team? No worries – sign up and you'll be placed with a group of walkers with a similar fitness level. Choose between a 54, 36, or 22-mile route. It's a unique opportunity to experience stunning scenery while raising vital funds for ABF The Soldiers' Charity. Funds you raise are distributed to soldiers, veterans and their families across the country. Last year's event raised a record £250,000 for the charity.
Sign up before the end of February and you'll be eligible for reduced rate of £80 (£60 military discount). Thereafter, the fee is £99pp (£80pp with military/veteran discount) and includes food, drink, camping, a goody bag, t-shirt, medal and more!
See www.soldierscharity.org/yomp and watch the 2018 Yomp video at https://www.youtube.com/watch?v=APyvSvk2VYc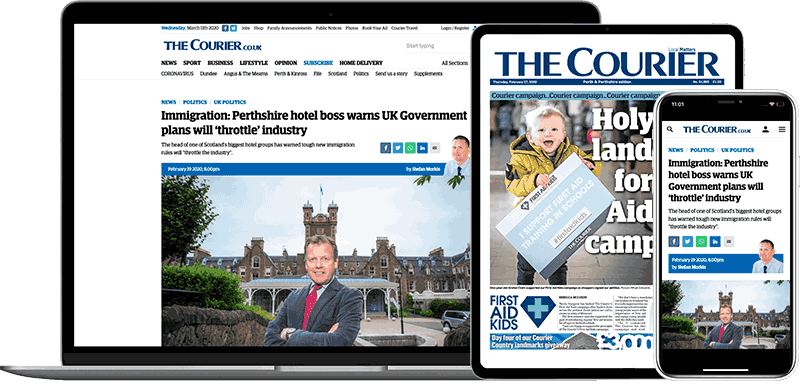 Help support quality local journalism … become a digital subscriber to The Courier
For as little as £5.99 a month you can access all of our content, including Premium articles.
Subscribe