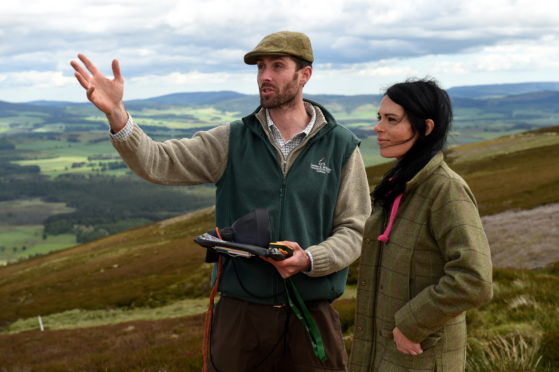 The Scottish Game Fair is fantastic fun for country sports fans but it also carries an important message about the countryside and conservation, as Gayle discovers…
The Land Rover jolts and bounces over the rocky path as we head higher up into the heathery moorland.
I'm in deepest, darkest Aberdeenshire, in the foothills of 872m Morven, its rounded slopes dominating the farmland below.
At the wheel of the Landy is Merlin Becker of the Game and Wildlife Conservation Trust (GWCT), a charity dedicated to biodiversity, conservation and management.
As trainee advisor for the GWCT in Scotland, Merlin has been tasked with showing me round this stunning, wildlife-rich part of Scotland.
He helps run Auchnerran, a demonstration farm outside Logie Coldstone tenanted by GWCT that's used to inspire, influence and inform farmers, land managers and government about sustainable game and wildlife conservation in the British countryside.
I'm here ahead of the Scottish Game Fair (run by GWCT) and on a mission to explore a more serious side of the event – that of heather moorland and nature conservation.
Sure, the Fair is a whole lot of fun, with fishing, gun dogs, shooting, Highland ponies and more, but behind all the tweed jackets and flat caps, there's important work, research and monitoring being undertaken to help create and maintain thriving moorland, rich in game and other wildlife.
Indeed, the Trust's central exhibit at the Fair will be the fun, albeit educational, "Three Steps to Heather Heaven".
"GWCT took on Auchnerran Farm in late 2014 and it's used to showcase how we can run a profitable farming enterprise alongside a healthy wildlife population," says Merlin, 28.
"It's a real, working farm where we can physically show people lapwing chicks, curlew nests, feed hoppers and how we manage the land."
The farm boasts around 1,100 black-faced ewes, grows game conservation crops, and has pasture, rough grazing and a mosaic of different woodland types. It lies next to 12,300 acres of heather moorland owned by Dinnet and Kinnord Estate Estate.
As we climb higher up the hill track, Merlin stresses that while some folk might believe all moorland managers and gamekeepers are out to shoot and kill for profit, and don't care a jot about wildlife, that is absolutely not the case.
"That's a big misconception," he says. "People need to realise that gamekeepers are actually similar to farmers, the unsung custodians of the countryside, and actually do care for wildlife and want to see it thrive.
"Ultimately, we look to increase agricultural productivity but at the same time not damage the wonderful balance of wildlife here at GWSDF Auchnerran."
However, with concerns about declining species like curlews, gamekeepers need to step in and control predators such as crows, rooks and foxes, says Merlin.
"GWCT science has proved for more than 40 years that legal predator control can significantly increase breeding productivity of red-listed species such as curlew, grey partridge and yellowhammer," he reasons.
"We're just trying to help the situation and bring back a balance to our fragile environments."
Gazing around at the vast expanse of man-made heather moorland, used for driven grouse shooting, Merlin explains this was once Caledonian pine.
These days, it's home to an abundance of wildlife – red and black grouse, mountain hares, ptarmigan, and many species of wading birds including lapwing, woodcock, snipe, curlew and oystercatcher, as well as golden plover and a plethora of songbirds.
Reaching the plateau of Roar Hill, something catches Merlin's eye and he stops the 4×4 dead in its tracks.
I whoop with joy when, through my binoculars, I pick out two red grouse and their fluffy chicks!
Things get even more exciting when a golden plover shows up and struts her stuff, indicating she also has chicks nearby.
We also spot a couple of curlew chicks and their hugely protective parents.
"The trouble with many of these birds is they're site-faithful – returning to the same patch year-on-year – and they live on the ground," says Merlin. "That means they're very susceptible to predation."
Bracken control is a major issue here too. The plant is carcinogenic and can take over huge tracts of heather moorland.
"It survives higher up the hills now which tells us something about climate change," says Merlin.
"Around £5,000 was spent last year on spraying it."
Muirburn is another practice carried out on heather moorlands and Merlin explains how small patches are burned, creating a mosaic of heather patches of different ages.
"Tall, older heather is great for nesting grouse and offers protection from predators. The young shoots are very nutritious with heather making up 90% of the red grouse's diet."
Because heather is pretty coarse (imagine chowing down on it!), grouse require a significant amount of "grit" to digest it and Merlin shows me a sample and explains this is sometimes medicated to combat a parasitic worm that harms the birds.
Another thing he and his colleagues do, as do other gamekeepers across Scotland, is record mountain hare numbers. This gives an idea of how healthy their populations are.
Soon, we come to a side of gamekeeping I'm not keen on – trapping.
Merlin brings out a variety of scary looking contraptions and places them on the ground.
"This could take a finger off if you're not careful!" he warns, as I peer at the grim looking but apparently humane "Tully" trap.
"There are many different types of traps, whether for stoat, weasel and rat control, crows, rooks and jackdaws, or snares for foxes.
"They're legally deployed in the countryside to help protect and enhance our precious wildlife species.
"It's a controversial subject but a point that must be better understood by the general public.
"Species are not just going extinct in Africa. Birds like the curlew and grey partridge are becoming locally and regionally extinct before our eyes in the UK. But gamekeepers, using legal methods of humane control, are on the front lines helping to really combat these extinctions."
Heading back towards the farm, which lies on the edge of a bowl-shaped geographical feature known as the Howe of Cromar, the landscape changes, becoming softer.
This scrub habitat, with nettles, broom, birch woodland, buttercups, speedwell and thistles, make good micro habitats for wildlife.
Ultimately, a trip to Auchnerran affords an invaluable insight into the importance of integrating wildlife, the natural environment and game management with agricultural practices underpinned by extensive scientific research.
"The farm, while a real working one, aims to show this type of management is beneficial and ensures a sustainable, environmentally-sensitive, and profitable agricultural system can be created," adds Merlin.
"All are welcome to come and see our lively central exhibit stand at the Scottish Game Fair to learn more about protecting our heavenly heather moorlands!"
info
The GWCT Scottish Game Fair takes place at Scone Palace on July 5,6 and 7. The theme for the Trust's stand is "Three Steps to Heather Heaven". This very visual and practical exhibit will include live red grouse, black grouse, ptarmigan, grey partridges and working hill ponies, alongside colourful displays and the kit required for successful moorland management. Visitors can chat to GWCT researchers and professional advisors about their work in the uplands, wetlands, lowlands and woodlands. Of course, there's also a plethora of country sports activities including fishing, gun dogs, terrier racing, clay shooting, air rifle shooting, archery, bushcraft and more. For more details, see scottishfair.com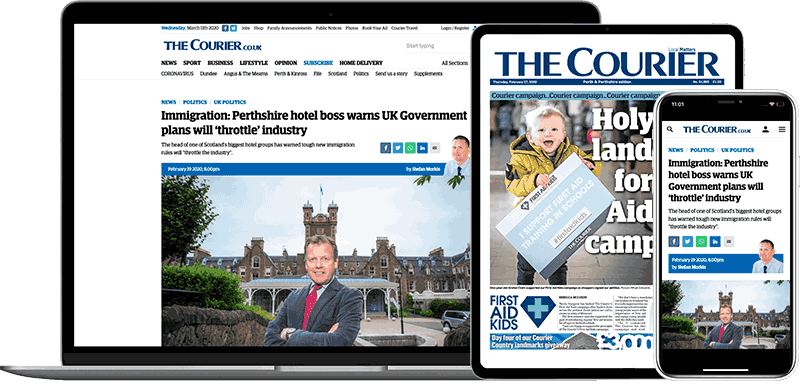 Help support quality local journalism … become a digital subscriber to The Courier
For as little as £5.99 a month you can access all of our content, including Premium articles.
Subscribe