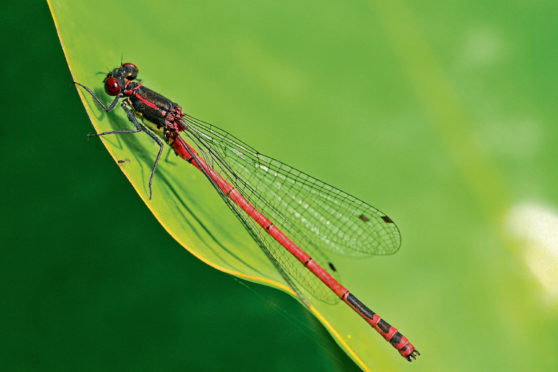 A flash of crimson over the peaty-brown water, and then another one; two damselflies dancing above a little pool on this vast expanse of Perthshire moorland near Pitlochry.
The damselflies flit and hover for a while longer, before one disappears over the heather into the shimmering heat and the other alights on a rock by the pool edge.
I creep closer to take a photograph, but this large red damselfly has its wits about it and takes to the air once more. It is too hot to bother chasing it, so I sit down again by the water's edge to see what else might turn up, as life always abounds in such hill ponds.
The damselfly soon returns on fluttering wings – possibly on the look-out for another damsel to mate with. I couldn't help but reflect how the erratic nature of its flying differed markedly from the common hawker dragonfly I had seen earlier in the day.
Dragonflies, such as the hawker, are much more purposeful and direct in their flight compared to damselflies. It is all very precise and angular – forward, hover, sharp left, straight up, hard right and then back down again; the large eyes scanning the air for small flies to hunt down.
It is hard to imagine when watching dragonflies and damselflies engage in their aerial manoeuvres that both spend most of their lives underwater as nymphs (larvae) where they are voracious predators of small invertebrates. Depending on the species, they may live as nymphs for between four months and five years but only survive as flying adults for two or three weeks.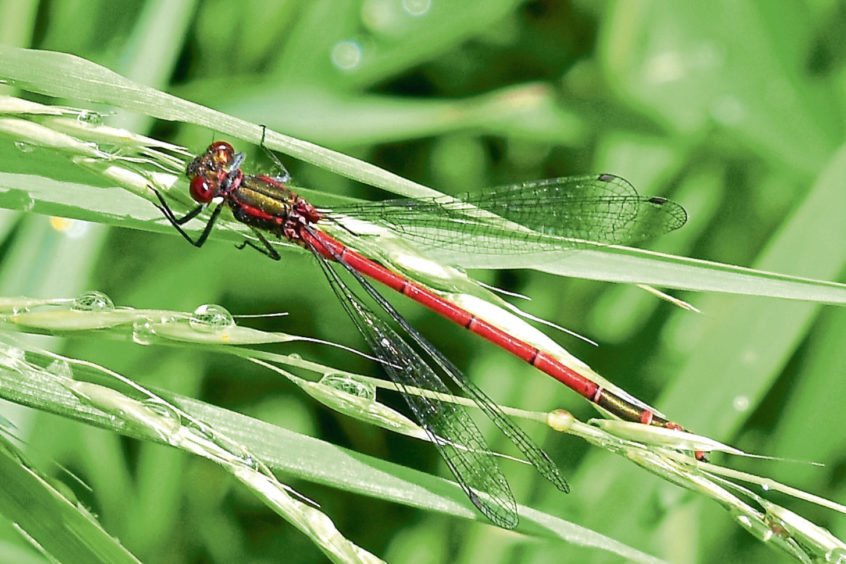 It was time to go, and as I made my way across the heather and tussocky grass, meadow pipits tumbled into the air ahead of me. There were many young pipits about, their succession of weak piping notes signalling that it had been a productive breeding season.
A 'chack, chack' call stopped me in my tracks. It was a family of stonechats, who were like busy bees as the adults flitted back and forth with food for their fledged youngsters. Stonechats are real showy birds that like nothing better than to sit on top of a gorse bush or clump of heather for all to see. It was good to find them here, especially since they are often vulnerable to cold winters, like the one just past.
Then, a medium sized bird – a blur of grey-brown – bounded ahead of me before landing on a patch of grass. At first, I thought it was a merlin, but it turned out to be a mistle thrush. I was momentarily disappointed, but quickly scolded myself for being so judgmental, for mistle thrushes are one of those birds that tend to get overlooked.
And as I watched it through my binoculars, there was no denying that here was a bird with real finesse and one that fitted seamlessly into the undulating folds of this beautiful Perthshire moor.
Info
Although related, damselflies are smaller and thinner than dragonflies with weaker flight. Dragonflies are more robust, and unlike damselflies, they hold their wings apart when resting.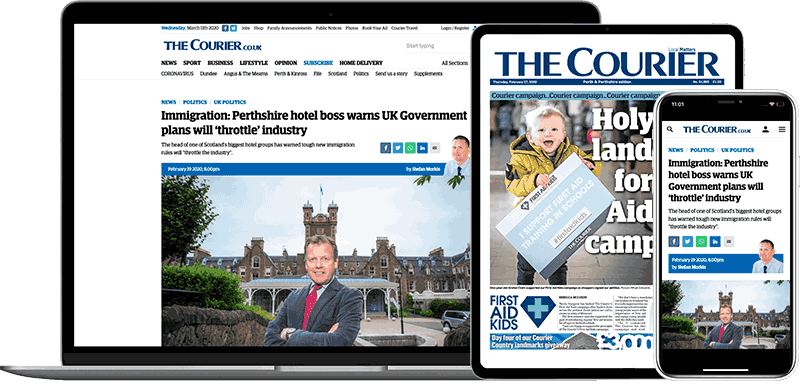 Help support quality local journalism … become a digital subscriber to The Courier
For as little as £5.99 a month you can access all of our content, including Premium articles.
Subscribe