Lying at the eastern end of the range, Craigowl Hill is the highest of the Sidlaw Hills, perhaps more of a curse than a blessing for the peak as its summit is adorned with an array of metalwork.
The aerials and masts are, however, a distinctive feature of the landscape, ensuring the hill is an easily identifiable landmark from afar and, turn your back on the towers, and they struggle to detract from the excellent views the top affords on a clear day.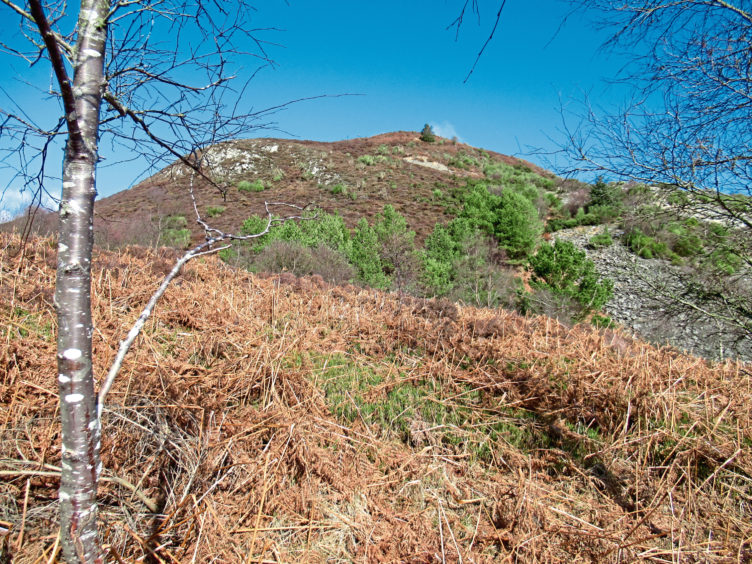 Heathery tracks and grassy paths offer approaches from all angles, the most popular routes of ascent beginning in Balkello Community Woodland, to the south, where there is a convenient car park, a short drive from Dundee.
A gateway to the Sidlaws, waymarked trails negotiate the trees to the hills themselves and, from an information board by a wee pond, I set off along the Raven Trail, purple waymarkers leading me around the grassy clearing to a second pool beyond which I branched right.
The route of the raven is not the most direct line, but it is a pleasant meander through what is a relatively young woodland of predominantly native species and the plethora of posts kept me on track.
Dipping to cross a soggy patch of ground by a small pond, I climbed below an electricity pylon line to a signed junction, leaving the marked trail, my onward route to Craigowl Hill rising north through broom bushes.
The path soon curves left and, as it comes out of the bend and straightens up once again, look out for a wooden gate partly obscured by broom on the right.
Here the route on the ground becomes a little sketchy. Hop over the stream below the gate and head up and over grassy pasture towards a copse of trees, aiming for a round wooden post from where the path climbs through a band of gorse to cross a rough track.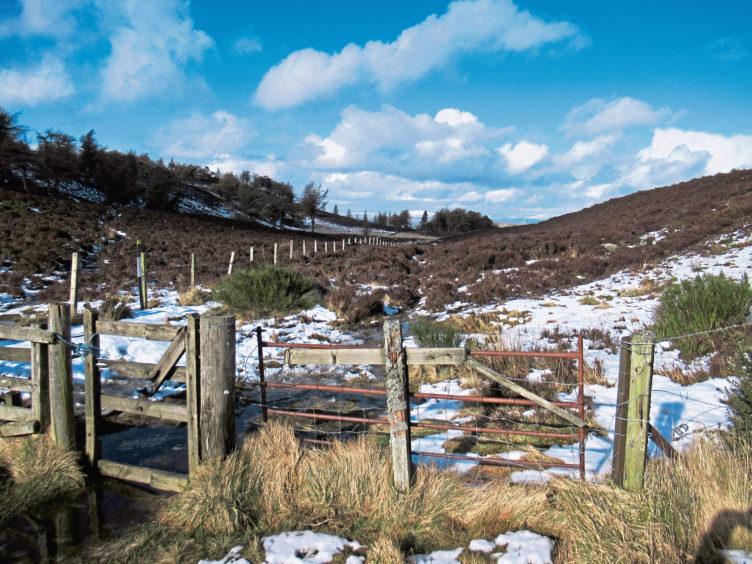 A little to the right, at a stone embedded in the ground, the path continues up through the gorse, emerging on to a grassy slope at the top of which an obvious path rises to the left of rocky outcrops
Flattening off briefly, the way swings right, ascending the western shoulder of Craigowl Hill, the summit masts in sight above. Again, indistinct in parts, the way crosses the line of an old wall higher up the slope before curving left to a junction of fences with two stiles.
From here, it is a short hike to the top, marked by a trig point sandwiched between two of the mast compounds, from where views stretch east across Angus towards the North Sea, south to Dundee, the River Tay and Fife and west along the spine of the Sidlaws.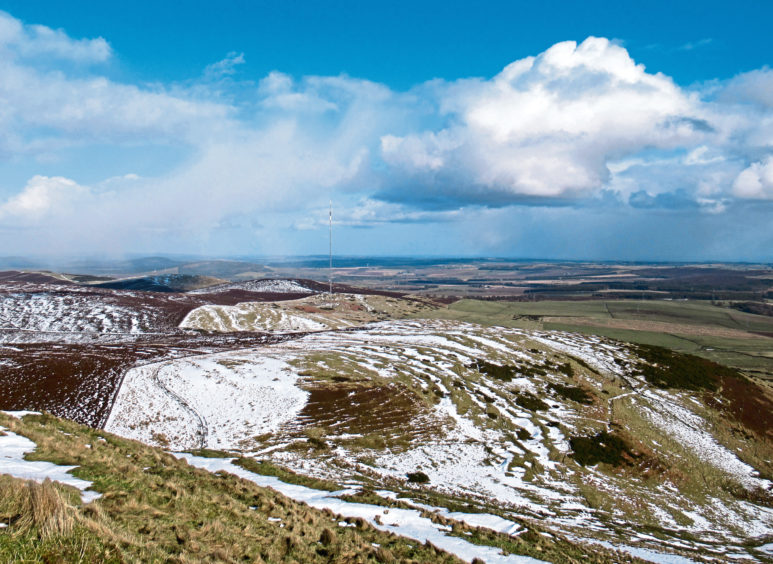 There is no viewpoint indicator here to help pick out distant peaks, but there is one on neighbouring Balluderon Hill and the route there is straightforward, a path running parallel with a fence descending west to a gate in the col from where a clear trail climbs steeply by another fence, the gradient easing as it curves left to the top.
Mounted on a neat cairn of local stone, a plaque deciphers the lie of the land and honours the late Syd Scroggie, legendary walker and climber, author and poet, who discovered his passion for the hills in the Sidlaws.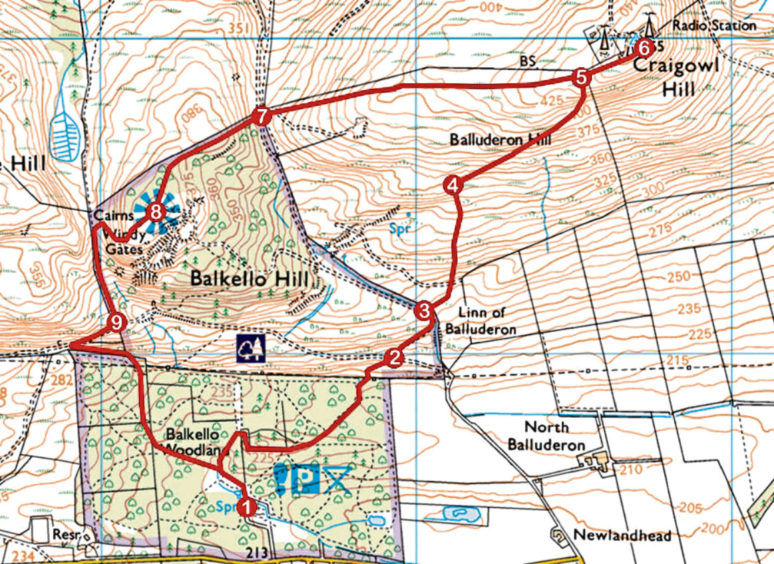 ROUTE
1. At information board, ignore white waymarked trail branching left and proceed ahead on gravel path, curving left then right to junction beyond pond. Fork right and follow purple waymarker posts through woodland, ascending below pylon line to signed junction.
2. Go right (signed Balluderon) then immediately left, ascending path through left-hand bend.
3. Branch right through gate, cross stream then grazing land to wooden post, ascend path through gorse, over grassland and up to left of rocky outcrops.
4. Turn right and ascend path to junction of fences and stiles.
5. Cross stiles and ascend to Craigowl Hill summit.
6. Return to point 5, cross stiles and descend path parallel to fence west to gate in col.
7. Ascend path by fence, bearing left higher up to summit cairn.
8. Descend path west into Windy Gates col then go left down to metal gate.
9. Descend towards pylon then go left by wall down to and through gate to junction. Bear right into woodland to return to car park.
INFO
Distance: 6.4km/4 miles
Ascent: 300m/990ft
Time: 2-3 hours
Grading: Moderate route following moorland tracks and paths, parts of which can be wet and muddy underfoot, with some steep and prolonged ascents. Keep dogs under close control over grazing land
Start/finish: Balkello Community Woodland car park, two miles east of Kirkton of Auchterhouse on minor road to Tealing (Grid ref: NO 365385). Car park open 8am to 5pm (Oct-Mar) and 8am to 10pm (Apr-Sept)
Map: Ordnance Survey 1:50,000 Landranger sheet 54; Ordnance Survey 1:25,000 Explorer sheet 380
Tourist Information: Dundee iCentre, 16 City Square, Dundee DD1 3BG (Tel 01382 527527)
Public transport: None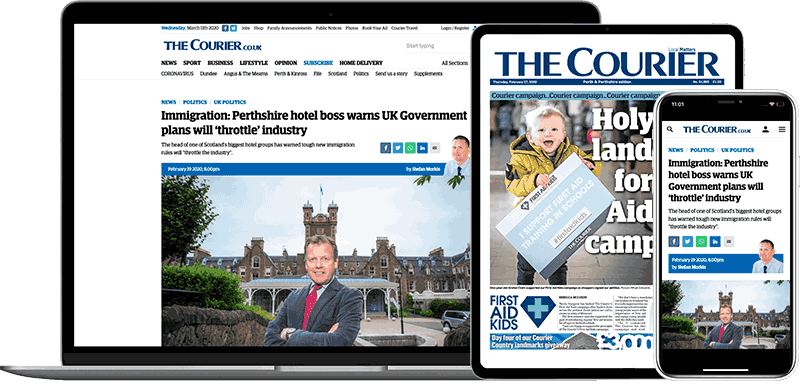 Help support quality local journalism … become a digital subscriber to The Courier
For as little as £5.99 a month you can access all of our content, including Premium articles.
Subscribe