I always try and avoid spending too much time walking on roads, preferring the satisfying crunch of gravel or the soft yield of grassy slopes below my boots.
Inevitably, however, there are times when it is necessary to tramp a bit of tarmac, perhaps because the nearest practical place to leave the car is a little way from the start point of a route or if a minor road offers the vital last link in a circuit.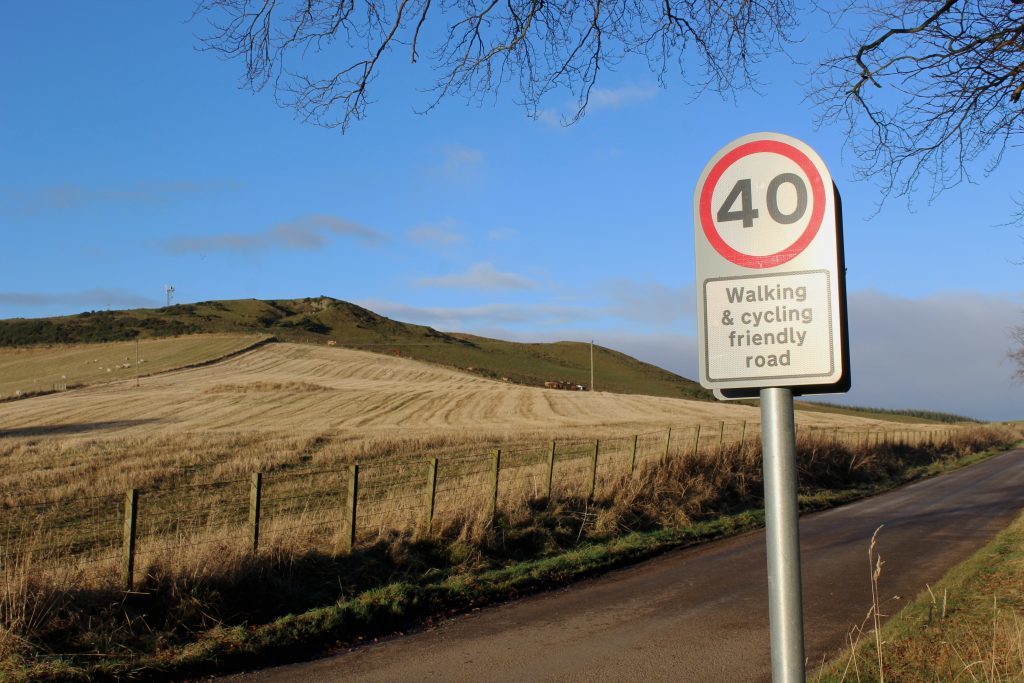 Exploring the Braes of the Carse, upland country rising north from the River Tay, I discovered what have been christened 'walking and cycling friendly' roads, rural byways with lower speed limits where motorists, hikers and cyclists should be able to coexist both safely and harmoniously.
It was one such road that took me south from Tullybaccart on a walk to Redmyre Loch, a watery gem hidden in the folds of the Sidlaw Hills.
Passing through farmland and skirting below Ballo Hill, to my right, the early morning traffic was light and, with few cars encountered, I stepped unscathed off the asphalt into Little Ballo Forest.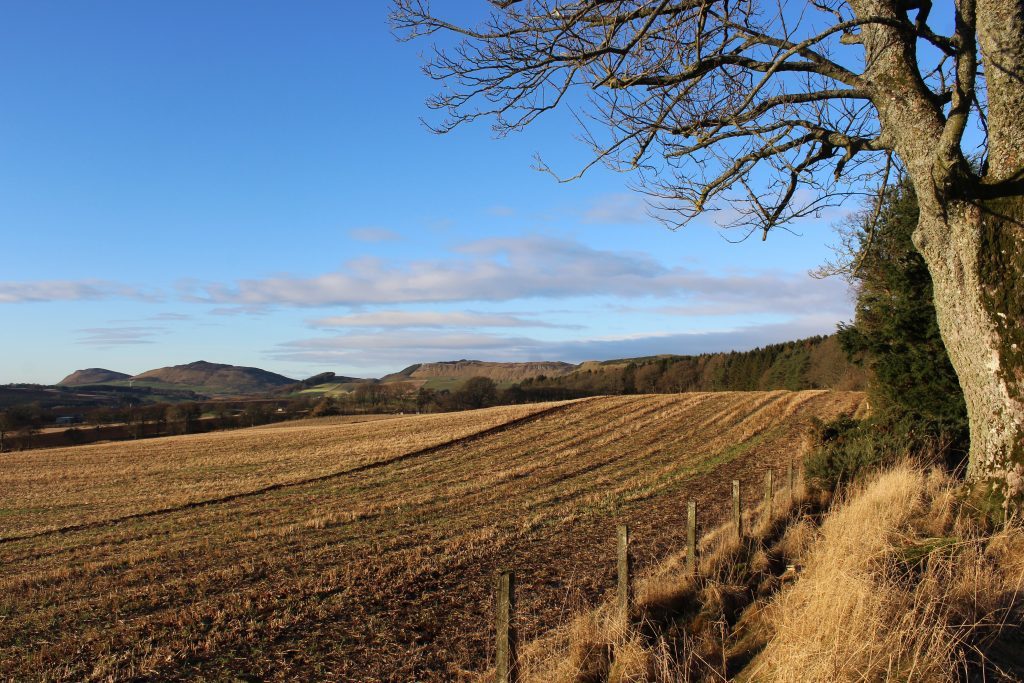 A small plantation of tall, slender pine and larch lay ahead of me and, while the track was short-lived, a good path – a right of way leading ultimately to the hamlet of Dron – continued straight ahead, passing between bands of younger conifers and an area of open ground offering views west over fields to the Sidlaw Hills, King's Seat one of the most prominent tops in my line of sight.
Beyond a gate by a hefty old upturned tree stump, the trail negotiates a slender corridor through gorse and broom before broadening out to run below mature beech and oak trees.
The valley narrows here as it cuts between the forested slopes of White Hill, to my right, and the recumbent form of Blacklaw Hill, over to the left.
The path eventually emerges from the trees at a crossroads, joining a track to the sheds and sheepfolds of Redmyre Farm. Those with a canine companion in tow will appreciate the convenience of the dog flap adjacent to the gate and stile, just on from the junction.
Branching off the right of way at the sheds, I hiked west by another patch of woodland, the track petering out in grassy parkland.
However, after negotiating a couple of stiles, one of them more akin to a bridge and the other tucked away in a hedgerow, I found my way up to Redmyre Loch.
Rising along the edge of woodland and through a grassy break in the forestry above, the way emerged from the trees below a rather quaint mock Tudor style boatshed perched on the edge of the water.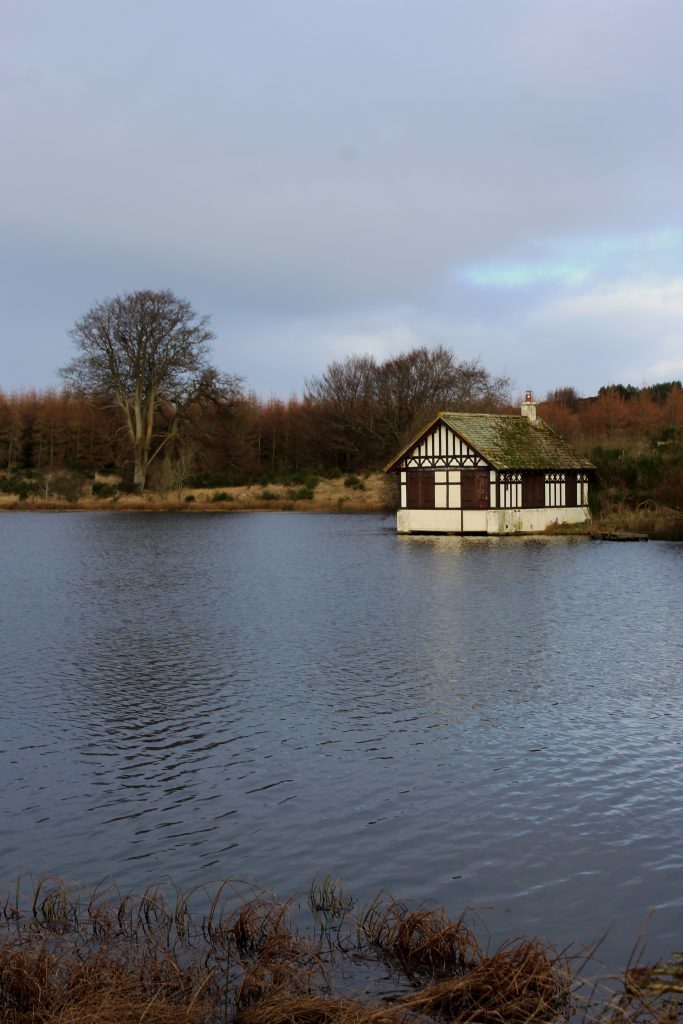 With neither anglers nor any other walkers around, I enjoyed the solitude of the spot, distant swans floating on calm waters while, above me, a buzzard circled silently.
A track loops down from the loch to Redmyre Farm and, beyond the farmhouse and its sheds, the way progresses between woodland cloaking the slopes above and rolling fields below.
Here my eye was drawn west to Northballo Hill, Gask Hill and, once again, King's Seat, small but shapely peaks forming the backdrop to a largely cultivated landscape dotted with forestry and farms.
At one such steading – Littleton – my track walk ended and I renewed my acquaintance with the friendly road leading back to Tullybaccart.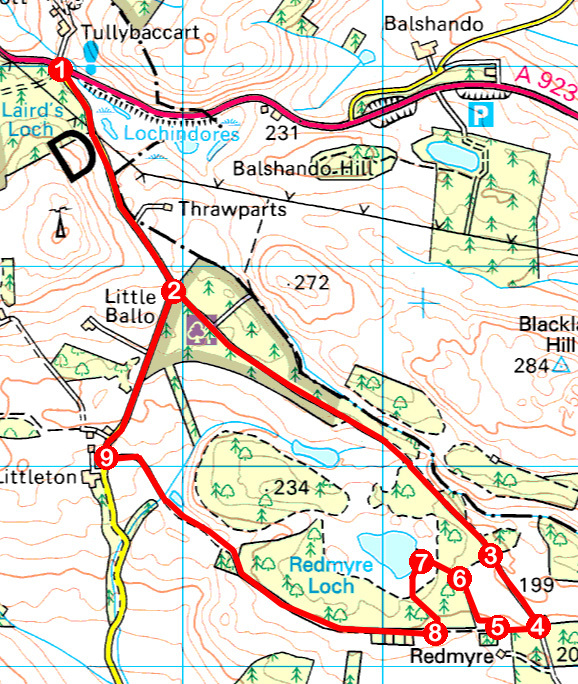 ROUTE
1. Bear right out of car park on pavement then walk south on minor road (signed Abernyte).
2. Continue straight ahead on track (signed Dron), entering Little Ballo plantation at gate. Where gravel track ends, go straight ahead on path.
3. Go straight ahead at track crossroads, crossing stile by gate, to junction by farm sheds.
4. Turn right, following track 200m west.
5. Turn right over elongated stile, then go left to stile in hedgerow. Cross stile then low chicken wire fence and go right, ascending by edge of woodland to track.
6. Cross track and continue straight ahead through break in forest, ascending to boatshed.
7. Turn left, following track as it curves left to junction. Turn right.
8. Turn right and follow track west past farm sheds to meet road at Littleton.
9. Turn right and walk north on minor road to point 2 then retrace steps to Tullybaccart.
UPDATE: Due to the recent installation of an electric fence at point 5, readers are advised to cross gate on right at point 3 and follow track west to re-join route at point 6.
INFORMATION
Distance: 9km/5½ miles
Ascent: 140m/460ft
Time: 2-3 hours
Grading: Moderate low level route following minor roads, tracks and paths through farmland and forestry. Keep dogs under close control both on roads and Redmyre Estate
Start/finish: Car park at Tullybaccart, on A923 Dundee to Coupar Angus road (Grid ref: NO 263360)
Map: Ordnance Survey 1:50,000 Landranger sheet 53; Ordnance Survey 1:25,000 Explorer sheet 380
Tourist Information: Dundee Information Centre, 16 City Square, Dundee DD1 3BG (Tel 01382 527527)
Public transport: Stagecoach bus service 59, linking Dundee and Coupar Angus, stops at Tullybaccart on request