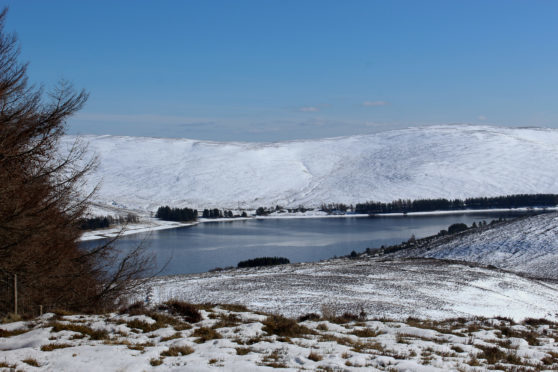 Hare Cairn, Glen Isla, Angus.
I have heard some horror stories from friends on their attempts to climb Hare Cairn. Setting out from Backwater Reservoir, to the east, they invariably found themselves pinned down by dense, unyielding forestry or snared by high deer fences.
To avoid either of these frustrating fates, I opted to try an approach from the west, pairing the Angus summit with neighbouring Creag Reamhar. Both are cloaked in commercial timber, so I would need to make doubly sure I could see the wood for the trees.
My tactics were simple enough – hit the hill from the north using the well signed trail linking the glens of Isla and Prosen before trotting through a break in the trees that runs right along the ridge. What I failed to factor into my optimistic equation, however, was the amount of snow I would encounter on the high ground.
From Freuchies, a hamlet created to house forestry workers, the track, initially surfaced, rises quite steeply past first West Freuchie and then East Freuchie before settling into a steadier, gently undulating rhythm as it skirts along the lower flanks of wooded Cairn Hill and Crock.
To the east, across the valley, I could see the exposed, snow-covered summit of Hare Cairn abutting the heavily tree-clad form of Creag Reamhar.
Closing the gap on the pair at the next junction, I dipped to cross Newton Burn before ascending towards Glenmarkie Lodge, constructed in 1900 and reputed to be the last Victorian shooting lodge built in Scotland.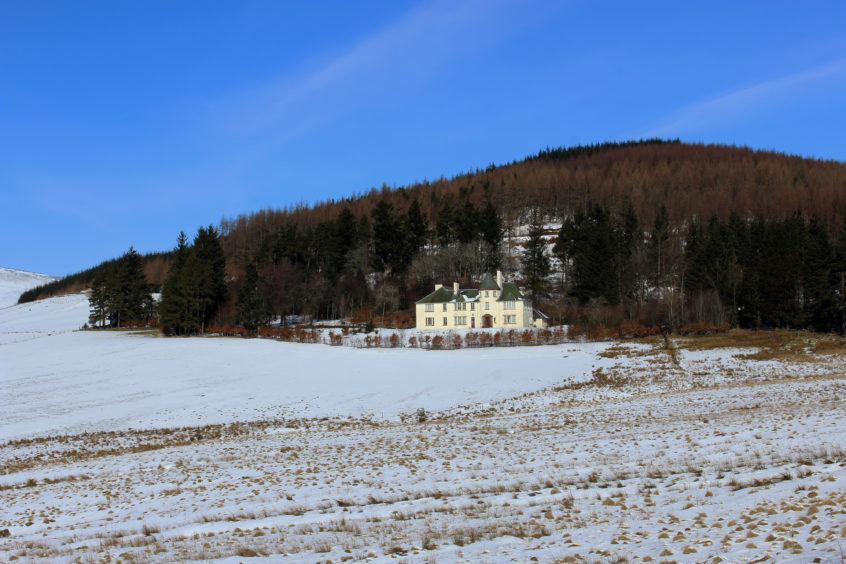 Below this isolated outpost, the way to Glen Prosen branches right, cutting up through an airy woodland of larch and pine and it was here, on what is ordinarily a very pleasant path, that I encountered my first real white stuff of the day.
It did not, however, delay me and soon I reached a gate where I left the trail and began climbing Hare Cairn. I took a direct line up the northern shoulder, rising between the evergreens of the plantation and its boundary fence.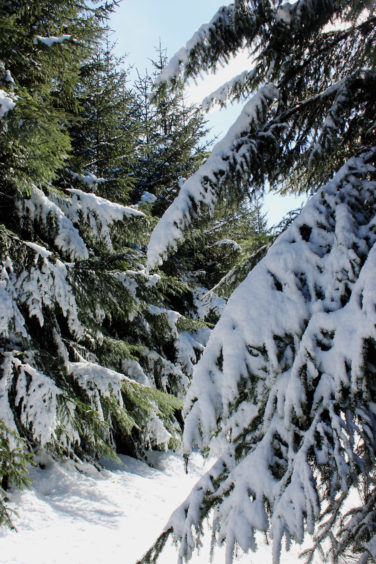 Banks of drifted snow slowed progress over what is usually an easy enough ascent but, knees aching, I finally cleared the trees and, with the gradient easing, followed a rough track running parallel with a line of old fence posts through the heather to the trig point marking the summit.
Throbbing thighs were quickly forgotten as I stood by the concrete pillar and, under a crystal clear blue winter sky, savoured sun-soaked views extending from Mount Blair, in the west, to icy Backwater Reservoir, in the east.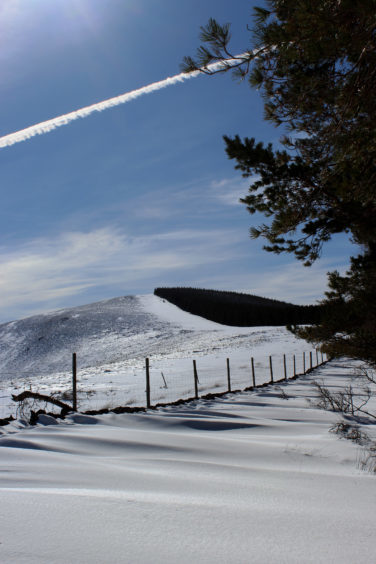 Descending from the top and, with trees to my left and trees to my right, I pushed on, an uninterrupted and wonderfully sheltered trail dipping gently through a corridor in the conifers before rising on to Creag Reamhar, an unassuming top marked by a small pile of stones.
Despite the snow, my route-finding luck was holding but I was still not quite out of the woods yet. The path, however, continued in the right direction, descending to a high fence marking the southern boundary of the plantation.
Still imprisoned, I followed the posts and wire down the slope to a ladder stile and, once over, enjoyed an easy yomp over moorland and then pasture to the road at the foot of the glen, happy that at no point on my forest adventure did I get the needle.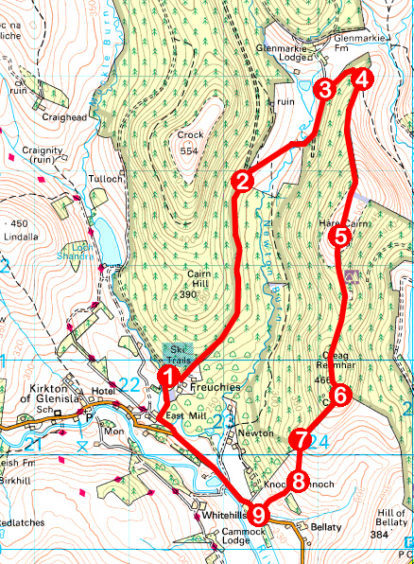 ROUTE
1. Ascend track (signed Glen Prosen) past West Freuchie and East Freuchie and continue north for 2.5km to junction.
2. Fork right (signed Glen Prosen) and follow track east then north for 1.4km.
3. Turn right (signed Glen Prosen) and ascend track to gate.
4. Don't go through gate but turn right and ascend edge of plantation. Above treeline, continue south along fence line to trig point.
5. Staying with fence line, descend south, entering corridor between trees. Follow this south on to Creag Reamhar. Bear left at summit cairn and descend to edge of plantation.
6. Turn right and descend edge of plantation to ladder stile.
7. Cross stile and descend south over moorland to gates at meeting point of walls.
8. Cross right-hand gate and descend pasture. Pass through two gates then bear left to gate exiting on to B951.
9. Turn right along B951 then, after 1.5km, turn right (signed Glen Prosen) for Freuchies.
INFORMATION
Distance: 12km/7½ miles
Ascent: 400m/1320ft
Time: 3-4 hours
Grading: Moderately challenging route for fit, experienced hillwalkers following paths and tracks through forest and over open ground with some strenuous ascent. Keep dogs under close control where livestock is encountered
Start/finish: Forestry Commission car park at Freuchies, 2km east of Kirkton of Glenisla (Grid ref: NO 224608)
Map: Ordnance Survey 1:50,000 Landranger sheets 44 and 53; Ordnance Survey 1:25,000 Explorer sheets 381 and 388/OL53
Tourist Information: Gateway to the Glens Museum, 32 High Street, Kirriemuir DD8 4BB (Tel 01575 575479)
Public transport: Demand responsive service (www.angus.gov.uk/transport)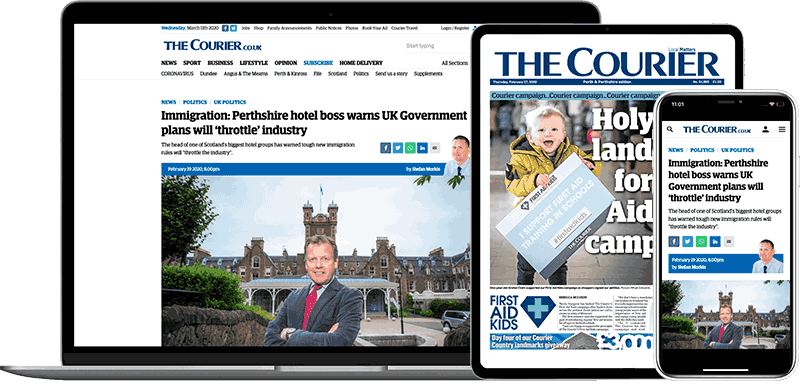 Help support quality local journalism … become a digital subscriber to The Courier
For as little as £5.99 a month you can access all of our content, including Premium articles.
Subscribe