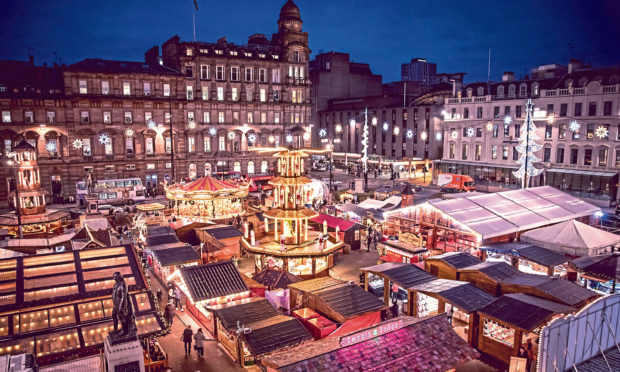 On the first official weekend of winter, a pair of sisters-in-law of a certain age headed to Glasgow for the weekend to take on some Christmas shopping, take in some of the culinary delights, and see how the port city evokes the festive spirit. Gillian Lord was one of those.
Glasgow is giving Edinburgh a serious run for its money with a determined marketing drive to attract tourists and shoppers alike over the festive season.
A concerted campaign is under way. Glasgow Loves Christmas is the theme, and Glasgow Life is driving the sleigh.
The sisters arrived on a Saturday after a train journey through a frosted Christmas countryside, everything glittering white, deer scampering across fields, the train's carriages filled with similar women, in greater groups, sipping Prosecco and laughing happily, looking forward to their girls' day out.
When it comes to putting on a Christmas show, Glasgow does not disappoint. The Christmas light displays on the elegant Victorian buildings and along Buchanan Street are simply stunning. A beautiful city at the best of times – its regal 19th Century buildings standing in grand testimony to past prosperity alongside the early 20th Century Charles Rennie Mackintosh "Glasgow Style" – it is a pleasure to wander through, winter or summer. It's a stylish city that knows how to show off its beauty.
And, let's face it, those glittering Christmas lights evoke a sense of childlike wonder. The Christmas Market in George Square is like stepping into a fairyland at night, with a big wheel and Christmas snow globe among the many added attractions.
Ambling through the stalls is a feast for the senses. You can get something called hot mulled Buckfast (who knew?) alongside proper spicy mulled wine, every manner of hot chocolate with marshmallows, regiments of gingerbread men, shortbread, Christmas fudgy everything, and specialist foods, along with the inevitable burgers, sausages and beyond.
It seems every second stall is a food stall – which I thought was a bit of a pity, as we were really looking to do some Christmas shopping.
There was a great choice of wreaths and ornaments and, of course, there were jewellery stands, the Harris Tweed, tartan merchandise and Scottish tourism trinkets, and some interesting food-related stocking fillers, but nothing much here for these two Dundee wimmin shoppin'.
The experience, though, the actual being there, is magic. We went back three times, just for the thrill of seeing it all, including the look of utter wonder on the faces of all the wrapped-up-warm little children. The St Enoch Markets are another option too. If you do go to Glasgow for Christmas, you can't miss the markets. It wouldn't be right.
We found more unusual and varied choices at the 3D2D Christmas Fair at the Royal Concert Hall, and we spent many happy hours wandering around the shops, including the high-end Princes Square, which is truly wonderful in its Christmas finery.
We also, since you do, went browsing around the really high-end jewellery stores in the Argyll Arcade nearby, where we went up to Rox (they have two branches in the same arcade) and gasped at very, very luxury items.
Quite a lot of the glittering diamond jewellery was as much about making a statement – "I can afford to wear a diamond necklace with the Gucci logo as the centrepiece!" – as it was about beautiful investment pieces. Rox has both, as well as a less expensive, "younger" range, and here is where cashed-up buyers of all tastes will get the full sales treatment, being seated in plush sofas with a glass of Moet while earnest salespeople bring them whatever pieces take their fancy.
In keeping with the luxury window shopping, we also gazed at Prada, Gucci and Chanel, because why not?
We loved the John Lewis Christmas experience. You can get everything you need for your Christmas and the staff are lovely. We even took in a Treetorial – some of the same lovely staff showed an attentive seated audience how to make our trees look wonderful, and they gave us a glass of Prosecco while we watched, too. Some of those handmade glass ornaments from the Czech Republic are very, very beautiful things.
Not to put too fine a point on it, the first weekend of winter in Glasgow was bloody cold. So it was always a pleasure to step into warm and welcoming places, of which we found several.
We went for Festive Afternoon Tea at Mackintosh at the Willow in Sauchiehall Street. It's not just tea, it's an occasion: an unhurried drama set on a beautiful, Rennie Mackintosh-designed stage. Special vegetarian sandwiches were brought for one of the sisters; the other enjoyed elegant turkey and stuffing and smoked salmon offerings. We soon fell into a conversation that involved: "Oh, my God, this scone… Have you ever tasted anything like it?" and so on. And there were still the mini-mince pies and the chocolate truffles. It was a feast.
Dinner at Hutchesons is also worth mentioning, with the sense of occasion immediately evoked by the stunning, 200-year-old former hospital building in Ingram Street. You could spend a long time just looking at the ceiling, it's really quite something.
We had a three-course, pre-theatre menu that was notable for the quality of ingredients and some real skill in cooking. The steak I had was one of the best in many years. The place was hoaching on a Saturday night, and the music was not to everyone's taste (one of the sisters loved it; our neighbouring table, celebrating a 70th birthday, did not), but it's a slick operation.
Similar praise can be given to The Restaurant Bar & Grill in Princes Square, where it's a pleasure to sit outside and watch the passing parade of people, a piano player providing the soundtrack. Again, good, consistent fare and good service.
We stayed at the Point A Hotel in Bath Street, and would both do so again in a heartbeat. It's inexpensive, centrally situated, and budget with a plus. It is well-run, has the most extraordinarily comfortable beds (called Hypnos beds, if you're wondering), and has everything you need without costing a fortune.
And so the weekend rolled along. Like any Christmas tale, it has an edge of sadness, and seeing the homeless people sleeping rough on the literally frozen streets of Glasgow is sad.
But the city is well run and welcoming, and although it was full of shoppers, it never felt claustrophobic.
Glasgow's a great city and it does Christmas with style. We'll be back.
Gillian was the guest of Glasgow Life.