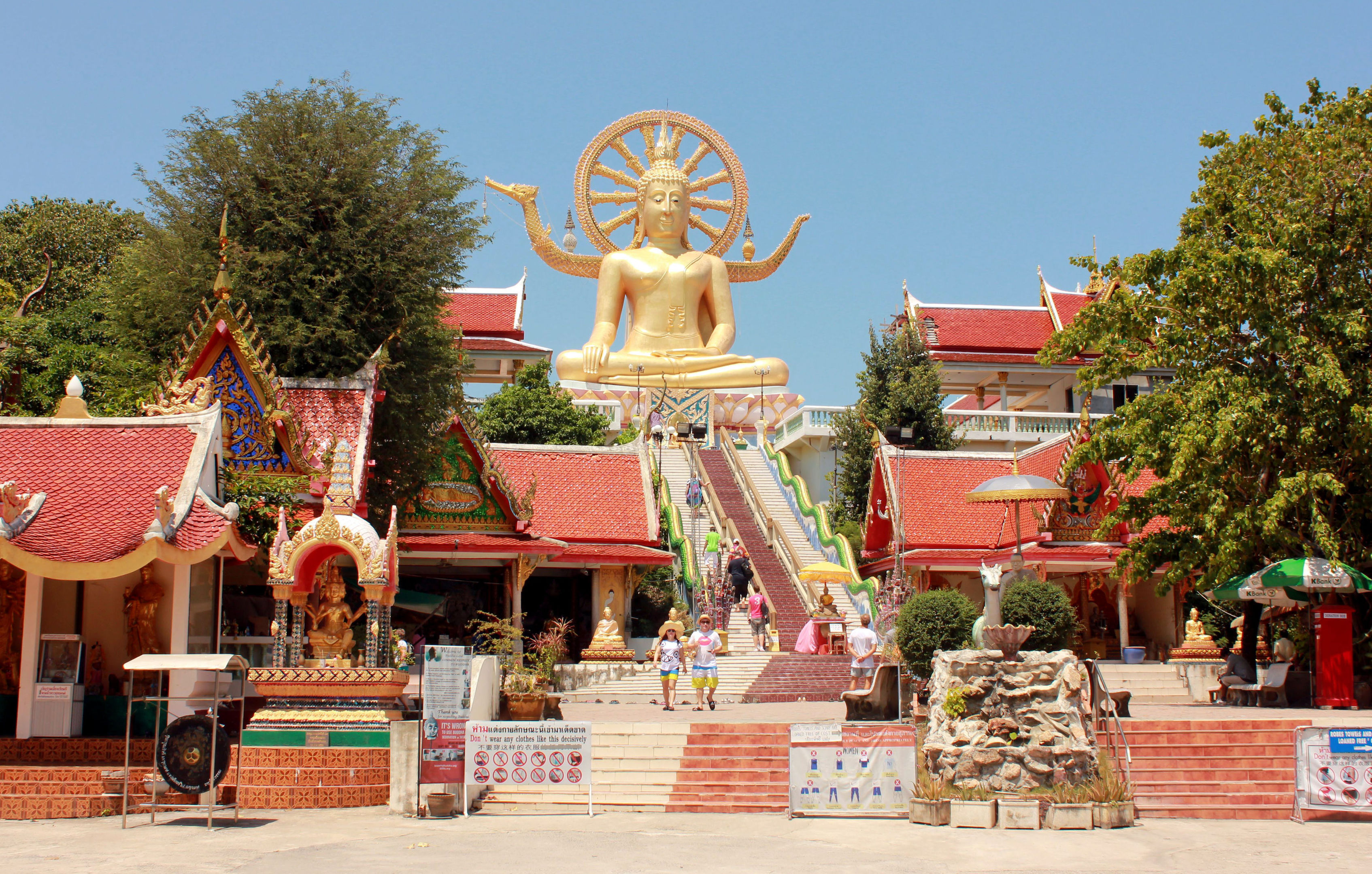 Cheap, cheerful and with sunshine (almost always) guaranteed, Thailand is a firm favourite for beachgoers. But it's still possible to find hidden bays and secret spots on some of the most popular islands, says Katie Wright
Every year, 25 million tourists flock to Thailand – many flying south from Bangkok for the sandy shores of palm tree-dappled islands.
Competing with so many other holidaymakers, is it still possible to find hidden bays and unspoiled scenery in this South East Asian destination?
As my airport transfer winds through Chaweng, Koh Samui's hectic main town, populated with a mass of biergartens and bistros, I'm beginning to wonder.
But an hour later, as I gaze out from the infinity pool across the turquoise waters of the Gulf of Thailand, all my fears subside.
I'm staying at the Silavadee Pool Spa Resort on the island's quieter south east coast – less than five miles by car, it feels a world away from Chaweng.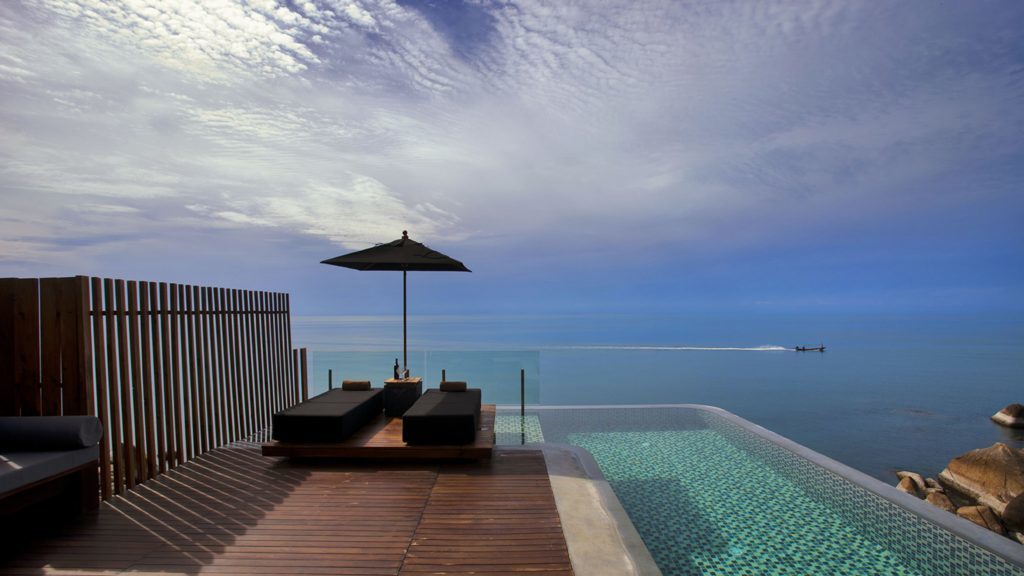 The five-star property is spread across a hillside overlooking a private beach, the hotel's main building and villas interspersed with lush greenery, so even at full capacity, it never feels crowded.
My ground floor room has its own terrace and outdoor Jacuzzi, making it tempting to stay resort-bound all day, but I'm keen to see what else Koh Samui has to offer, so I head out on a day's guided sightseeing excursion.
First up is a visit to see Luong Pordaeng, a mummified monk whose body still hasn't decomposed 30 years after his death.
Kneeling before the Ray Ban-wearing corpse, I take part in a fortune-telling ritual by shaking a pot of numbered wooden sticks until one falls out. Number 23, according to the descriptions nearby, is an excellent outcome, denoting guaranteed good luck and happiness for years to come.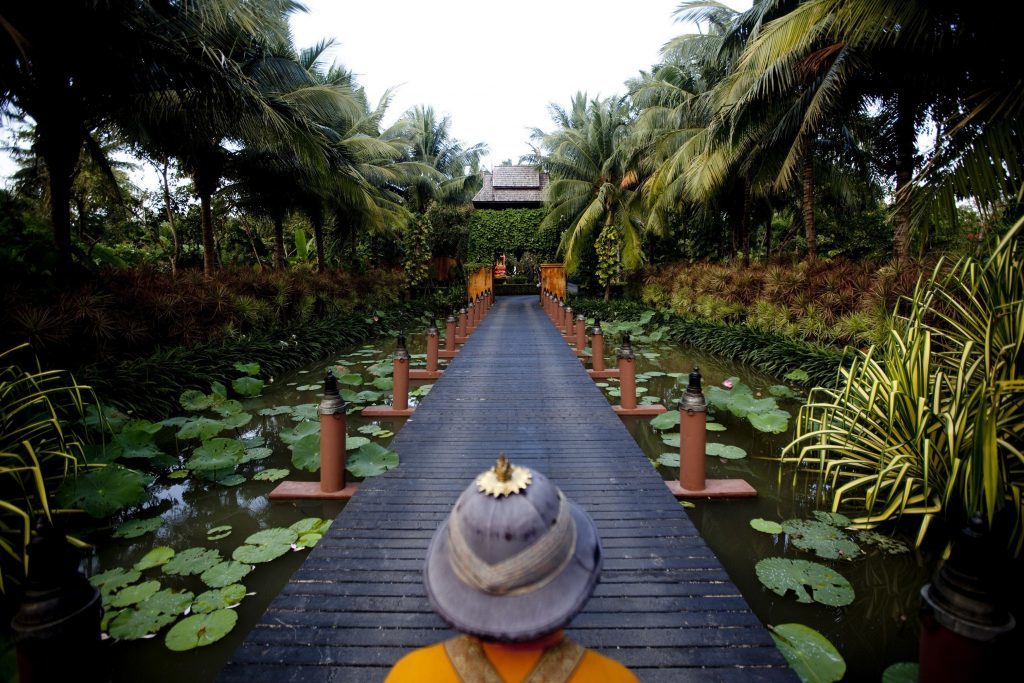 The prophecy is fulfilled almost immediately, because we happen upon something very special at our next destination.
Angling for some off-the-beaten-track action, my guide takes us to the Samret Temple, a beautifully tranquil cluster of ornate buildings, including one he says he's never seen open before.
Inside, three white-clad monks, surrounded by family and friends, are chanting intently.
A Buddhist ordination ceremony is taking place, during which the novice monks will pledge to keep 227 vows, as set out by Buddha himself.
I feel privileged to be witnessing this hallowed occasion – and there's not even a souvenir or selfie sick in sight.
It's not quite so serene over at the Plai Laem temple on the north coast. I'm soundtracked by a practising marching band as I climb the long flight of white stone steps to see the 12m tall Golden Buddha, and some stunning views across to Koh Phangan and Koh Tao, the other two islands that make up the Samui archipelago.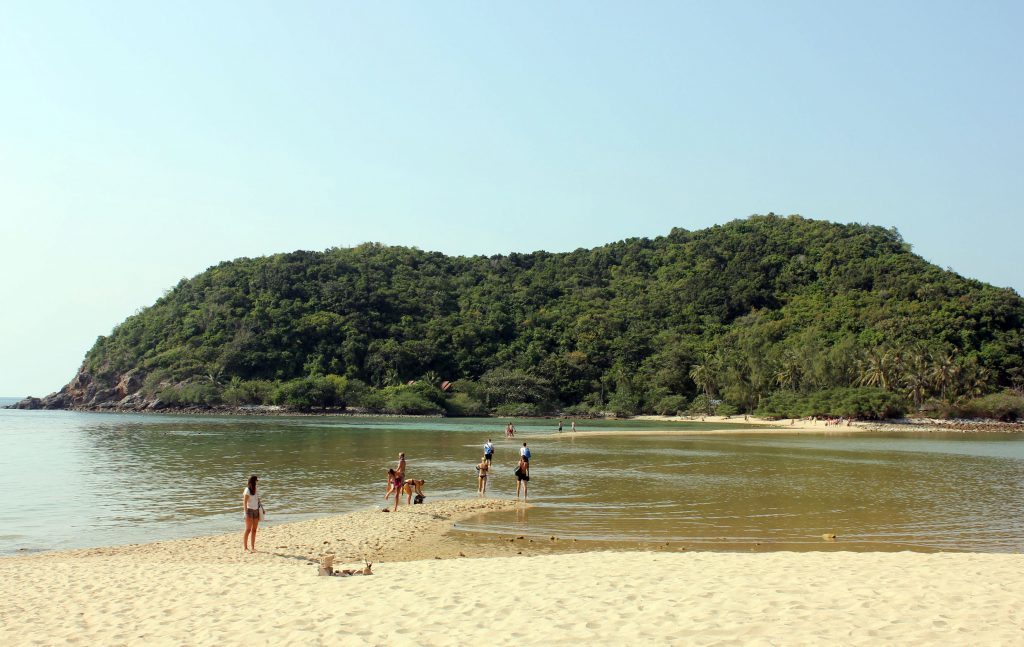 Also on the north-eastern tip, the Melati Resort offers an evening cocktail-making class that promises to introduce my taste buds to the authentic taste of Thailand, led by a mixologist affectionately nicknamed Monster.
Under Monster's expert tutelage, I try my hand at classics like rum-laced Mai Tai and the fiery ginger and chilli-infused Siam Sunray, but I really fall in love with the Pomelo Mojito, which adds the grapefruit-like local fruit into the usual minty mix.
By the time I (somewhat reluctantly) relinquish the cocktail shaker, the sky has exploded into a heavenly haze of pink and mauve, so I head to the resort's The View restaurant, which specialises in Mediterranean cuisine, to enjoy dinner as the sun sets.
But, naturally, being in the country renowned for blow-your-head-off-level spice, I want to experience Thailand's best home-grown dishes, so I book onto a group cookery course at the nearby Renaissance, just round the corner from where I'm staying. (You don't have to be staying at the resort to take part in a class.)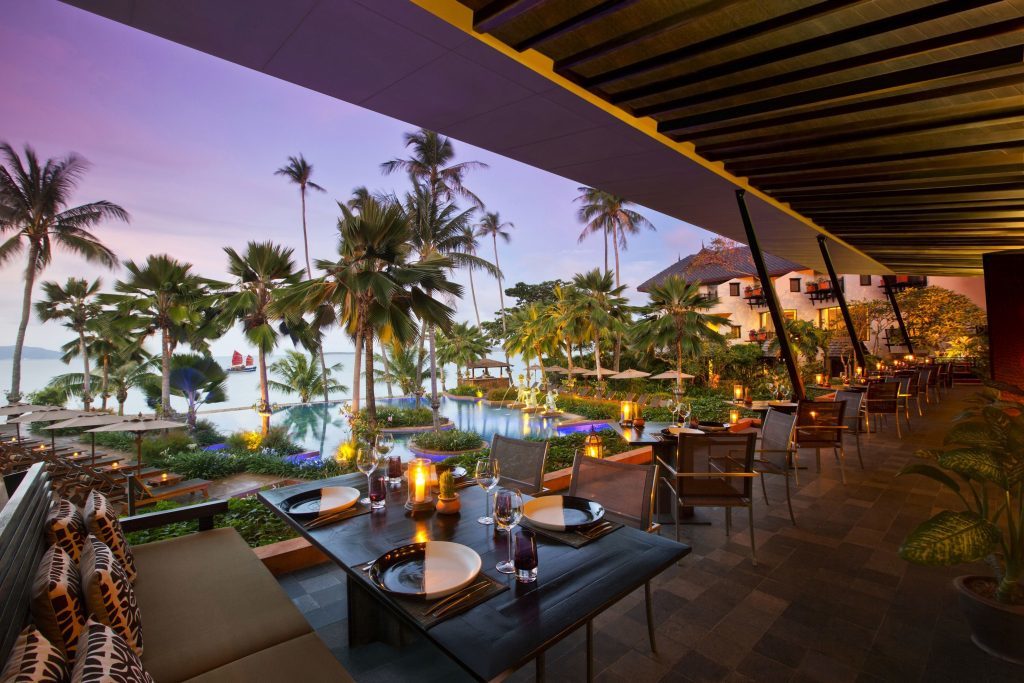 Lovely chef Nong demonstrates how to prepare crunchy papaya salad, a fragrant green chicken curry and tom yum goong, a lemongrass and chilli-flavoured seafood broth, then we set to work in pairs, before gobbling up the fruits of our labour for lunch.
All the dishes are delicious and surprisingly easy, so armed with recipe cards, I vow to put my new-found skills to good use at home.
Early the next morning, it's time to set sail for Koh Phangan, the slightly smaller neighbouring island where hoards of party animals flock once a month for the infamous Full Moon Parties.
But there's no sign of boozy backpackers as we jet past party town on the south coast – just turquoise seas, cloudless azure skies, and a hilly green landscape that looks like utter paradise.
By law, buildings can't reach higher than the canopy level on Phangan, so the properties that are dotted sparingly on the isle are sympathetically hidden among the forest.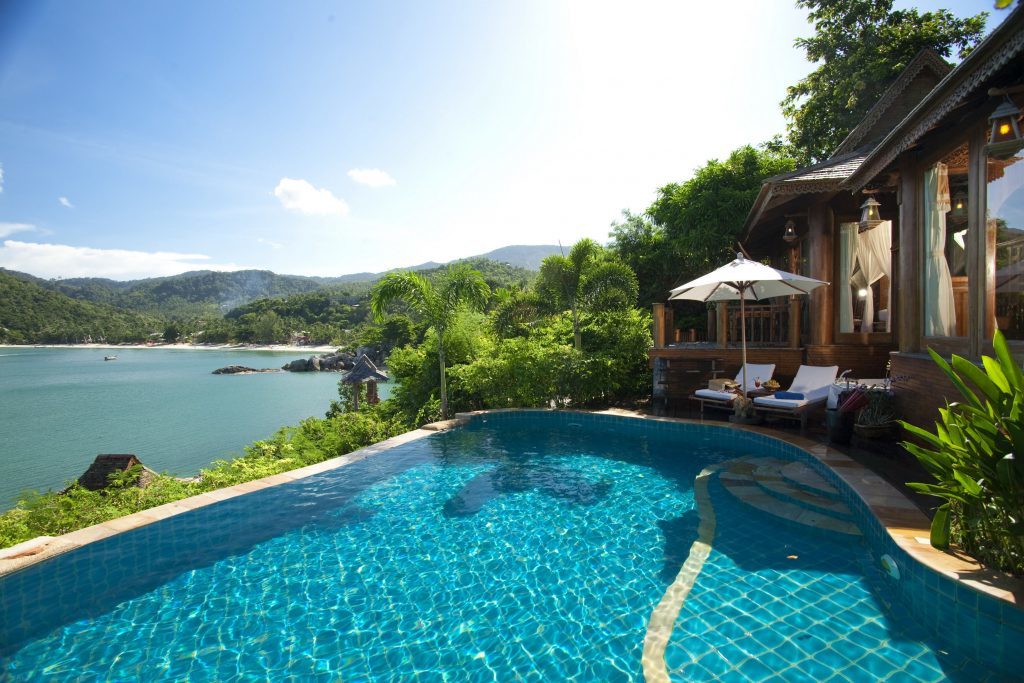 Thong Nai Pan Bay on the quieter northeast side, home to five high-end resorts, including mine, feels especially secluded.
Nestled on a steep, leafy hillside with rustic wooden paths winding between the traditional Thai style thatch-roofed villas (complete with outdoor showers), the Santhiya has a cool, rustic, tree-house vibe, albeit a very luxurious one.
My villa has its own pool and even a waterfall, but my favourite sunbathing spot quickly becomes the highest point of the resort, where loungers are positioned in stationary wooden boats on a raised ledge in the middle of a pool – frequent dips are a must when the temperature peaks in the mid-thirties – and the only sound you hear is the chirp of cicadas.
I do manage to tear myself away for a trip to one of Phangan's most famous sights: the Koh Mah sand bridge.
Wade across the shallow sandbank from Mae Heed beach and you'll reach Koh Mah island, a stunning shoreline and some of the best snorkelling around. But be sure to wear sandals you don't mind getting wet, because the sharp, crunchy sand is not pleasant to walk over barefoot.
Of the island's 30-plus other beaches, the most beautiful are found on the north side, like Bottle Beach, which is only reachable by long boat from Chaloklum pier.
The scheduled boat is the cheapest, about 100 Baht per person for the 15-minute ride, or you can hire a private taxi boat.
You won't have to share your white sand paradise with many other holidaymakers, but that could soon change, as Koh Phangan's first airport is under construction, the opening date for the delayed project uncertain.
But even the island's more accessible beaches don't feel crowded – the further you go from the south coast, the better.
As long as you steer clear of the tourist-trap towns and backpacker hotspots, you can certainly still find the quiet life in the Land of Smiles – even on Thailand's most notorious island.
TRAVEL FACTS
:: Katie Wright was a guest of Hayes & Jarvis (01293 762 456; www.hayesandjarvis.co.uk) who offers a 10-night holiday to Koh Samui and Koh Phangan from £1,349 per person. Includes three nights at the Silavadee Pool Spa Resort in Koh Samui; four nights at Santhiya Koh Phangan Resort and three nights at the Anantara BoPhut Resort and Spa in Koh Samui, all on a B&B basis. Includes airport transfers, internal flights with Bangkok Airways and return international flights from London Heathrow with EVA Air.