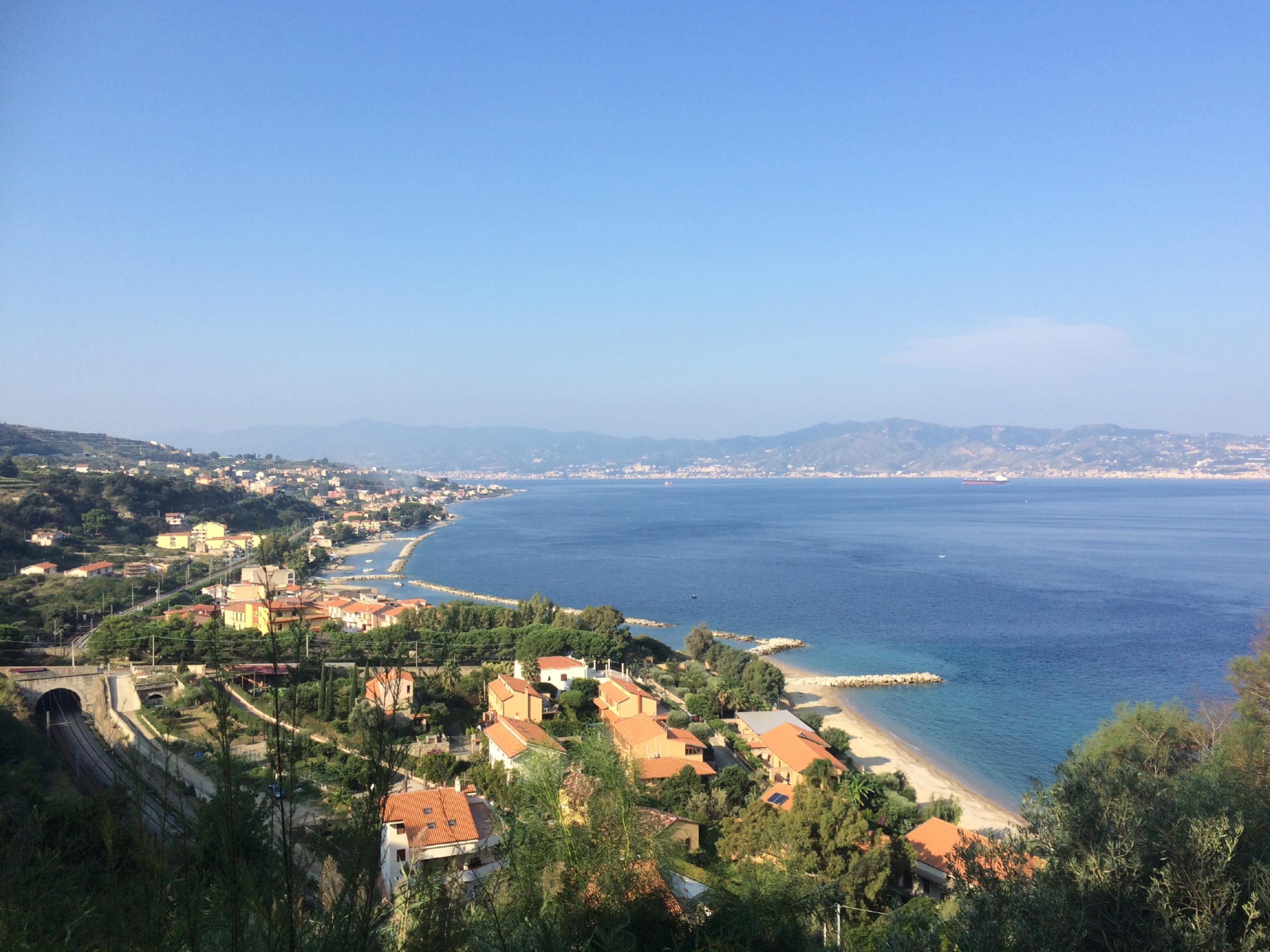 When you think about Italy as a tourist destination, you are pretty much spoilt for choice.
Rome, with its ancient ruins, art and culture; the majestic marble palaces and gondolas of Venice; the stunning sandy stretches along the Amalfi Coast; the sumptuous wines and scenic vistas of Tuscany. There's plenty to focus on.
But one region in particular is positioning itself as the total package – and is definitely well worth a look for Scots seeking a true taste of Italy.
I didn't know what to expect from Calabria, but the "toe" of Italy's boot, the country's southernmost region, is undergoing something of a renaissance.
Bordered to the north by the Basilicata region, to the east by the Ionian Sea and to the west by the Tyrrhenian Sea, it didn't take long on my trip to discover that the region has been blighted by a difficult past. What is today known as Calabria has been conquered, reconquered and conquered again by various rulers over the years, while natural disasters have taken their toll.
Reggio Calabria might be the oldest and most populated city in the region, but even that has a more modern feel to it thanks to an earthquake in 1908 which effectively levelled most of it.
That said, the one thing perhaps holding Calabria back in recent years has been a media fixation with the Mafia, known locally as the 'Ndrangheta. Perhaps little wonder, with Sicily just a stone's throw away across the Strait of Messina.
Calabria, however, is determined to emerge from that shadow – a fact borne out as soon as you step inside the new Palazzo Del Culturo (Palace of Culture) in Reggio, which only opened in May.
A whole floor of the museum is devoted to a collection of 125 paintings by the likes of Giorgio de Chirico, Salvador Dalì and numerous other artists from 1600 to 1700 – all of which were confiscated from two houses belonging to a local mafia boss in 2010.
We're told he purchased each painting legally, but the fact they were bought with ill-gotten gains – money made from a crooked poker machine empire – could not be emphasised enough on our tour.
"These belong to Reggio Calabria – we forget him when we walk in here," our guide tells us. "This is an example of how the Government is working against organised crime."
Reggio Calabria itself, the provincial capital, is a fascinating mix of old and new, and you can still see ruins of the old city in patches as you walk around surveying the city centre's newer Liberty-style buildings built after 1908's devastating earthquake. The city's long panaromic promenade is a particularly pleasant place to stroll while admiring the view over to Sicily, and on a clear day you can catch a glimpse of Mount Etna in the distance.
The city is also home to arguably the region's main tourist trap, the Museo Nazionale di Reggio Calabria (the National Museum in Reggio), which holds a huge collection of exhibits and historical artefacts from the area's days under Greek and Roman rule.
The museum's pièce de résistance is the Riace Bronzes, two life-size and incredibly detailed Greek sculptures which were discovered near the village they are named after.
The pair of heroic warriors, which date back to 460-450 BC, were found in the sea in 1972 by someone snorkelling in relatively shallow water, and they are now stored in a microclimate room in the bowels of the museum.
History buffs certainly won't feel short-changed by Calabria, and a journey along the sunny route 106 to the region's eastern side – immersing you in some amazing views along the region's Ionian coast – takes you to the famous Villa Romana di Casignana.
The Roman ruin, situated on either side of the road, was uncovered during infrastructure works in 1963 and is an incredible example of a luxurious villa dating back from the first century BC. Intricate mosaics found on the floor of what were thermal baths are still in the process of being restored, and you can have a wander around the 20 or so ruined rooms discovered to date.
Head further north and you encounter the exceptionally picturesque village of Gerace, which perhaps should be a must when visiting the area.
Perched high on a 500 metre cliff top, the perfectly preserved medieval town not only has prodigious 360-degree views but is also home to some beautiful buildings – including the remains of an old Norman Castle dating back to the 10th century, the Norman Cathedral, and the 13th century Church of St Francis.
From there, a short drive back to Calabria's Tyrrhenian coast en route back to Reggio takes you through the scenic town of Scilla. Our group stopped to have dinner at Chianalea di Scilla right on the waterfront and the view, especially at night, is nothing short of unforgettable. A saunter along the cobbled streets, in the shadow of the spectacular Castello Ruffo (Ruffo Castle), gives you an insight into real Italian life through the centuries, with waves washing up to people's walls and little fishing boats drawn up on tiny slipways.
Aside from its back story though, Italy is truly blessed with wonderful cuisine. And if it's food and drink you are after, from fine dining to more rustic fayre, Calabria has it in spades.
Strangely enough though, I found that homesick Scots are more than well catered for in Reggio, as I was greeted with the sight of wall-to-wall Tennent's Super in the first bar I ventured into, Il Chupito. It seems that Reggio's party-goers on a Friday night – most of whom are perfectly preened and not shy when it comes to making a fashion statement – don't do things by halves.
Those seeking a traditional Italian experience, however, could do worse than visit Agriturismo Barone Macri, an agritourism operation set in a valley near Gerace; L'A Gourmet l'Accademia in Reggio, where we enjoyed several simple yet hearty courses; or take a stop in Bianco, where we visited a local producer of olive oil and exquisite Greek wine.
Indeed, food and drink is where Calabria seems to set itself apart from other Italian areas – thanks to produce unique to the region. Many dishes utilise the Calabrian chilli, the peperoncino, while the 'Nduja is a delicious soft spreadable meat paste made with pork meat, herbs and spices.
Of course you also have Calabria's delicious take on Italian staples like bread, wine, cheese, olives, olive oil, cured meat, but you also have local gems like the Cipolla Rossa di Tropea, a particularly variety of sweet red onion; Torrone di Bagnara,  a typical traditional Calabrian nougat; Cosenza figs; and Calabrian licorice.
Having said that, flavour of the month in Calabria is undoubtedly the bergamot, the small citrus fruit that grows almost exclusively in that part of the world.
A visit to a local Bergamotteria revealed that it has a variety of uses, from cuisine to perfume to pharmaceuticals, and it's light, fragrant zest is truly intoxicating.
A bit like the region itself really.
For the discerning traveller who wants a true taste of Italy yet would prefer to steer away from the well-worn tourist trek, Calabria checks every box.
info
Craig Smith was based at the Grand Hotel Excelsior in Reggio Calabria. Rooms cost from £85 per night including breakfast. www.grandhotelexcelsiorrc.it/
Various flights available via Rome to Reggio Calabria. For example, Alitalia flies return flights via Paris Charles de Gaulle and Rome Fiumicino from £506 in economy.