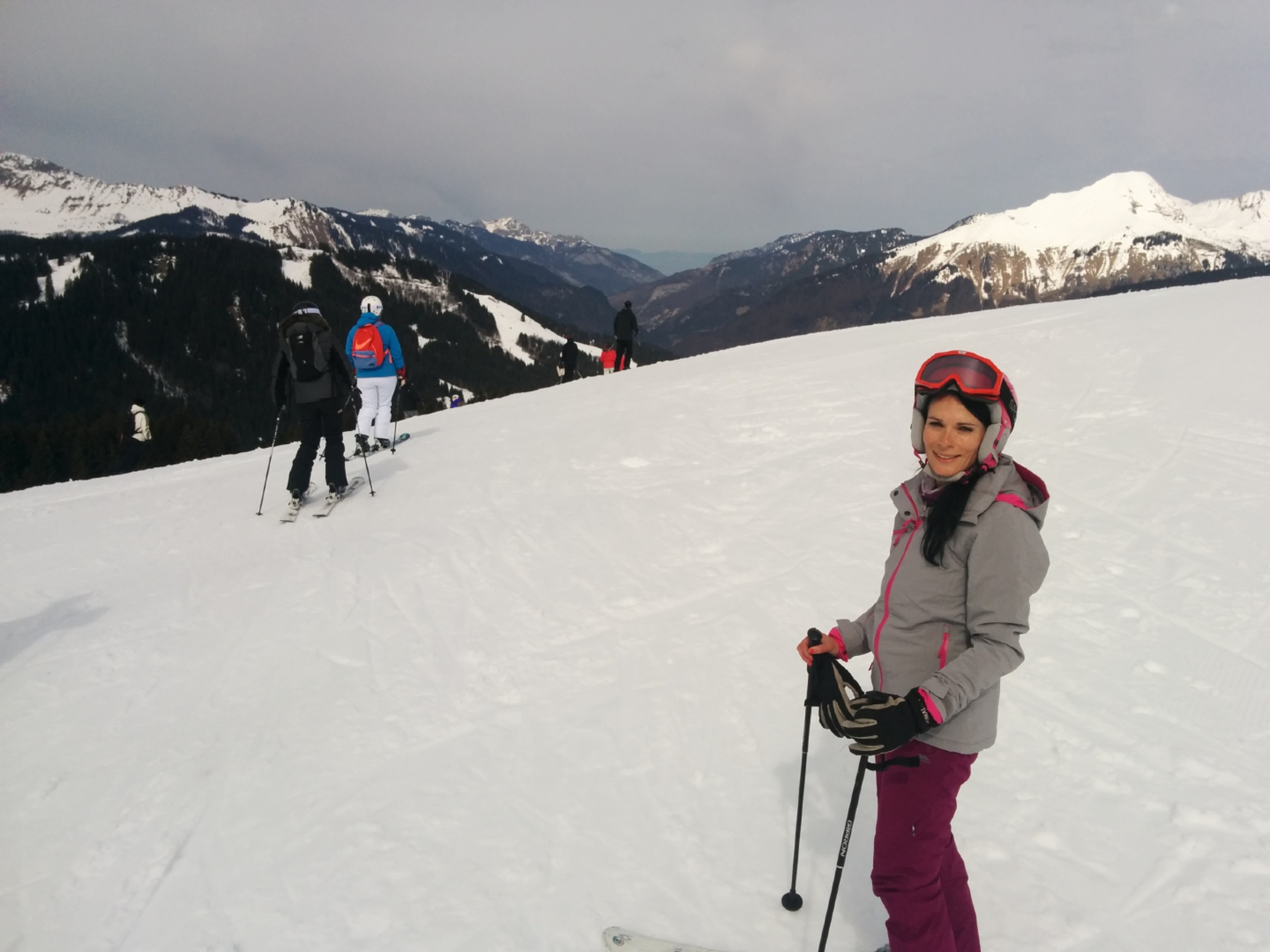 Skiers and snowboarders looking to bag a bargain for their next winter holiday would do well to consider Morzine and Les Gets in the French Alps. Gayle Ritchie checks out a fantastic catered chalet run by a couple from Broughty Ferry
The sun beats down on my face as I watch skiers and snowboarders whizz past from the comfort of a deck chair.
I've just skied from France down into Switzerland and I'm relaxing with a warming cup of vin chaud and a yummy croque monsieur at a makeshift cafe.
There are dozens, if not hundreds, of these cool pop-up cafes and restaurants dotted throughout the Portes du Soleil region and they make ideal pitstops for tired snowsports fans.
I'm here with my partner Robert and we're having a ball.
Admittedly, I'm not the best skier but it doesn't matter because with nearly 300 runs in Portes du Soleil, more than 200 of which are red or blue, they're suitable for everyone, from beginners to experts.
Getting about is easy because the area has invested heavily in fast, comfortable lifts, and we never have to queue longer than a couple of minutes.
Fresh powder and blue skies are a bonus but one of the things which can make or break a ski holiday is your accommodation.
Luckily, there are many fantastic places to stay in Morzine, but we book into brand new Chalet Hibou, run by Reach4thealps, in the heart of the town.
Having flown from Edinburgh early in the morning, we're picked up at Geneva Airport by staff member Lee Collier, and then meet Gina Ewart (nee McKenzie), who set up the company in 2002 along with husband Marcus.
The couple hail from Broughty Ferry, with Gina learning to ski at Dundee's Ancrum Centre and spending every winter weekend at Glenshee.
After university, her mum taught her to cater for big parties, and off she went with her best friend to Chamonix where they cooked dinner for up to 40 guests, six days a week.
"It was a baptism of fire," Gina tells me.
"But I caught the mountain bug and although both Marcus and I worked for four years after university, we missed the mountains and that Alpine blue sky, especially in winter, and so decided in 2001 to take career breaks and worked a season for a large tour operator.
"We ended up working in Morzine, fell in love with it and set up Reach4thealps in October 2002 and ran Chalet Sol Re that winter."
The rest, as they say, is history, and now the couple own three chalets and run a total of nine catered and six self-catered properties in Morzine and Les Gets in the winter.
Boasting spectacular views of the snow-clad slopes of Pleney, Chalet Hibou sleeps eight to ten people in four en-suite bedrooms.
Gina kindly escorts us to FB Freeride, where we hire our ski gear. It's literally a couple of minutes' walk from the chalet and we're able to leave the kit there overnight.
Returning to Chalet Hibou after our first day on the slopes, we find we have the place to ourselves and take the opportunity to kick back in the sitting/dining room and relax.
Staff have left out afternoon tea (they do this daily) and we indulge in fantastic cookies, cake and coffee.
After showering we take ourselves off to a couple of pubs to sample the local beer.
At 7.30pm, we gather in front of the log-burning fire for prosecco and canapes in the lounge to meet the other guests, who are strangers to us, but soon become friends.
A small part of me had been dreading mingling with others – "what if we don't get on?" – but they are all lovely people – six ladies from Surrey and a couple from London.
Over a sumptuous and beautifully presented dinner, served up by chalet host Hazel (her cooking skills are legendary), we exchange gossip and glean hints and tips on where to ski the following day.
The following morning, after a wonderful, peaceful sleep in the luxury bed, we get up for breakfast.
Again, this is an impressive affair, with a choice of dishes which changes daily, and we enjoy everything from freshly flipped pancakes, to poached eggs on toast.
Back on the slopes, we make the trip across the valley to Avoriaz, another major ski resort, using the Super Morzine gondola.
The lifts up to Cookie Café – which at 2277m, is the highest bar-restaurant in the Portes du Soleil – boast stunning views, although those with vertigo would be well advised not to look down!
As the ground opens up beneath us, we marvel at the black and white patchwork of snow and trees below and what we term "whipped cream" – snow swirled into strange shapes by the wind.
The tree-lined ski down into Switzerland is a doddle; we don't even need to show our passports.
At the border is the infamous Swiss Wall. It's a long, steep mogul slope with a tricky start which we avoid and ride the chair down instead.
One place we keep ending up at is the Happy Hours Bar, at the bottom of beautiful Ardent below the Lindarets ski area.
It's a great place for a glass or two of Aperol, before getting the last bus back to Morzine at 6pm.
The weather is magnificent while we're here, making for ideal skiing conditions.
However, we take the opportunity one afternoon to enjoy the delights of Morzine, having lunch and knocking back perhaps a few too many beers and vin chauds.
In the evening, we take a short bus trip (on the ski route) to Montriond, and walk round the scenic, icy lake.
A local tells me how crazy people ice-dive through holes cut into the thick layers of ice. I think we'll leave that well alone.
Our final day is spent back on the slopes and we are sore to leave, but the thought of returning here to celebrate New Year (there's still some availability) perks us up.
If you're not a dedicated skier or snowboarder, Morzine is a destination which offers many other activities to fill the hours while your companions are sooming down the mountain. These include nature discovery tours, snowmobiling, tobogganing, snowshoeing and shopping. There's also a world-class ice rink and a large swimming pool.
When the snow melts, there's plenty to do as Morzine is a year-round resort, embracing summer sports such as hiking, mountain biking, fishing, golfing, kayaking and canyoning.
info
Gayle enjoyed a three night break at fully catered chalet, Chalet Hibou, www.reach4thealps.com
Four night breaks in January start from 495 euros pp and include a three day Morzine Lets Gets lift pass, three nights catering and return Geneva transfers.
Discounts on week stays are available with up to 33% off over New Year stays across all their chalets. Book early as chalets fill up fast.
Staff work with professional chefs to polish and improve the menu; providing amazing food remains at the heart of what they do.
There's a dedicated outside ski locker, heated boot warmers and drying space for ski gear. There's also a sauna to ease aching muscles.
Reach4thealps staff offer a transfer service to and from Geneva Airport.
Flights from Edinburgh to Geneva take around two hours and cost from £60 return with www.easyjet.com
Ski and snowboard hire is available from www.freeride.fr
For more information on Morzine and Avoriaz and to buy ski passes online, see en.morzine-avoriaz.com