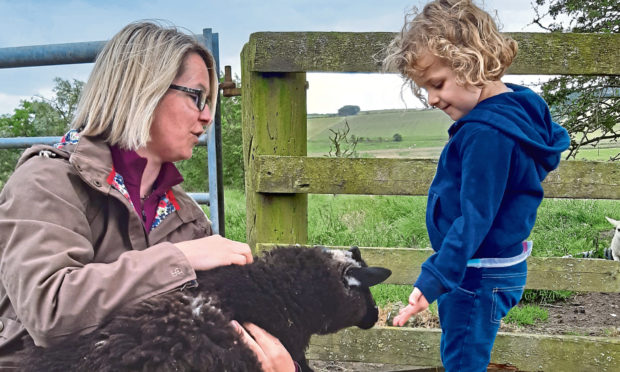 Claire Warrender 'gets away from it all' and reconnects with nature on a short break at Craigduckie Farm near Dunfermline…
Dunfermline may not be the first place you think of if you're looking to reconnect with the countryside. But just three miles from the centre of town lies a gorgeous little secret where an easy and almost luxurious introduction to farm life awaits.
Craigduckie Shepherds' Huts are the perfect retreat for that get away from it all feeling, while also offering a chance to get up close to lambs, pigs and cows. Overlooking Loch Fitty, once the setting of a renowned rainbow trout fishery, the two huts known as Ewe View and Lamb Lookout sit side-by-side on Craigduckie Farm and can sleep two adults and two children.
They can be booked together or separately, but when I arrived with my 10-year-old son, three-year-old niece and my sister, we were the only ones there.
We quickly found the key left in a pre-arranged spot by owner Katie Roberts and let ourselves in and were absolutely delighted with what we found.
It was the most immaculate space with bunk beds and a double bed folded up against the wall to create a living/dining area complete with cooking facilities, and there was a spotless en suite shower room.
Cooking can also be done outdoors, as a fire pit has been provided next to each of the huts. When it comes to breakfast, guests are welcome to collect fresh eggs from the nearby henhouse.
Of course, the children immediately demanded the bunk beds be set up and shinned straight up to the top to watch a film on the hut's DVD player.
They would have stayed there all day if we'd let them, but there was lots to see and Katie could not have been more welcoming when she came to greet us and offer us a farm tour.
It's fair to say the weather was not kind this summer and any hopes of a reprieve as we set off for our encounter with the livestock were soon dashed with an inevitable cloudburst.
But, in this country, we're used to planning for several seasons at once and we simply donned our wellies and waterproofs and continued on our way. Accompanied by Katie and the farm's two friendly Border Collies, we got to feed the surprisingly substantial – and, it has to be said, slightly smelly – pigs before moving round to say hello to a few of the 1,000 sheep.
After a meet and greet with the young cattle, which we had to dodge as they tried to lick us, came my son's favourite part of the trip – yep, he got to sit in a tractor and pretend to drive.
Katie believes it is hugely important that people know exactly where their food comes from and what goes into producing it and was more than happy to answer our questions, no matter how daft they were.
Had the weather been better we would have had the chance to build a den or go on a bug hunt, but we instead opted to make the few minutes' drive into Dunfermline, once Scotland's capital.
There is so much to do there, including a visit to the must-see Dunfermline Abbey, which has been a centre of worship for more than 1,000 years and is the final resting place of Robert the Bruce.
Pittencrieff Park was a bigger hit with the youngsters, however. It has a large playpark with equipment for all ages, including some suitable for those with disabilities, and an old steam engine which is a magnet for kids who enjoy make-believe train journeys without actually going anywhere.
A cafe, fishpond and hothouse add to the attractions, all within seconds of the town centre.
Dunfermline Carnegie Library and Galleries is also well worth a visit for anyone feeling nostalgic about their childhood.
The building includes an exhibition of kitchen set-ups throughout the ages, from our great-grandmothers' era to present day. It certainly brought back a lot of memories, as we recognised the cookware our own mum used in the 1980s.
For those who would prefer to stay in the outdoors, Balmule Fishery is just a five-minute drive from Craigduckie and although we didn't go there, I can tell you it's stocked with rainbow, blue and brown trout and has a separate fun pool for children.
Katie can also arrange a variety of outdoor experiences with her friends at Craigluscar Activities, including tractor driving, mini Highland games and clay pigeon shooting.
We were only staying one night, so after our jaunt to Dunfermline, we got fish suppers, stuck on a movie and settled down for the night. In the morning, it didn't take long to tidy up and fold back the beds and we were good to go.
All we had to do was leave the key where we found it and drive back to reality.
One night in a hut that sleeps two adults and two children at Craigduckie is £120 per night. Check in is 3pm. Check out 11am. For more details, see craigduckie.co.uk/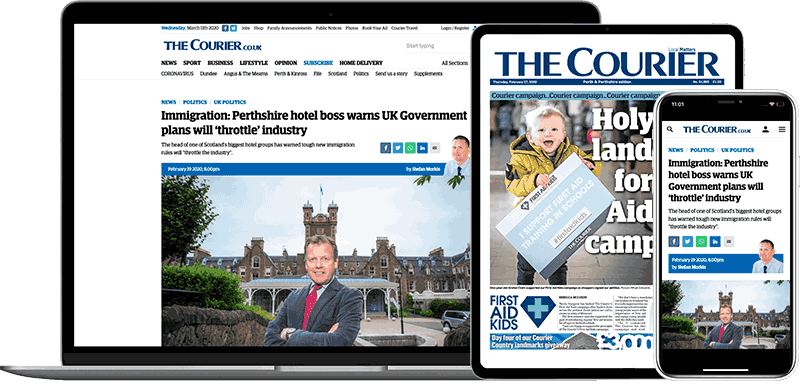 Help support quality local journalism … become a digital subscriber to The Courier
For as little as £5.99 a month you can access all of our content, including Premium articles.
Subscribe