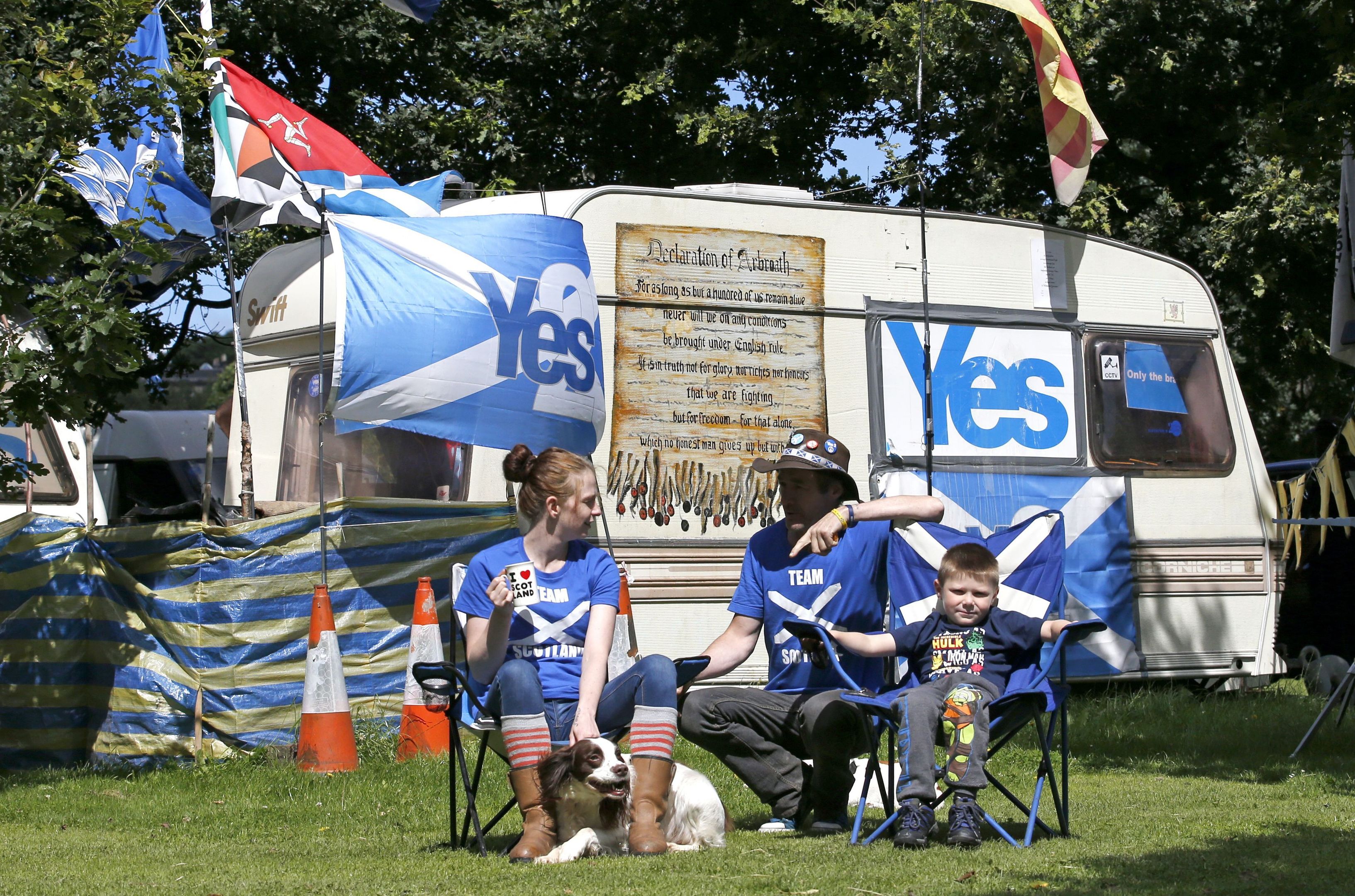 Independence campaigners who set up camp on the grounds of the Scottish Parliament have been evicted.
The IndyCamp group lost a court appeal against their removal from the site last month.
The camp was fenced off on Friday from about 8am, with tents removed and caravans towed away.
The eviction was carried out by officers of the court, with support from Police Scotland.
It followed a final request from the Scottish Parliament's Corporate Body (SPCB) for the campaigners to leave.
The group said its removal was unfair and it has applied for permission to appeal to the Supreme Court in London.
They set up camp in November last year and had vowed to stay until Scotland becomes independent.
However, the Parliament launched legal action, winning a court battle in July.
The IndyCamp group lost its appeal against the Court of Session judgment in October, allowing the SPCB to immediately apply to the court for an order to remove the camp.
IndyCamp member Garry said: "There's an appeal (to the Supreme Court) that's been put in against the decision and due process should be being followed here.
"They have come in on top of us and removed the camp. Given that the appeal is in, we would have thought we would have got to stay during the appeal."
He added: "The way things stand at the moment we have lost the case twice.
"Will we come back to this site? Probably not. I don't want arrested – it's a peaceful vigil. As you can see even today, it's been nice and peaceful."
Gayle, who was in a tent on the edge of the site when the eviction began, said: "We were all rudely woken up. They came, they shook it up. I had only just woken up.
"They said that they were the bailiffs and they had the right to remove everything."
She added: "How do I feel? Angry, I feel sad. Angry especially, because everybody's fundamental rights have been ripped from underneath them."
The Parliament said the camp had damaged land, which has been fenced off to allow "remedial work" to begin.
A spokesman said: "The SPCB have consistently requested that the protesters respect the judgement of the court and leave the Parliament estate peacefully and of their own accord.
"As a result of their continued refusal to do, the SPCB had no option but to have the camp removed today."
A police spokeswoman confirmed officers were in attendance to monitor the civil eviction.