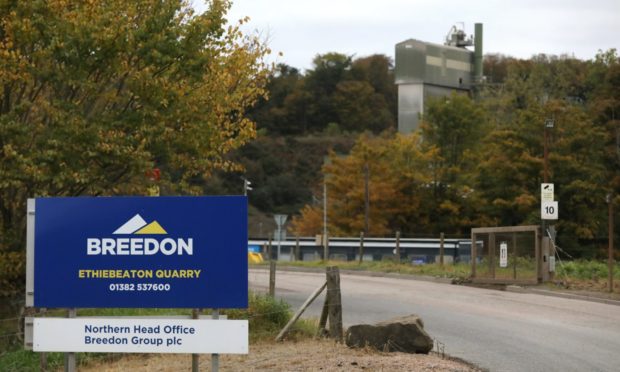 A construction worker is in hospital after he was crushed by fallen rocks at a quarry in Angus.
The employee's legs were crushed in the accident at the Breedon quarry on the outskirts of Monifieth.
The victim, a 43 year-old man is still in hospital, a week after the drama happened.
A Health and Safety Executive (HSE) investigation is now under way.
Emergency services raced to the scene at Kingennie, near Monifieth, late last Saturday morning.
Rocks had fallen onto the employee's digger at the Breedon Ethiebeaton Quarry.
He was trapped inside for nearly two hours.
A spokesman for Breedon confirmed the man was still receiving hospital treatment a week on, but did not give more details of his injuries.
Both the construction company and the HSE have launched investigations into the cause of the incident.
Mineral processing is on hold while the investigation takes place, but the site's other operations remain unaffected.
It is not known how long the investigation will last, but it is likely mineral processing will not resume until it is complete.
Crushed rock, asphalt and ready-mixed concrete are made at the site.
Fire, police and ambulance services attended the scene and spent about an hour and a half freeing the man, who was then taken to Ninewells Hospital.
A spokesman for Breedon said: "One person was injured after an accident on Saturday (October 10) morning.
"He is in hospital and we are unable to visit him because of the coronavirus restrictions so we can't say too much about his current condition, but he did suffer leg injuries.
"He was excavating at the time when he was somehow struck by a rockfall.
"We are investigating and so are HSE. The investigations are at an early stage so there is nothing more we can say at this stage.
"Mineral processing is not happening at the moment. It is suspended while the investigation takes place.
"All other operations remain unaffected in the meantime."
A fire service spokeswoman said: "We were called at 11.38am to assist with removing someone from a mechanical digger. The stop message came in at 1.02pm."
A police spokesman said: "Officers were called along with other emergency services to a quarry at Monifieth on Saturday October 10 following the report of a man trapped by rocks on site.
"A rock fall trapped the 43-year-old worker in the cab of his excavator. He was removed and taken to hospital with leg injuries."
A HSE spokeswoman said: "HSE is aware of the incident and are investigating."