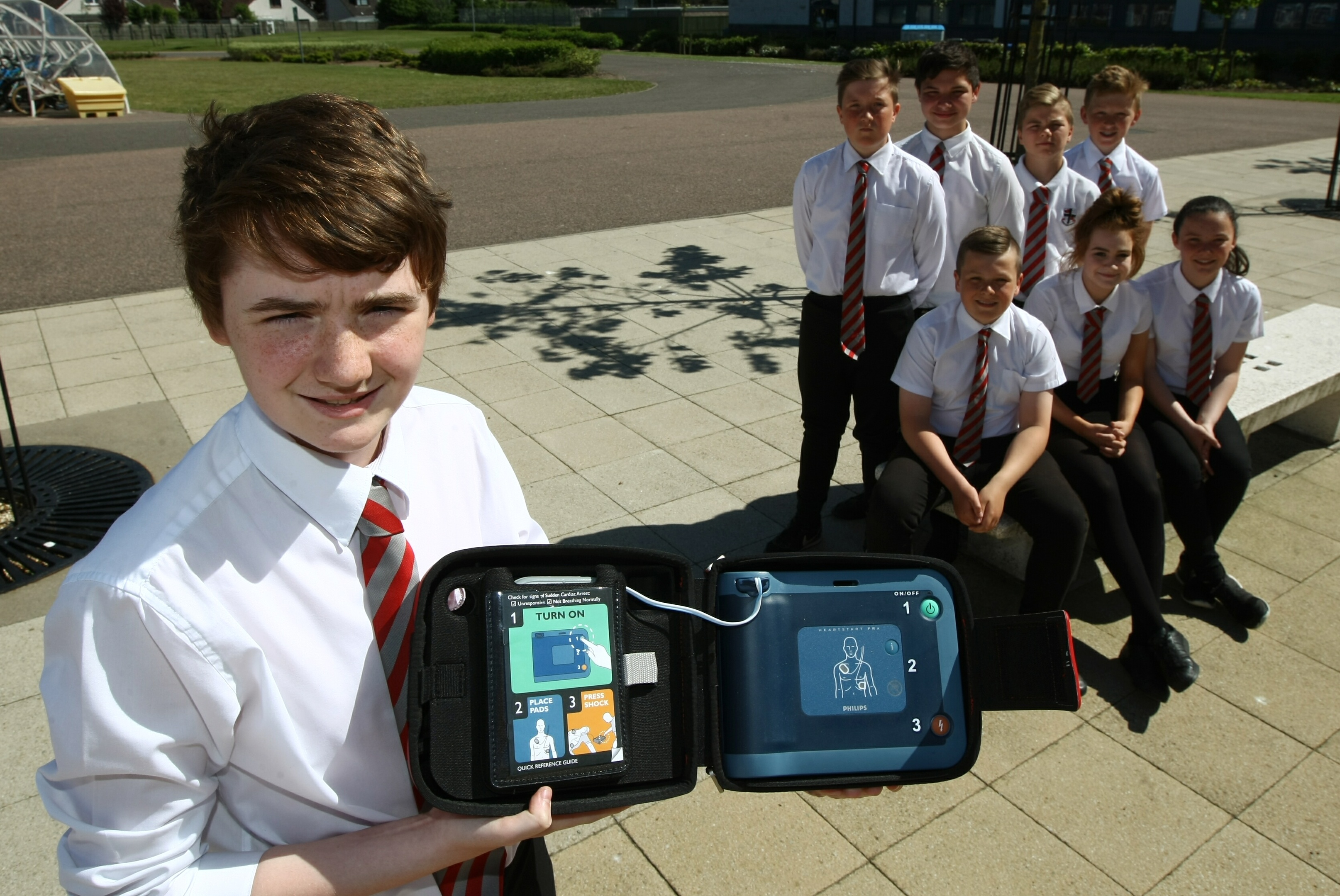 A group of kind-hearted Angus youngsters have been trained how to operate a defibrillator – so their pal can get out to play football.
Lewis Harrison, from Carnoustie, was diagnosed with Long QT syndrome 1 when he was five years old after his heart stopped when he was swimming in a pool in Newcastle.
Since then he has always needed to be with someone who is trained to work his portable defibrillator so that his heart can be shocked back into a normal rhythm.
Now aged 14, the rare condition meant that Lewis wasn't able to leave his house with his friends during the evenings, as his heart can stop at any time.
However, his friends asked Lewis's mum Janice if there was any way they could be trained to work the defib to enable the Carnoustie High School third year to lead a normal social life.
The group of seven classmates were trained last month by Lynn Lawrence of Heartstart Discovery who created a tailored two-hour course for them.
Mum Janice said it had made a "life changing" difference for Lewis.
She said: "I couldn't let him just go out with his friends before because he had to have someone with him who was trained.
"His friends then asked me – if we learned about it, would that make a difference?
"They did a course a month ago and he's now able to go out. His friends come to the door for him and then bring him back as well.
"I can't really put into words how grateful I am for them doing this.
"It will make such a huge difference for him being able to go out. It's a life changing thing for him."
Lewis's condition means that there's too much adrenaline in his body which can surge through and knock his heart out of rhythm.
Thankfully there hasn't been another serious incident since he was diagnosed almost a decade ago.
However, he takes beta blockers and carries a portable defibrillator with him at all times.
Teachers and staff at Carnoustie High School have also been trained to use the life-saving device.
Janice added: "It's a huge responsibility for these young kids. I spoke to their parents beforehand about it and they were all up for their child learning how to use the defib.
"They go down to the local park and kick a ball about a wee bit. Just getting out with his friends without me has been the biggest thing for us."
Lewis said he was really thankful to his friends.
"It's enabled me to be able to get out with my mates for the first time," he said.
"People were asking me to come out and play football. I had to explain it all through to them.
"They then said they could get trained so I could get out. I'm really thankful to them.
"It's meant I've been able to live a more normal life and be able to play football or just walk about chatting to my friends.
"At first my mum was a bit worried about it but she's been getting more comfortable each time I go out."
Carnoustie High head teacher Donald Currie added: "Lewis is a great kid and I'm delighted that his friends have done this for him. It's a real responsibility that they have taken on to help transform his life."