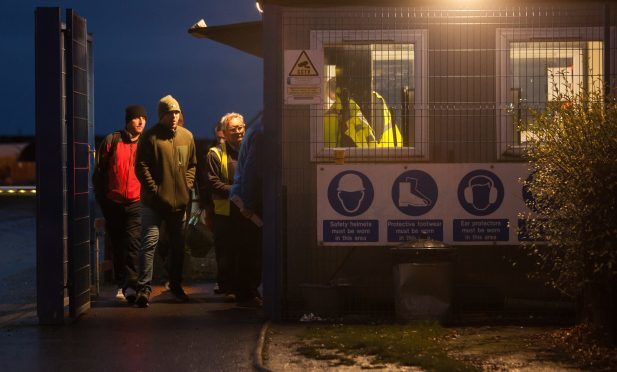 All but one recruitment agency pulled its staff out of BiFab's Fife sites on Monday as workers face an anxious wait for answers.
Temporary contractor Nathan Goldsmith said: "It's like a scandal. All the other agencies, Search, Escape, Blueprint, they are all gone, finished now. It's only NRL left.
"All the agency guys have been told there's no more work for them unless something is sorted out in the next 10 days.
"It doesn't really bother me to be honest as I was only here for a short time, but it's the locals I feel sorry for. It's really bad on them."
The workforce had been anxiously waiting for news since rumours started circulating on Saturday night.
Some workers were not sure if they would have a job to turn up to yesterday.
And, just weeks before Christmas, BiFab employees and contractors have been told there is no money to pay their wages.
Trade unions held meetings with workers at both Methil and Burntisland yesterday.
However, that did little to reassure the workforce.
"We had a meeting at 11am when we were told," said Mr Goldsmith.
"I couldn't really hear exactly what was said because I was right at the back but they are going to carry on as normal.
"Hopefully in 10 days it's all sorted. But who knows?"
Another worker highlighted the uncertainty felt by staff.
He said: "Nobody knows what's happening to be honest.
"We've just been in driving cranes and getting on with it until we hear otherwise.
"It's not been the best few days, put it that way."
Another man on his way out told us: "We're just living off rumours like everyone else really.
"A few of the agency guys have now left because they haven't got enough money to pay their wages, but we've been told the Scottish Government are just monitoring it and we'll see what happens."
Blueprint Recruitment confirmed it had pulled its workers out and said it would pay them as normal on Friday.
Meanwhile GMB Scotland said NRL Recruitment had kept its staff on site and was "standing by BiFab".
BiFab crisis: Contractor accused of holding Fife fabricator to ransom