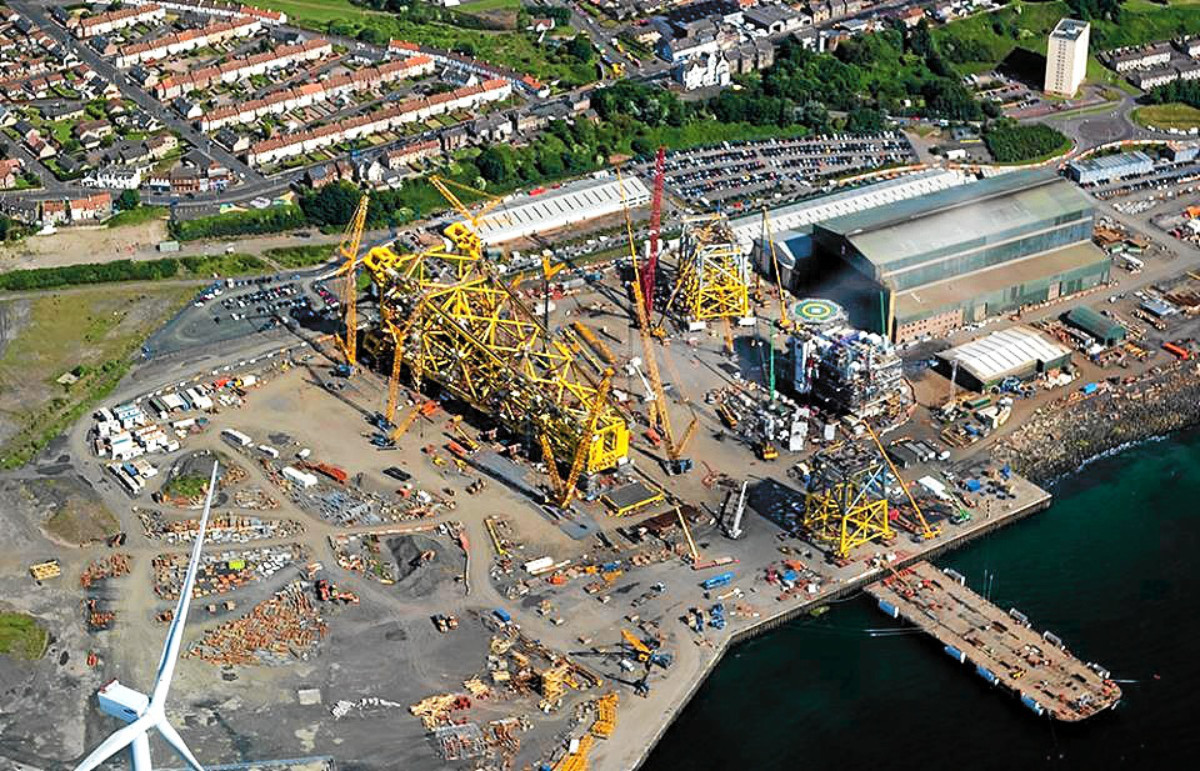 A major union has warned of a potential "hammer blow" to the Scottish economy as fears mount for  hundreds of jobs at a Fife heavy engineering group.
BiFab is one of the largest fabricators for the energy industry in Scotland and operates from three yards, two of which are in Fife at Burntisland and Methil.
However, there are concerns the company will move into administration early next week and the GMB union – which represents 440 workers at the site – said urgent answers over its position were needed.
BiFab is currently engaged in the fabrication of subsea structures for the SSE-led Beatrice wind farm in the outer Moray Firth.
It won the £100 million contract to manufacture 26 offshore turbine jackets for Beatrice in June 2016 and the project is due to continue through until the Spring of next year.
The yard – which employs in excess of 600 staff  – is represented by both Unite and the GMB.
The GMB understands the company has filed for voluntary administration.
"This would be a hammer blow for BiFab's workers and their communities in Fife and the Isle of Lewis, as well as the wider Scottish economy,"  GMB Scotland Secretary Gary Smith said.
"It goes without saying that our members demand urgent answers from the employer about how it has ended-up in this position less than a year after securing such a significant contract.
"We are in contact with the Scottish Government and the possibility of losing over 600 highly skilled and decent paid jobs doesn't bear thinking about. Letting these workers and their communities go under is not an option."
The union, Unite said it understood a change in terms in the £100 million Beatrice windfarm project in the outer Moray Firth had caused the crisis.
BiFab won the £100 million contract to manufacture 26 offshore turbine jackets for SSE-led Beatrice in June 2016 and the project is due to continue until spring of next year.
Unite Scotland leader Pat Rafferty said: "Let's not mince words here the Scottish government cannot stand by and watch BiFab being turned into an industrial graveyard. Make no mistake Unite and its sister unions will not let that happen"
Scottish Government Minister for Business, Innovation and Energy, Paul Wheelhouse, said it will be a "distressing time" for anyone connected with BiFab and confirmed that talks were taking place with BiFab and Scottish Enterprise in the hope of preserving jobs.
He added: "I will also be holding urgent meetings with key agencies and doing everything I can to find a resolution to this situation.
"As always, our PACE (Partnership Action for Continuing Employment) scheme stands ready to step in if there are any redundancies."
In a post on social media, Buckhaven, Methil, Methilhill and Wemyss Villages ward Councillor, David Graham, said it was "potentially devastating news" for the community.
BiFab – which has been trading in its current form since 2000- was rocked in August when long-serving managing director John Robertson passed away suddenly at the age of 60.
The role has since been taken on by former operations director Martin Adam.
The company has faced challenges down the years due to volatility in work orders from the oil and gas sector.
In late 2015 it warned of tough times ahead following the conclusion of a major topsides order for the Cygnus gas field in the Southern North Sea.
However, securing the Beatrice contract in the summer of 2016 was seen as a major filip for the company.
The Courier contacted BiFab for comment but no statement has been forthcoming.
For the full story, see Monday's Courier