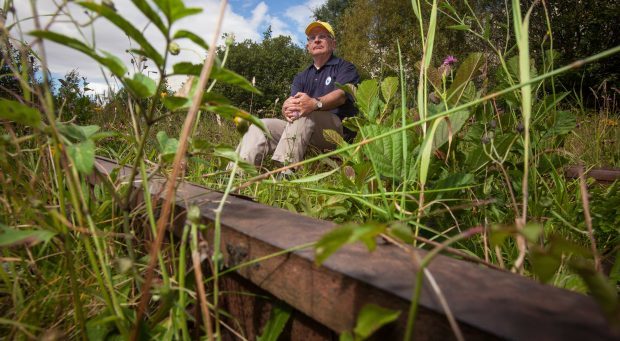 Fife Council's Labour leader has been accused of "bungling" efforts to include the Levenmouth rail link in a £1 billion deal for the region.
SNP MSP Jenny Gilruth claimed David Ross failed to argue the case for rail services in the area as part of the Edinburgh and South East Scotland City Region Deal, published in July.
She said the result was those arguing for funding for the project were now doing so with one hand tied behind their backs.
Mr Ross has angrily denied the claims and accused Ms Gilruth of undermining the cross-party approach to the rail campaign by personally attacking him.
The Mid Fife and Glenrothes MSP was speaking as a Scottish Government committee published a report into Scotland's city deals.
It criticised a lack of transparency over the process, which it described as opaque.
The Edinburgh blueprint announced funding for a number of projects in the capital, including a roundabout on the city bypass, a concert hall and £350m for Queen Margaret University.
While Fife did benefit, there was no money for rail services in the region.
Ms Gilruth said: "It beggars belief that any Fife politician could welcome this deal.
"David Ross should accept responsibility for Fife Council's bungled efforts."
Mr Ross, who expressed "deep disappointment" with the deal when it was published in July, accused Ms Gilruth of trying to rewrite history.
"It was the Scottish Government that decided to invest £120m into an interchange on the Edinburgh City Bypass rather than into the Levenmouth rail link, not Fife Council," he said.
"As I have explained time and time again, it was made clear to the council by Scottish Government officials that the Levenmouth rail link would not be a priority under their criteria for city deal project.
"Nevertheless, we insisted that at least the feasibility and design phase should be funded. Even this was rejected by the Scottish Government."
Mr Ross added that there was increasing concern that the Scottish Government was now backtracking on a commitment to undertake a detailed technical assessment for the rail link.
"Up to now we have had a complete cross party consensus on the campaign for the reinstatement of the rail link," he said.
"I am bitterly disappointed that Jenny Gilruth is prepared to undermine this joint approach by choosing to blame the council and make personal attacks on me."