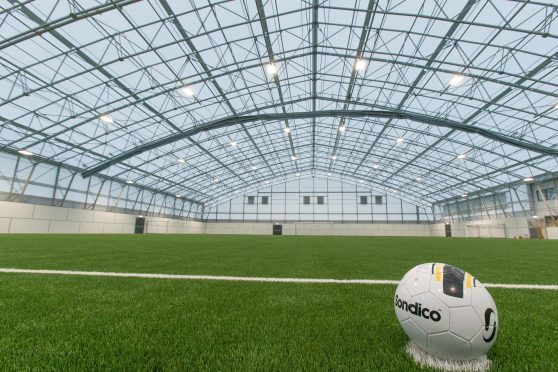 Scotland's footballing fortunes can be turned around by a new generation of educated athletic talent, nurtured in Fife.
Henry McLeish said that preliminary discussions had already taken place with Fife Council with a view to developing a performance school in the region, where a tailored curriculum would allow footballers to study while undertaking an intensive training regime.
The former First Minister, a footballer with East Fife in the 1960s, was giving an update in his capacity as chairman of the Fife Elite Football Academy and said that a bid to produce world-class players would not leave those who fail to make the grade on the scrapheap.
"We are starting with performance but our ambitions are wider than that," he said.
"If there's one place every child has to go to it's a school and that's why we're in discussion with Fife Council, leading us to a more comprehensive approach to nurturing talent in our schools.
"We also want to move on to a performance school and we think we are ready to work with Fife Council, in conjunction with the SFA, toward that in Fife.
"We want to see an academy that actually puts education first. The number of young people that go through the systems and don't make it is significant.
"That's the classification they get because they don't become a professional player, but they still have talent, opportunities and lives to lead. They're still humans.
"We are going to make sure that education is the first priority, with football a very big second.
"We want to make sure that if a young person does not make a professional grade that they still want to play, be a coach, or to encourage their family to play the game.
"We're sick and tired of losing people from the game and this academy will try and overcome this issue."
Full of admiration for Fife Council's investment in local sports facilities, including the £2 million indoor football centre in Glenrothes where the Fife Elite Football Academy will soon be based, Mr McLeish also heaped praise on the region's four professional clubs, who have united behind the academy model.
Established in June 2014, Fife players are able to test themselves against the best in the country, all under the supervision of some of Scotland's best coaching talent.
Though still in its infancy, Mr McLeish said he was confident that the Fife model could eventually play its part in transforming the fortunes of Scotland's national team.
"I'm happy to commend Fife as probably having the finest facilities for any academy in the country," he added.
"We're looking at the most advanced, comprehensive and integrated approach to talent development you'll find anywhere in Scotland."