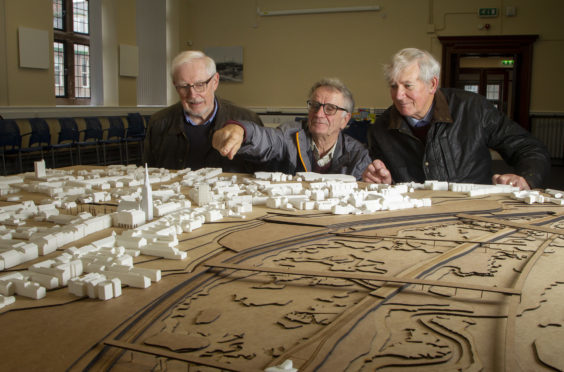 A Montrose of the future has emerged in model form from the minds of young architects as part of an innovative design project.
Set the challenge of creating a burgh blueprint centred around the town's historic Mid Links and a Basin boardwalk, the Dundee University Masters students have created a thought-provoking 3D townscape which is to form the centrepiece of what should be a broad ranging discussion at the weekend.
Alongside the model at the second meeting of the Montrose Society talks programme will be proposals from the Mo-Revival group, which emerged from Angus Council's charrette programme and has come up with ideas including a more pedestrian and cycle-friendly local environment, and better links between the town centre and railway station.
Montrose Society programme secretary Sandy Munro said the four young architects were presented with the town challenge as part of their Masters studies in Architecture and Urban Planning.
"As part of the group work they made a study of the Montrose Conservation Area, entitled 'Preserve and/or Enhance', the accepted definition of conservation in urban planning circles," said Mr Munro.
The model and dynamic display boards have already impressed visitors to the Duncan of Jordanstone degree show and are on display in Montrose library throughout this week ahead of the Montrose Society meeting in the facility's Rose Room on Saturday at 2.30pm.
The proposals include a boardwalk proposal for the Basin and railway station area, a new route to the town centre at the northern part of the town centre and pedestrianisation proposals for its southern end, along with a re-invigoration of the historic townhouse.
A new 'cultural quarter' in the Mid Links, enhancing the public realm of Montrose was also dreamt up by the students.
"The public will have ample time this week to absorb what are radical, original and achievable ideas given appropriate funding, commitment and enthusiasm from the local community," added Mr Munro.
"This is a wonderful opportunity for Montrosians to examine a considered vision for the future of what is acknowledged as one of the finest historic burghs in Scotland."
The Mo-Revival charrette group's ambition includes the creation of better public spaces alongside the pedestrian and cycle-friendly aspirations for the heart of the town.
The charrette was staged in early 2016 as one of a series across the Angus burghs.