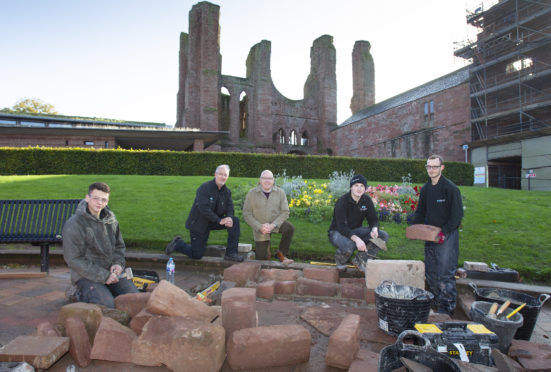 Final preparations are under way to install a two-metre bronze information panel, before celebrations to mark the 700th anniversary of the Declaration of Arbroath.
Apprentice stonemasons from Historic Environment Scotland are currently working to build the sandstone base which will support the bas relief.
The tablet is a gift from the Arbroath Guildry and will be placed outside the town's abbey.
The two metre by 800mm panel telling the town's history will be unveiled at a ceremony on October 26 at 10.30am and Ian Ballantyne, who is leading the project, is extending an invitation to the public to attend.
He said: "Local schools have been very much involved in this project and the panel will be officially unveiled by the head boy and girl from Arbroath High School and Arbroath Academy.
"The tablet is part of the Arbroath 2020 celebrations, but it is also a legacy for future generations.
"We are also working on having a QR code installed in the future so that people can scan it and download more information on the bas relief and the history of the town."
Mr Ballantyne paid tribute to the donors who contributed to the almost £23,000 cost of the project, which has taken two years to complete.
He said: "We are extremely grateful to the local trusts and others who have given so generously to make this possible.
"Historic Environment Scotland and Angus Council have also been extremely generous in their support."
The bas relief, which is made up of three panels joined together, features aspects of Arbroath's heritage with images representing agriculture, the Declaration of Arbroath, the Abbey, fishing, the Bell Rock, linen and Seaton cliffs, along with engineering and textiles surrounding Arbroath's coat of arms.
Celebrated Edinburgh based sculptor Alan B Herriot was commissioned to undertake the work, which he previously described as a "signal honour".
This will be the third Angus sculpture Mr Herriot has undertaken, with the statue of Sir Robert Watson-Watt, the pioneer of radar in Brechin unveiled in 2014, and the memorial to Norwegian sea dog Bamse at Montrose, which was completed in 2006.
Angus South SNP MSP Graeme Dey, commended the project.
He said: "The team from Arbroath Guildry is to be warmly congratulated for its commitment to and delivery of this project, which is a welcome contribution to the upcoming 2020 celebrations and its legacy.
"I am very much looking forward to seeing the bas relief in place."