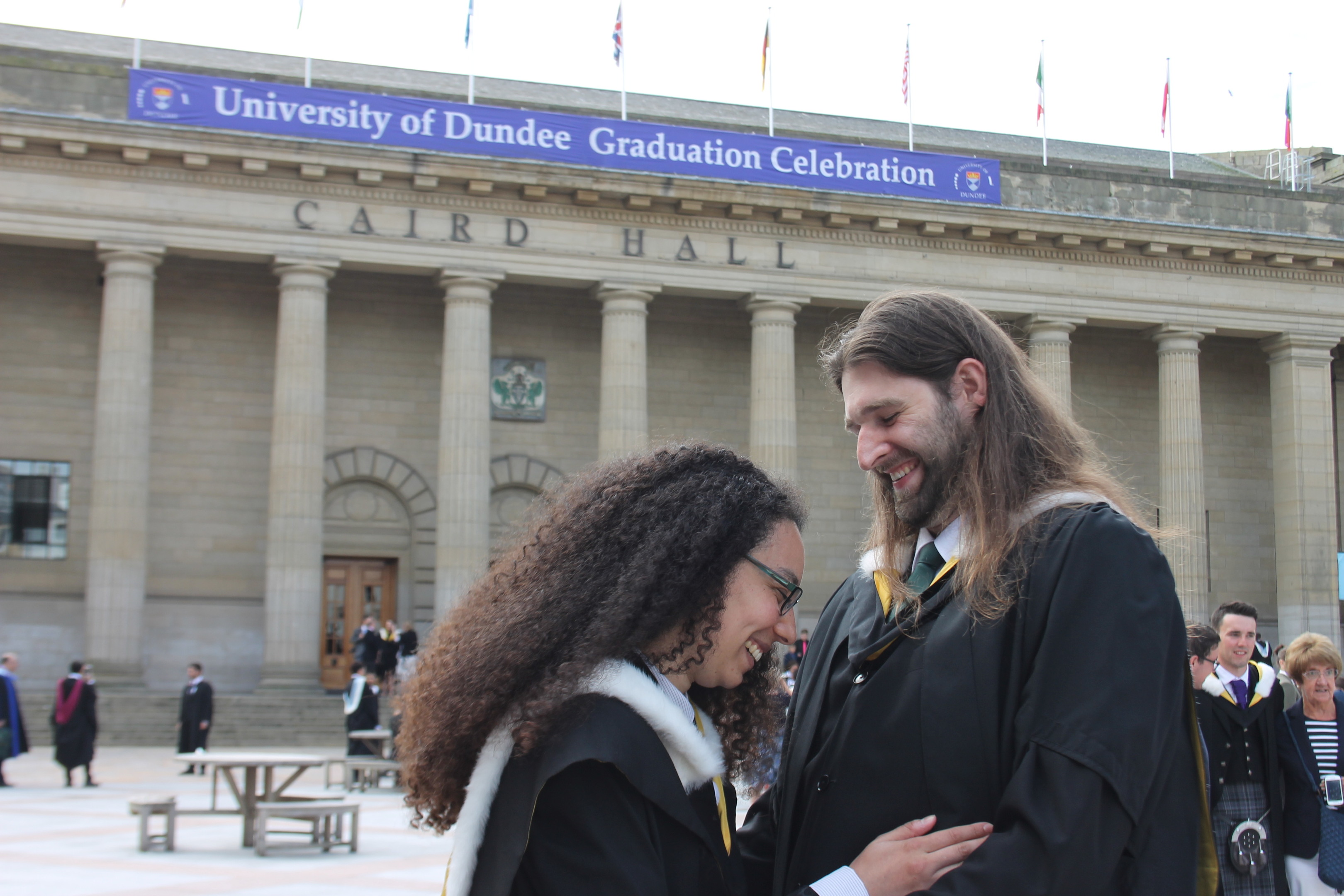 A couple who met while studying on a Dundee University access course will graduate with First Class Honours.
David Ogle and Cassie Hinkson met as part of the Dundee University Access to Learning (DUAL) summer school in 2012, aimed at people who don't have the necessary grades to enter higher education.
David, 30, who went on to study computing science, and Cassie, 25, a mathematics student, will pick up their degrees as part of the final day of Dundee University graduations.
Cassie will continue her academic career when she begins a PhD in September while David has already found a job with a software development company.
David, originally from Sheffield, said: "I had been in the air force since I left school but wanted to do something different. I wanted to do something in computing but everyone told me I had to have a degree and I didn't have the qualifications for university.
"When I found out about summer school it seemed the perfect solution. It was a bit of a culture shock to go from the RAF to being back in a classroom and most of the people were a lot younger than me but I soon settled in and everything went well."
Cassie was born in Surrey but had been living with her mother in Fife for a couple of years before she returned to education.
She said: "I remember sitting in the class in the first week of summer school and being told about a couple who had met at summer school and were now married. I was thinking, 'that seems really cheesy'. Now we're that cheesy couple!"
The university's graduation ceremonies have taken place all this week, seeing around 3,000 students receiving their degrees and diplomas.
Meanwhile, a mother and son were both recognised for their hard work.
Mechanical engineering student Jamie Scott, 23, secured a First in his degree, while his mum Mairi Scott won the 2016 Chancellors Award for outstanding contribution to teaching.
Jamie also secured the school of science & engineering's Sir James Black prize during the ceremony for outstanding contribution to research and scholarship in their field.
Jamie said: "I was surprised when I heard about the award and it obviously adds to the whole graduation experience. It's really nice that my mum is being recognised on the same day and it means there is a lot for the family to celebrate. I'm definitely very proud of her."
Mairi added: "First and foremost I will be a proud mum on Friday when I see my son graduate and am delighted that Jamie has done so well in his studies and been awarded the Sir James Black Prize."