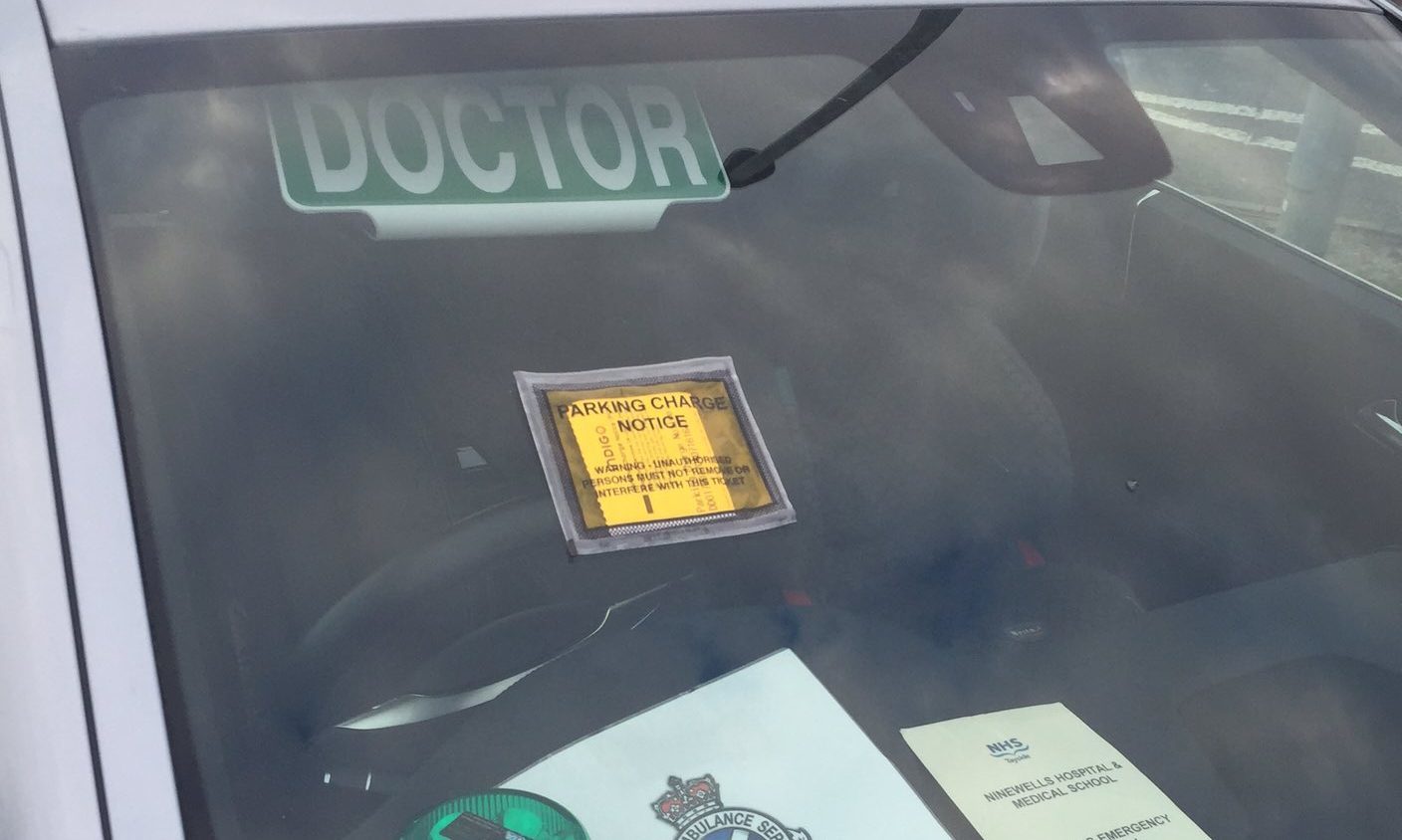 Politicians have called for an "embarrassing" fine handed to an on-call doctor at Dundee's Ninewells Hospital to be rescinded.
Dr Paul Rees, a cardiologist, was hit with a parking charge notice despite displaying information showing he was a cardiologist on an emergency call.
Dr Rees's vehicle also clearly displayed a "Doctor" sign and a green siren.
A Scottish Ambulance Service badge was also visible.
Despite the indicators, Dr Rees, an honorary speaker at St Andrews University, received a parking charge notice from a warden representing Indigo Parking.
After sharing his dismay at the fine, Indigo came under fire from members of the public and politicians alike.
A spokesperson for Indigo confirmed the firm has contacted Dr Rees as a matter of "priority" and said the fine was imposed because the doctor was parked in a bay reserved for patient admissions.
North East MSP Bill Bowman described the fine as "embarrassing".
The Scottish Conservative MSP said: "This will be very embarrassing for the car park operator at Ninewells, and will have left the doctor in question understandably frustrated.
"However, this also highlights the wider dissatisfaction among staff, patients and visiting family members about the current system.
"Many people feel they should not be charged at all to park at a hospital."
West End councillor Fraser Macpherson said the decision to fine Dr Rees is proof displaying "common sense" had failed.
He added: "I only hope Indigo both swiftly remove the fine and apologise to the doctor concerned.
"Quite clearly this should not have happened."
Scottish health secretary Shona Robison has previously expressed her frustration over the parking regime.
She said: "I would like to be able to scrap car park charges at Ninewells but unfortunately it is one of three car parks which are locked into long-term PFI contracts which precede this government.
"I have previously raised concerns about apparent moves to increase these charges and called on the company involved to reconsider.
"Charging to park at hospitals places an unnecessary financial burden on families and those needing treatment."
An Indigo spokesperson said: "Bays reserved for A&E ambulances must be kept clear at all times. Action will be taken against any vehicles that block these bays."