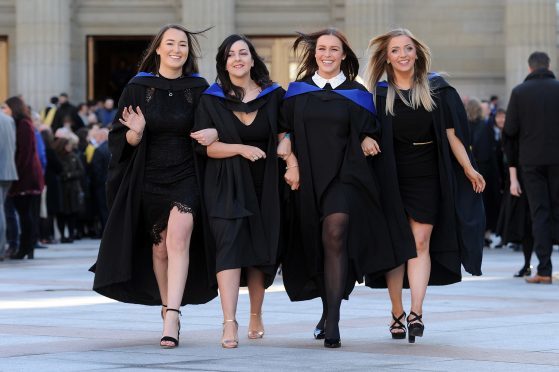 Hundreds of new graduates celebrated their achievements at Dundee University's winter graduation ceremony.
Around 600 students of all ages collected their degrees at yesterday's event, with a further 300 due to receive theirs today.
Three honorary degrees were conferred to astrophysicist Dame Jocelyn Bell Burnell, internationally renowned businessman Dr Frederik Paulsen and Helen Jones, CEO of the Gypsy and Traveller Exchange.
Addressing the graduands, Vice-Principle Professor Nic Beech said: "It has been a time to reflect on our achievements but also to look forward with ambition, with your university days behind you but anticipating the life which lies ahead.
"You, as students, have been at the heart of everything we do. It is one of the things that makes Dundee special.
"From a small dot on the map on the east coast of Scotland, and in a university that is relatively small when compared to some of the global giants, we have done remarkable things.
"Over these past 50 years we have pioneered innovations as diverse as flat screen technology and keyhole surgery; many of the satellites and shuttles launched into orbit have circuitry designed and built here; and we have become one of the world's leading centres for forensic sciences research."
Among the students graduating yesterday was Oluwaseyi Oyerinde, who studied for a Masters in Human Anatomy.
The 36-year-old, from Nigeria, said: "I've been in Dundee for one year and I've had a great time.
"It's a beautiful city and the Dundonians are very hospitable."
Liam Walker, 23, received a Professional Graduate Diploma in Education.
He said: "It's been a busy year and it's gone really fast.
"I'm currently working in Grove Academy and I hope to stay and teach maths in Dundee."
Lauren Higgins, 23, also graduated with a RG Diploma, in Primary Education.
She added: "I've really enjoyed the course and especially the experience of being in Dundee. "Everyone has been so welcoming."
The graduation ceremonies took place in the Caird Hall and will continue there today.
Honorary Graduates
Professor Sir Pete Downes, Principal and Vice-Chancellor of the University, said the honorary graduates had all championed causes and made "exceptional contributions", often beyond their primary occupations.
Dame Jocelyn Bell Burnell is best known for her discovery of pulsars — rotating neutron stars that appear to "pulse" since the beam of light they emit can only be seen when it faces the Earth.
Her observation, made with her supervisor, Antony Hewish, is considered to be one of the greatest astronomical discoveries of the 20th Century.
Dr Frederik Paulsen is a businessman, philanthropist and explorer, who has been involved with the university's Centre for Remote Environments and with the South Georgia Heritage Trust.
Meanwhile Helen Jones is chief executive of Leeds GATE (Gypsy and Traveller Exchange), an organisation that has worked for 15 years to improve the quality of life of Travellers.
She has worked closely with the School of Nursing and Health Sciences at the university on a major study examining how community engagement can enhance trust between Gypsy and Traveller communities and health services.