Students from Abertay University are in with the chance of winning an international prize for their innovative work in virtual reality technology.
The students have made it to the national finals of this year's Microsoft Imagine Cup UK, which seeks out the most innovative and potentially world-changing software solutions.
The teams will travel to London later this week for the national heat. Ten teams will pitch their ideas and show off their work to a panel of industry experts on April 6 .
From then, one team will progress to the worldwide finals in Seattle in July, where a prize of $100,000 – around £70,000 – is up for grabs.
Representing Abertay are the Black Light team with their game Firepoint, a firefighting simulator that uses both the HoloLens and Mixed Reality headset, and Harry Good, a fourth year game design and production management student, for his game War Space.
Firepoint was designed as a tool to teach trainee firefighters as they learn how to deal with a variety of scenarios. The Black Light team is led by third year game design and production management student Matt McAuley.
War Space is a real-time strategy game that is innovative due to how the game adapts depending on the player's style.
As well as the opportunity to compete in the worldwide finals, the winners of Friday's battle will also be awarded £5,000 and a Xbox One X console per person.
Second and third-placed runners-up will walk away with a cash prize of £3,000 and £2,000 respectively.
Matt McAuley was particularly excited as he said the team were one of the first that were able to use Microsoft's new headset.
He said: "We got the opportunity to develop on the Mixed Reality headset, we're actually one of the first people to start developing on it as it was only released in October.
"Getting into the final is particularly good. The whole team is really excited to have this opportunity to go down to London and compete."
Harry Good, who admitted it was "amazing" to make it to final by himself rather than as part of a team, said: "It's interesting to be able to go in front of a bunch of Microsoft big wigs essentially and show off what I've done.
"It was just a big surprise really."
His game uses augmented reality, similar to Pokemon Go, which became an international phenomenon in 2016.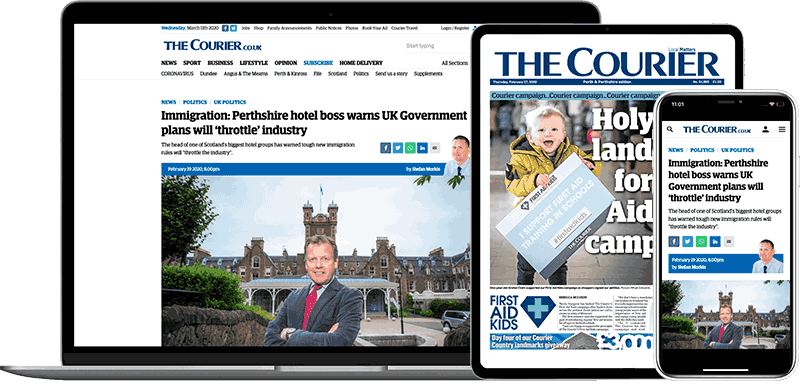 Help support quality local journalism … become a digital subscriber to The Courier
For as little as £5.99 a month you can access all of our content, including Premium articles.
Subscribe