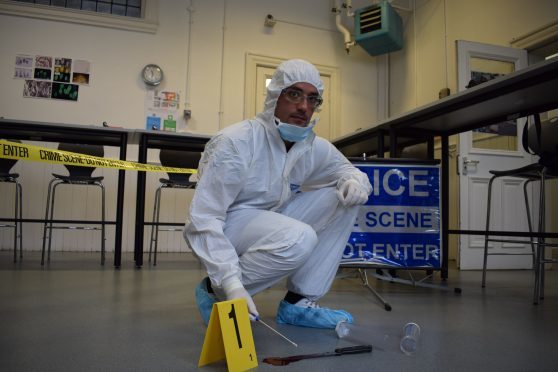 Ambitious plans to turn Dundee into a world leader in forensic science and cyber security could be realised after the Tay Cities Deal was finally signed.
The deal will see the Scottish Government invest £200 million and the UK Government £150 million to support a range of projects intended to transform the Tayside economy.
The heads of terms agreement focuses on job creation and the Scottish Government has said it will invest up to £20 million to support the Tay Cities Skills and Employability Development programme.
The Scottish Government is also prepared to contribute £25 million to help develop the Tay Biomedical Cluster, which already supports more than 4,000 jobs in Dundee.
It will  be supported by a complementary training package within the Tay Cities Skills Development programme.
Millions of pounds will be ploughed into turning Dundee into a world leader in cyber security and forensic research.
The Scottish Government will contribute up to £6 million and the UK Government £5.7 million to create a Cyber Security of Expertise, which will build up the work being done on ethical hacking at Abertay University and in Dundee's digital industries.
There are also plans to build upon the work carried out by the Leverhulme Research Centre for Forensic Science at Dundee University.
The UK Government has said it will commit up to £15 million  to create JustTech, the UK's first forensic science research centre, which will be housed in a new building on Dundee University campus.
The agreement also promises Scottish Government support to create a decommissioning centre at Dundee Port.
Professor Sir Pete Downes, principal and vice-chancellor of Dundee University, said: "This will be an investment in the proven excellence we have developed in life sciences, plant sciences, medicine and forensic science research.
"We have world-leading innovation in these areas and the Tay Cities Deal will allow us to build on these strong foundations.
"This agreement of the Tay Cities Deal will have a great impact on Dundee and the surrounding areas, creating new jobs and attracting further inward investment.
---
---
"The hard work of delivering the projects can now start in earnest. We are in close contact with both governments and will be seeking to progress the delivery of the projects as soon as possible. We would hope to see a timetable for delivery in place within the next three months."
Abertay University principal Professor Nigel Seaton said: "Cyber security is a sector rapidly expanding across the UK and every year there is high demand for the skilled ethical hacking graduates from Abertay.
"The Tay Cities Deal announcement is a vitally important step in the growth of this emerging industry and will add yet another area of strength to Dundee's digital economy."
Significant sums are also being pledged to build upon the success of V&A Dundee.
The Scottish Government has said it will invest £37 million in a regional culture and tourism investment programme.
Only £10 million of this money has been allocated for a specific project, improving Pitlochry Festival Theatre.
The remainder of the money will be invested in "priority projects that can demonstrate a strong economic impact".
Dundee Airport is also set to receive up to £9.5 million from the Scottish Government, which could be used for a range of purposes including air traffic control modernisation and securing and marketing new routes to and from the city.
Dundee-based Labour MSP Jenny Marra said: "While any new money for Dundee is good news, it is clear that the Tay Cities Deal is not nearly as cash rich or ambitious in terms of job numbers as was originally promised which is disappointing given our current economic challenges.
"Over the last few weeks the First Minister has been challenging the UK government to match her £200 million investment but she failed to cough up her full amount today. I have written to her today asking for guarantees that the missing £50 million will be new money for new ideas, and not simply rehashed announcements of cash for other projects. The money also needs to come before Christmas."