Top academics explore future of immersive technology for Dundee's Summer of Games
Leading figures from the worlds of video games, archaeology, computer science and art staged have examined how immersive new technologies could reshape reality.
Panel discussion Playing in IM/Material Worlds, held as part of Dundee's Summer of Games, saw academics from across Scotland discuss evolving platforms such as virtual reality (VR).
Immersive altered reality technology has become more widespread across entertainment, gaming and other sectors in recent years, with VR simulations now commonly  used in retail, oil and gas, tourism and the emergency services.
Event moderator Dr Robin Sloan, programme leader for game design and production at Abertay, said immersive technologies are already opening up a host of new opportunities for groups and businesses.
He said: "To me, the blurring of lines between physical and virtual worlds offers a huge opportunity for game developers, whether they are focused on entertainment, industry or research."
He added: "Our panel was based around a series of questions including how game design can be used to frame and develop our understanding of immersive experiences and how digital, immersive games can be designed for public spaces.
"We also looked at how site-specific digital games can make complementary use of both material and virtual objects and how our storytelling approaches should differ from traditional games to using immersive projects."
Dr Rachel Opitz, a lecturer in spatial archaeometry at Glasgow University, led on the wider project and said there remains many questions about the possibilities of emerging mixed reality platforms.
"Play and games may seem like they should be simple things, but really they are quite complex," she said.
"How we play in the future will impact on our social relationships, our public spaces and homes, and our economy.
"VR, AR (augmented reality) and related immersive experiences and technologies are already changing how we play. It's essential that we bring together researchers and practitioners to think critically about what's happening."
Panel members included Simon Meek of The Secret Experiment, a mixed-media storyteller and V&A Dundee's first designer in residence, and Abertay lecturer Lynn Love, whose work blurs the boundaries between physical and digital.
Glasgow School of Art's Sandy Louchart, an expert in interactive storytelling, and Abertay's Mona Bozdog, whose past work includes last year's high-profile Generation ZX(X) project in Dundee, also took part.
Before the event, Abertay academics ran a research showcase including games from Generation ZX(X) and a novel game called ShoutFight! in which groups use their voices as a controller.
Their Memory, a game created in collaboration with Poppyscotland and local veterans, was featured alongside an honours student project utilising sense of smell.
A collaborative three-person poncho game called Ola de la Vida, which was created during a Global Game Jam, was also on display.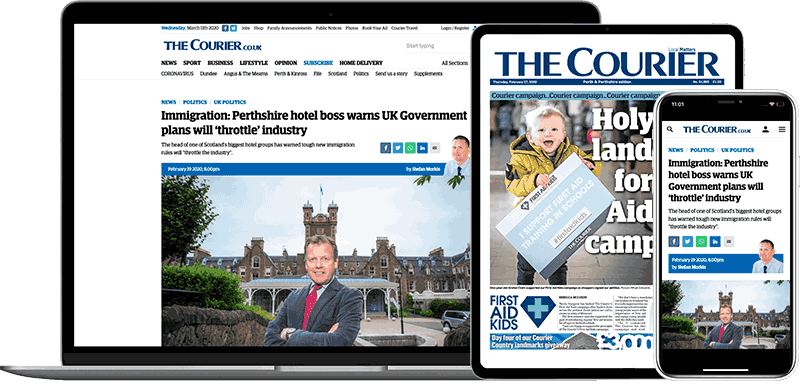 Help support quality local journalism … become a digital subscriber to The Courier
For as little as £5.99 a month you can access all of our content, including Premium articles.
Subscribe