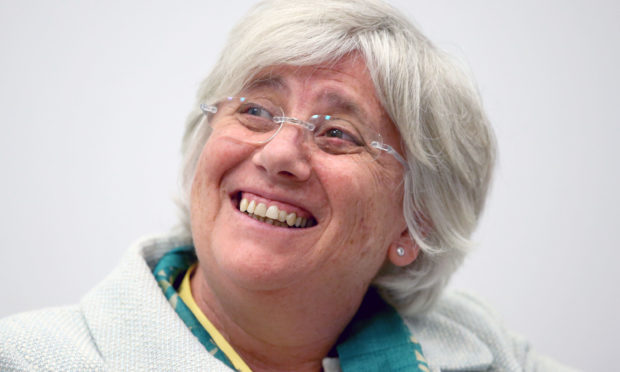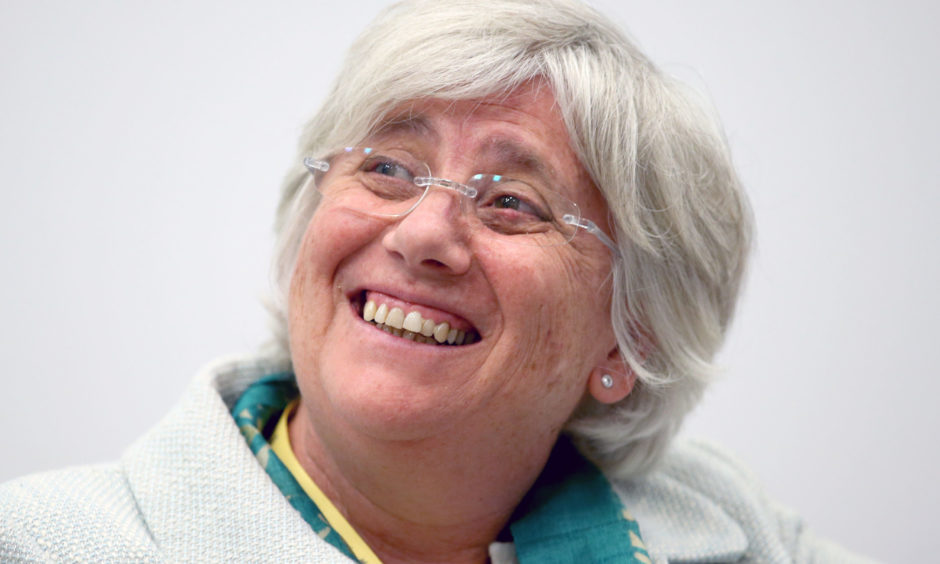 A St Andrews University academic fighting extradition from the UK for her role in Catalonia's unsanctioned 2017 independence referendum has had a new European warrant issued for her arrest.
Clara Ponsati, who was education minister in the Catalan government, is wanted in Spain on a charge of sedition.
Professor Ponsati, 62, denies wrongdoing and says she will resist extradition.
A previous warrant was withdrawn last summer, but the academic again faces being sent to Spain to stand trial.
Police Scotland confirmed on Tuesday Ms Ponsati is the subject of a fresh warrant.
The ex-Catalan politician is expected to appear at Edinburgh Sheriff Court on Thursday.
A police spokeswoman said: "We can confirm we are in possession of a European Arrest Warrant for Clara Ponsati.
"We have now been in contact with her solicitor, who is making arrangements for her to hand herself in to police."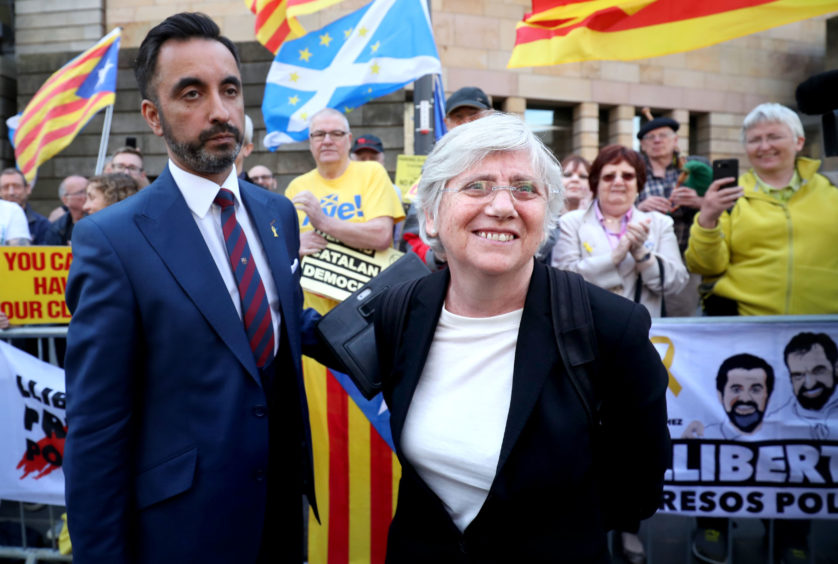 Economics professor Ms Ponsati was arrested in March 2018 and a four-week extradition hearing was expected to be heard at Edinburgh Sheriff Court last July.
But a Spanish Supreme Court judge dropped the extradition request and the warrant was formally discharged.
In an exclusive interview with The Courier a fortnight ago, she said she was determined to keep fighting for the freedom of political prisoners and Catalonia after nine Catalan leaders were convicted of sedition over their role in the Catalonian referendum.
Protests erupted in Barcelona last month after they were sentenced to between nine and 13 years in prison by Spain's Supreme Court.
Professor Ponsati revealed then she was expecting a new European arrest warrant "any day" after Madrid had lodged a similar warrant for former Catalan President Puigdemont in exiled in Belgium.
The life-long Catalan patriot said then that if and when another warrant was issued, she said she would hand herself in to be arrested by Scottish police and it will be up to a Scottish judge to decide if she should be extradited for trial.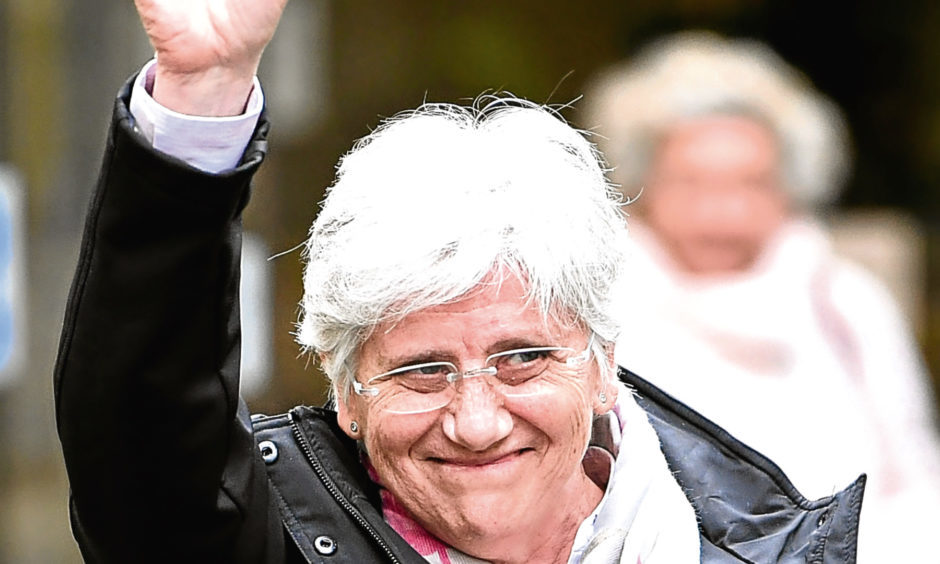 "I totally trust Scottish justice," she said. "I think it is quite clear it's a politically motivated prosecution (by Spain). I believe that any fair judge would see that as well. So I don't expect to go back to Spain. I have this faith in the Scottish system. My lawyer and the team of advocates who would be acting in court are also very strong. But I think in this case it's also very clear we have a good case."
Human rights lawyer Aamer Anwar, who will again be representing Professor Ponsati, said: "My instructions from Clara are to robustly defend her against any attempt to extradite her back to Spain.
"They're trying to criminalise the right to fight for independence, not violently but non-violently. That is not a crime. It's an abuse of the extradition process and it must be stopped."
The legal team said in a statement later that Clara faces only the charge of sedition, which she utterly refutes.
If extradited and convicted Clara could face a sentence of up to 15 years.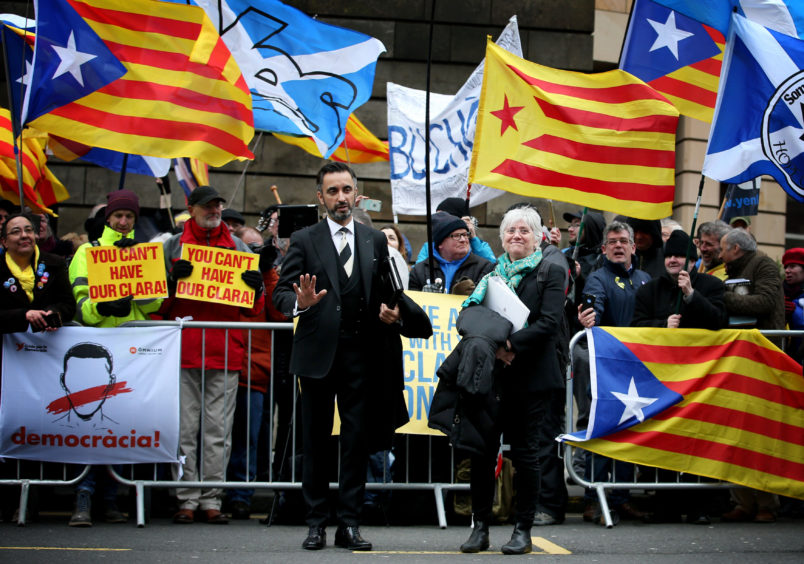 "This warrant is viewed as systematic attempt to criminalise the fight for independence by over two million Catalan voters," the statement said.
"It will be argued by Clara's legal team that there is no guarantee of a right to a fair trial in Spain, where most members of the Catalan Government  are already in prison or in exile.
"Clara believes the charge to be part of 'a political motivated prosecution' and submits her extradition would be unjust and incompatible with her human rights.
"The extradition will be opposed robustly and it is Clara's intent to put on trial the Spanish Justice System as well as its politicians who have interfered with due process.
"Clara is deeply grateful for the support from across Scotland, Europe and her beloved Catalonia.
"Once again Clara is taking on the might of the Spanish state and she remains  resolute, determined to fight and believes that Spain will never be able to crush the spirit of the Catalan People."