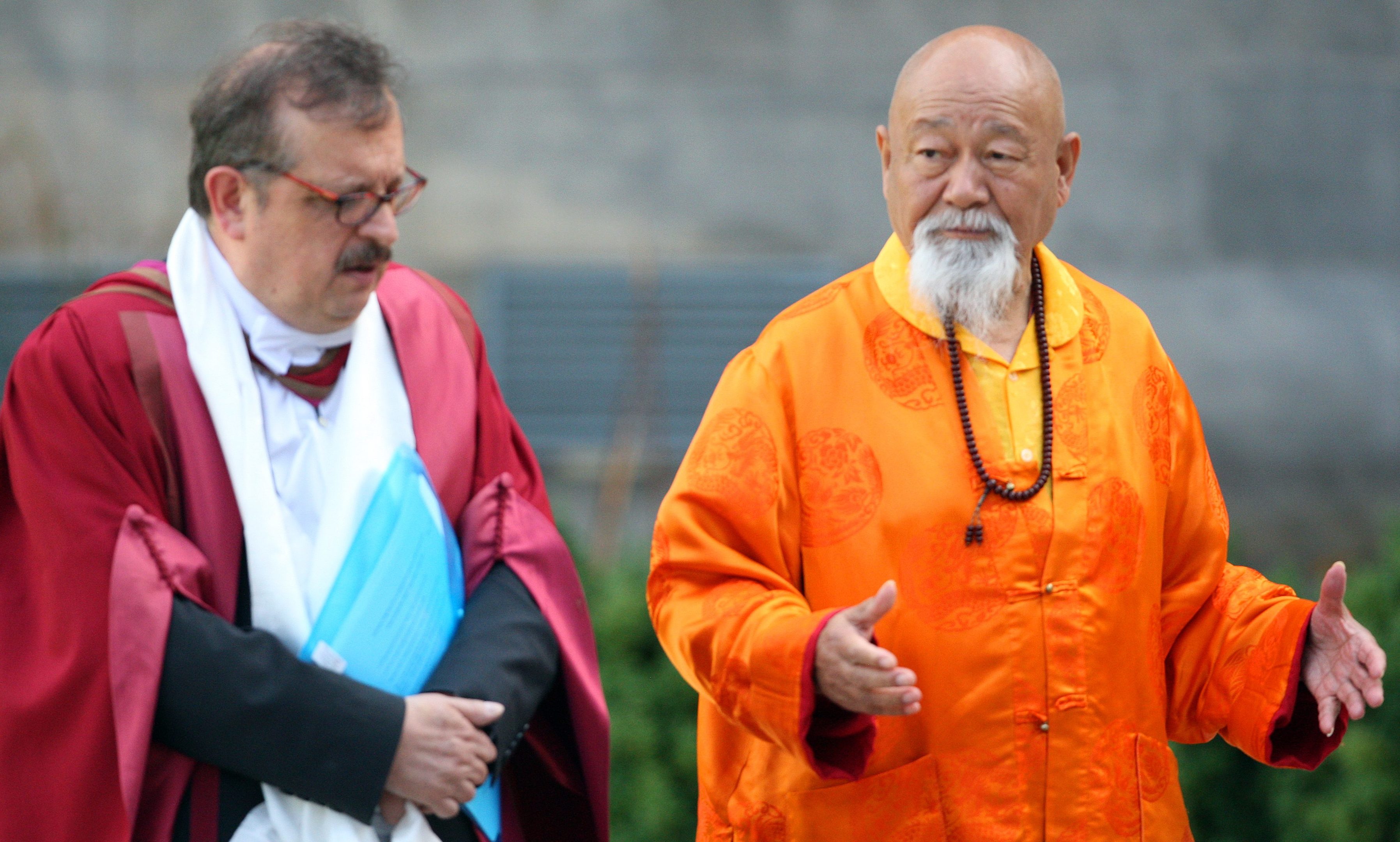 Religious leaders from around the world united in St Andrews to sign a declaration for humanity against radicalisation.
Representatives of the Dalai Lama and Pope Francis joined senior members of Christian, Hindu, Jewish, Buddhist and Islamic communities at the town's university.
Among the 80 or so who signed the charter were Scotland's most senior Buddhist monk, Abbot Lama Yeshe Rinpoche.
It was also signed by 32 Fife school pupils, academics from around the world and a survivor of the 2011 Norwegian terror attacks, Lisa Marie Husby, now a student at St Andrews University.
The pope is understood to have considered joining the 130-strong delegation from around the world for the event at the university on Friday but was unable to attend.
Live footage of the signing was, however, believed to have been watched at the Vatican.
Tribute was paid to some who had wanted to put their names to the document but were prevented for fear of imprisonment or torture.
Support for the charter, penned by St Andrews professor of divinity, Professor Mario Aguilar, was given by the Vatican, the Dalai Lama and Desmond Tutu.
The St Andrews Declaration on a Shared Humanity incorporates teachings of different faiths and embraces basic principles of humanity, equality, diversity and freedom.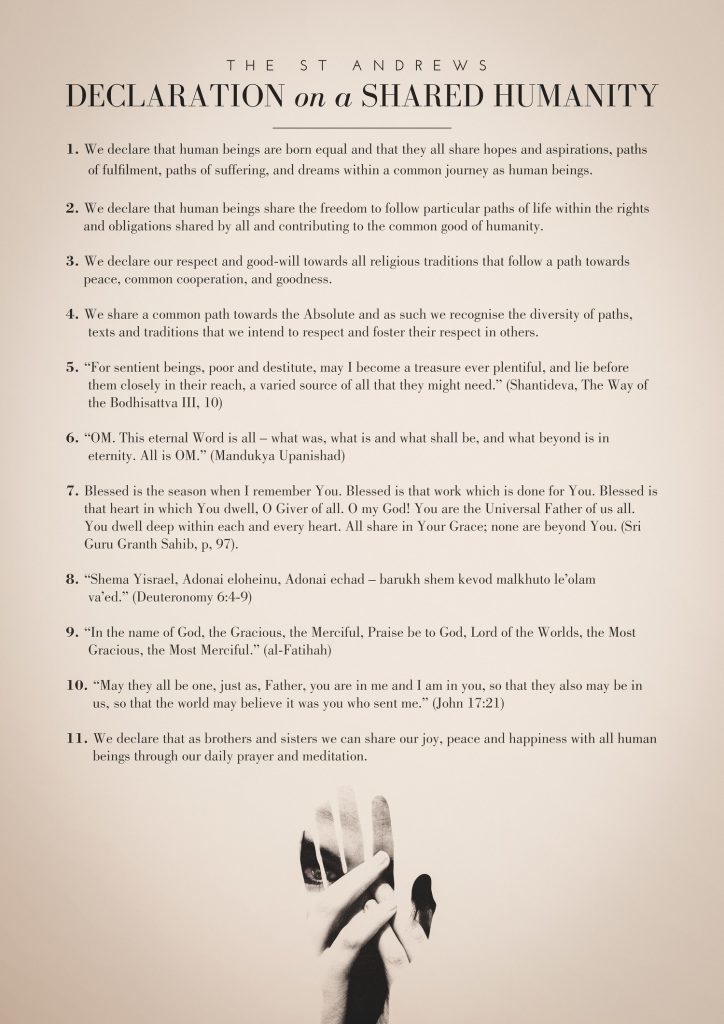 It is hoped it will be used by schools and community and faith groups internationally to foster the idea of a common humanity as a tool against radicalisation.
Prof Aguilar, director of the university's Centre for the Study of Religion and Politics, described the signing by around 80 people of various faiths as a "momentous occasion".
He said: "They declare that religion is not a problem for society but that it is the solution to isolate those who have been radicalised and do not contribute to the cooperation within society expected by faith communities."
The signing launched a three-day conference bringing to a close the Year of Interfaith Dialogue which began with public events delivered in London by the Dalai Lama and a lecture by Arun Gandhi, grandson of Mahatma Gandhi.
Signatories included the moderator of the General Assembly of the Church of Scotland, the Rt Rev Dr Russell Barr, Professor Pascal Fournier, of the University of Ottowa, and her sons Pierre, 8, and Charles, 6,  Bishop Christine Mayr-Lumetzberger, from Austria, and Ramesh Babu, director of the Cascade Centre for Education in Amritsar, India.
Norwegian Miss Husby, a first year student of management and international relations, read a poem by fellow survivors of the terror attacks which killed 77 people, including 69 on an island summer youth camp.
She escaped being shot by Anders Breivik by hiding in a cabin for two hours until police arrived.
The signing was followed by a public lecture by Professor Francis X Clooney, of Harvard University.