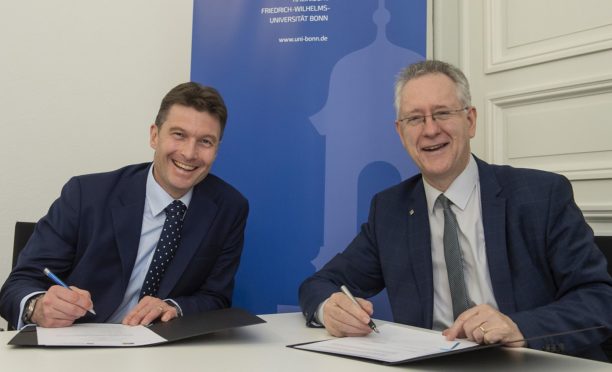 St Andrews University has signed a partnership agreement with one of Europe's leading institutions in a move seen as a major statement of intent before Brexit.
St Andrews is to expand its existing co-operation with the University of Bonn to provide new and far-reaching collaborations in research, study and administration.
It will involve increased exchange opportunities for students and staff, as well as the establishment of joint study and research programmes.
The memorandum of understanding (MoU) was signed at the German university by St Andrews vice principal for international strategy and external relations, Professor Brad MacKay, and the rector of Bonn, Professor Dr HC Michael Hoch.
St Andrews principal and vice chancellor, Professor Sally Mapstone, said the MoU "sets out our commitment to deepening our partnership in the years to come and, very importantly, will see a continual exchange of people and ideas between our two institutions and between Scotland and Europe."
She said: "Our new university strategy is founded on the unshakeable truth that St Andrews has always been outward looking, and European, and we will go on being so.
"This is the message that we have been communicating to our European partners and it is a message that is being reciprocated."
Professor Hoch said: "We are very pleased to announce this strategic partnership with the University of St Andrews, one of the most prestigious universities in the world.
"The aim of the partnership is to promote the mutual understanding of the respective university structures as well as the scientific exchange of information and to explore possibilities for collaboration in international networks."
North East Fife SNP MP Stephen Gethins said it was important organisations such as the university worked with European partners to establish links and opportunities for the future.
"The university is rightly concerned about the impact of Brexit and repercussions for its students, staff and valuable academic research," he said.
"The establishment of a positive working relationship with the University of Bonn via this memorandum of understanding it to be welcomed and is yet another example of St Andrews' international focus and collaborative approach, which benefits everyone involved."