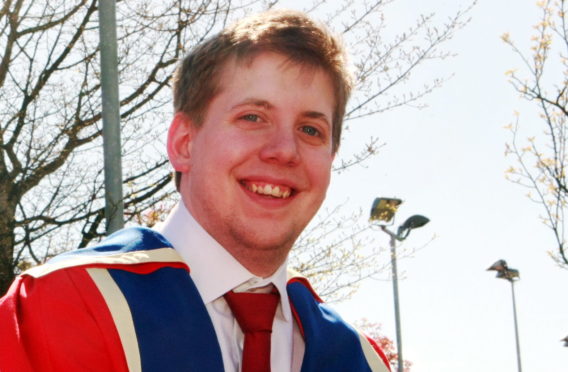 The kindness of a stranger brought a young cancer patient back from the brink of suicide.
The man's actions on the Forth Road Bridge stopped Tim Hustler from taking his own life, two years after he was diagnosed with the disease.
Tim, now 26, has been given the all-clear from bladder cancer since going through surgery in 2015 but he has spoken about the mental trauma he suffered as a result of having a serious illness.
The Dundee University politics graduate was diagnosed during his year as president of the students' union.
He was alone when doctors broke the shattering news and had to go through the difficult process of telling his parents, who live in Markinch.
Unable to share the diagnosis with his five sisters and two brothers, Tim began to despair.
"I had no idea how dark a place I was in," he said.
"I thought 'what is the point, what am I here to do?'.
Two years later, as he took a walk on the Forth Road Bridge, he came close to ending his life.
Tim said he stared out and thought: "Life could be a lot simpler right now."
He added: "Just as the thought came into my head, a chap called Mustafa, who had no idea what I was thinking about, walked along and said something like, 'it's a nice day'."
Tim told the man he was going through a rough time and asked him to leave him alone.
However, rather than walking away, Mustafa questioned him and walked him back over the bridge.
"If he hadn't walked by, it may have been a different scenario," said Tim.
He has decided to speak out about his experience of the aftermath of coping with cancer in the hope it might help someone else going through similar difficulties.
Tim, who worked for a while with Macmillan Cancer Support helping patients tell their stories, said the mental scars took longer to heal than the physical effects.
"I do think it would have helped me if I'd been able to tell my brothers and sisters myself," he said.
"Maybe I wouldn't have had this feeling of isolation."
Liberal Democrat health spokesman Alex Cole-Hamilton, who is a friend of Tim's, said: "This is something which happens far more often than we can imagine.
"I hope Tim's bravery will encourage others to have the strength to seek help."