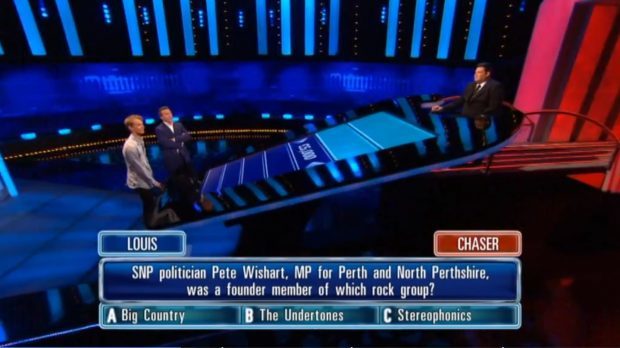 A quiz question involving one of Scotland's most successful bands and a local politician left a contestant stumped on national television.
Knitwear seller Louis was battling to win £5,000 on Tuesday's episode of The Chase but was stopped in his tracks by the first head-to-head question from host Bradley Walsh.
Asked which rock group counted SNP politician Pete Wishart, MP for Perth and North Perthshire, as a founder member, the Londoner was given three multiple choice answers of Big Country, The Undertones and Stereophonics.
Admitting he had "no idea", Louis wrongly selected Northern Irish band The Undertones, only for Chaser Mark Labbett to correctly guess Big Country after remembering the band's country of origin.
Louis went home from the show empty-handed but at least someone was happy.
Tweeting after it aired Mr Wishart quipped: "Finally made it. I'm a question on the Chase and someone only goes and gets it wrong….."
Speaking yesterday he said: "I am still contacted by people who remember my previous career in the music industry but even I was a bit shocked to appear as the subject of a question on The Chase.
Finally made it. I'm a question on the Chase and someone only goes and gets it wrong….. pic.twitter.com/zADzq9JZiW

— Pete Wishart (@PeteWishart) January 16, 2018
"I loved my time with Big Country but obviously that sentiment wasn't shared by the contestant who thought I would fit in better in The Undertones."
Mr Wishart, who is better known for his musical career with Runrig and now plays with other politicians in a band called MP4, added: "I am just glad that the chaser got the correct answer."